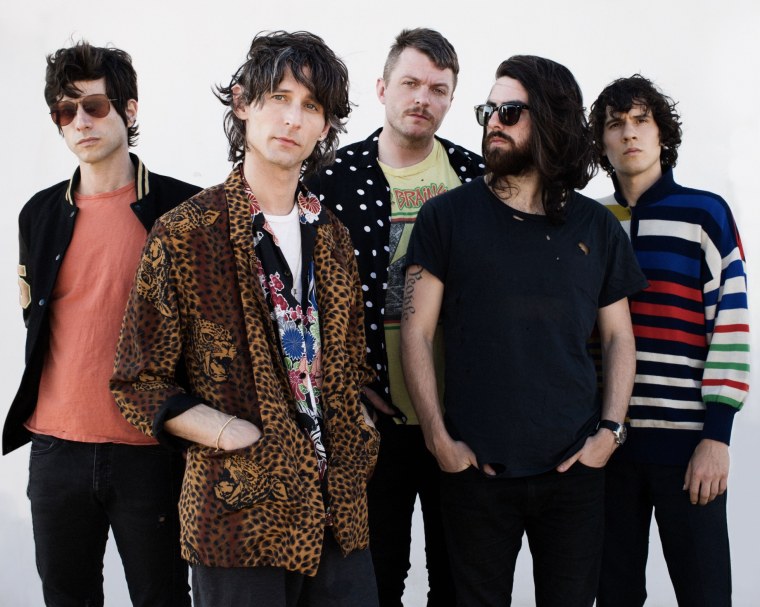 Befitting a record with the title New Skin, CRX frontman and Strokes guitarist Nick Valensi wrote nearly all the material for his band's debut record himself. One by one, he brought new band members in to the studio to record their parts. On Peek, the band's upcoming independently-released sophomore record, Valensi decided to blow everything up: this would be a record where everyone's contributions can be heard, everyone's voice.
The result of that choice is distilled in "We're All Alone," Peek's glamorous, glistening new single. A hypnotic, 5-minute new wave track, "We're All Alone" — premiering today on The FADER — showcases a more high-octane side of CRX than what they showed off on New Skin.
CRX took some time to speak to The FADER via email about CRX, Peek, and how Valensi juggles his commitments with CRX and The Strokes. Read the interview and listen to "We're All Alone" below.
The FADER: You kinda did New Skin by yourself whereas the whole crew was involved in Peek. How do you think that affected the new record on the whole?
Nick Valensi: In a way, this album is a brand new band. It's more focused than anything we've done before. It was a collaboration from the ground up, which is really different from how the first album was made. Jon, Darian, and I went into it with a gang mentality and it resulted in a more cohesive sound. A lot of the collaboration started on tour, just listening to music in the van and talking for hours. During rehearsals and sound checks we would jam and improvise a lot, which helped meld together our different styles and influences into a more unified thing. It ended up sounding more funky and dance-y than what we've done in the past, which certainly suits my general mood in 2019.
You did a lot of work as a songwriter and session musician for other bands and musicians in your down time from The Strokes and CRX. How does that kind of work affect the way you make music for your main projects?
NV: All the members of CRX collaborate with other bands and artists pretty regularly. In a way I feel like it's helped us to keep CRX more focused. Our tastes and styles overlap a lot, but if there's something one of us comes up with that's outside the realm of what we're doing with the band, it can find a home elsewhere and there's no need to force a square peg in a round hole. It can also be fun and freeing to write for other artists, like you can reinvent yourself creatively with each new collaboration without too much pressure since you won't be the person performing it.
There's definite paranoia present on "We're All Alone"; what kind of headspace were you in when you wrote that song?
NV: It doesn't sound like paranoia to me! It's hypnotic for sure. As if someone came out of a trance just for long enough to tell you a story about it, and they're about to slip back into it.
Darian Zahedi: Lyrically I think we were trying to convey less paranoia and more loneliness and a longing for human contact. We wanted to explore this paradox of being hyper-connected to one another yet increasingly isolated at the same time. We're now so easily able to indulge our desires for instant gratification and endless adoration but eventually the illusion fades and the flood of endorphins gives way to a feeling of emptiness.
Jon Safley: I guess the paranoia you're getting from it could be the tense and angular repetition of the music. I find it hypnotic personally. The headspace behind writing it was actually influenced by Brian eno's approach to " remain in light " by the talking heads. Repetitive but played live with all the natural imperfections that computers could never impersonate.
Lizzy Goodman's Meet Me In The Bathroom focussed a lot on The Strokes and had a lot of people thinking about that early 2000s indie rock scene again after all these years. Internally, in The Strokes, how did that book make you all feel about your legacy and identity?
NV: It's crazy, weird, and super flattering that people talk about us in that way, and the book is still just so bizarre to me. We never had a discussion about it. We were all interviewed separately and none of us ever really spoke about it. Actually, Nikolai's wife thanked me after it came out because apparently I mentioned that he never went too crazy with drugs, which I suppose is true. I think she was happy to not have to explain the debauchery to her kids.
The Strokes have been back on the live circuit recently. How has your recent work with that band influenced the way you go about doing CRX?
NV: They feel like two different things to me, probably because my roles are kind of different in each band. As a guitar player, I have a few simple tricks that I do over and over, all the time, whether it's The Strokes or CRX. And of course there are things I've learnt with one band that I've brought to other, especially in the studio. But the writing partnership that I have with Jon and Darian feels really unique, and being the singer adds a whole different element, so it's kind of apples and oranges to me. One thing I learned quick is that when you're the singer you have to party a little less and sleep a little more in order to do a good show each night.
Listen to The FADER's weekly playlist of songs you need in your life