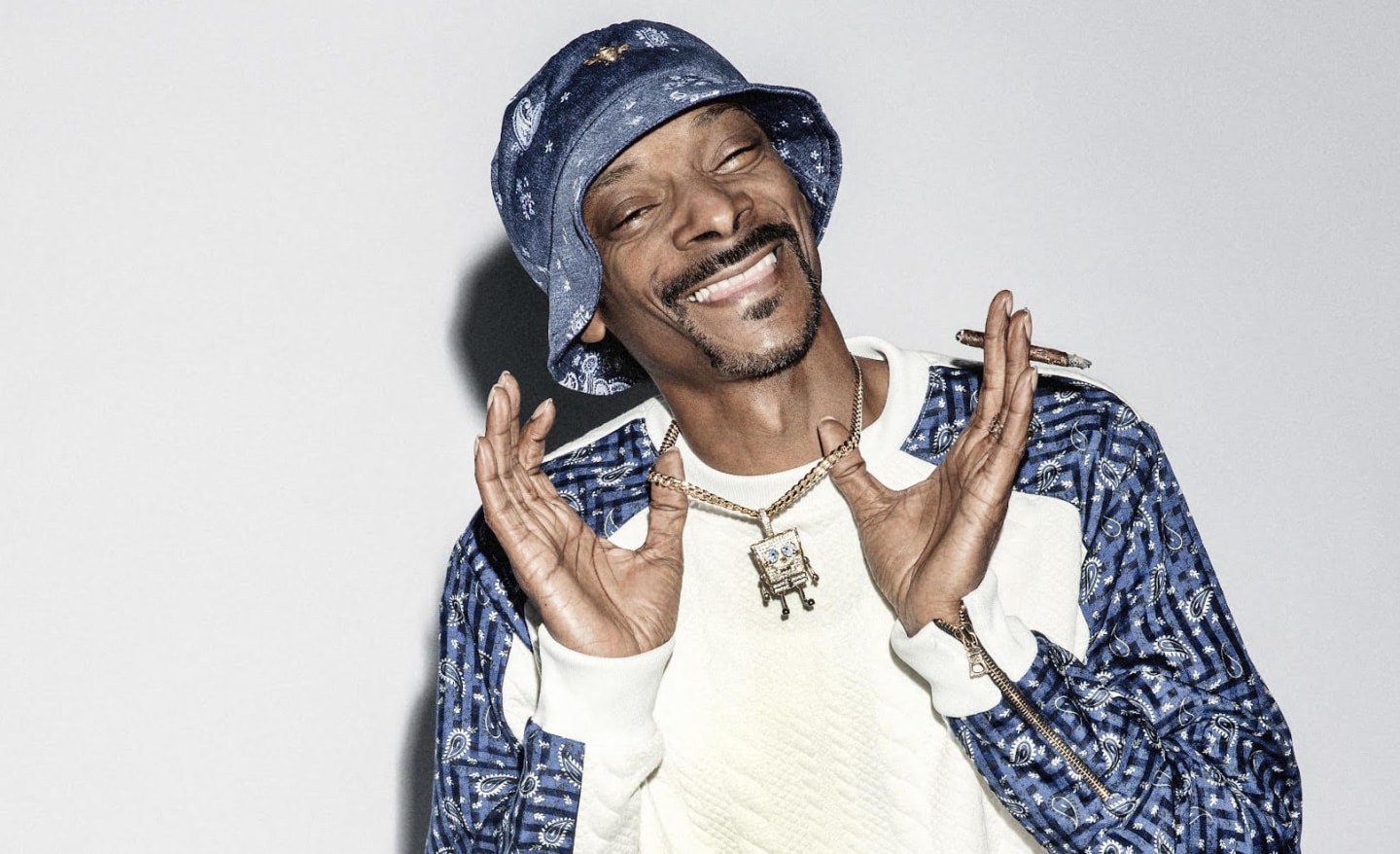 What follows is an incomplete list of items in the foyer of Snoop Dogg's 20,000-sq. ft. compound in Inglewood, which is surrounded by tall black-out fencing and is so close to the airport that you often feel like planes are landing right on top of you:
A white leather sectional, complete with pillows that feature illustrations of his family. A wood-paneled grandfather clock with a face that looks ripped from a watch Plies would wear. A trophy from the Snoop Youth Football League. A cabinet with Raiders memorabilia. Gold lettering that spells out "BLE BOSS LADY ENTERTAINMENT" inlaid in the floor. A multileveled enclosure like you might find in a jewelry store, dedicated to someone or something named "KING ICE." A giant portrait of Snoop by artist Wataru Todoroki. Three framed pictures of Snoop in the Oval Office with Barack and Michelle Obama, bordered by faux-Polaroid paper with reproductions of the Obamas' signatures. Two differently sized replicas of his Hollywood Walk of Fame star. A shelf of books that includes Angie Martinez's autobiography, Snoop's self-published 2007 novel Love Don't Live Here No More, and a book by Kelly Osbourne called There is No F*cking Secret: Letters From a Badass Bitch; The Taming of America. Topping it all off: An armed security guard.
None of these items are as strange or singular as its owner. I don't have to explain who Snoop Dogg is, the same way you don't have to explain who he is to your parents. His debut album Doggystyle was one of the most feverishly anticipated in rap history, and it came out while he was being investigated for murder; he's since appeared on children's programming and alongside Martha Stewart on daytime TV, all without softening or compromising his music. A curious assumption has taken hold among many rap fans and critics that his albums since Doggystyle have been inessential, but it's indisputable that every couple of years he pops up with one of the biggest songs in the world, sounding every bit as silky and precise as he did at the age of 18.
In the past five years, he's dropped a pair of EPs, a collaborative tape with Daz from Tha Dogg Pound, an excellent, Neptunes-helmed funk album called Bush, a forgettable rap record called Coolaid, another superb one called Neva Left, and an experiment in gospel music called Bible of Love. Tonight,– he's invited a few dozen people over to hear his latest, a rap album called I Wanna Thank Me, out this week. The bulk of the album's production comes from L.A. legend Battlecat, and it lapses into a number of different styles: steely, sinister rap, breezy strip-club fare featuring Ozuna and Slim Jxmmi, a pool-party jam helmed by Jazze Pha, a pair of signature Swizz Beatz tracks, a cut that sounds like a Bobby Brown/M.O.P. collaboration, a posthumous Nate Dogg song called "Wintertime in June," and guest turns from legends like Slick Rick as well as new locals like Inglewood rapper Rucci.
Before we hear the record, Snoop sits down in a small control room to discuss the album, musing about the way his fans feel they know him. "I grew up in an era in the '70s when that's what players did," he says. "They could mingle, they could converse, they could be fly, they could have money, they could be hard, they could be for the people, they could do it all. That's why you aspired to be them. I ain't making up no new shit. Snoop Dogg ain't no new shit. Snoop Dogg just perfected it, and was given a platform and a spotlight that that player didn't get. He might have done it way better than Snoop Dogg — you just don't know him."
The guests pour into a nearby control room to hear I Wanna Thank Me in its entirety; Warren G shows up, as does radio host Big Boy. They crowd around the back of the room as Snoop sits with his back to everyone, clad in a black Dodgers starter jacket and a weathered bucket hat stitched with the word BEACH. Snoop tests the deafening speakers with a song from the new Suga Free album; when a label rep gives the go-ahead, he hits play on his own record, smoking and dancing in his seat while a commercial for Six Flags plays on a bank of televisions in front of him.
There are numerous references on I Wanna Thank Me to L.A. and Long Beach's complex gang dynamics, and more than one mention of the late Nipsey Hussle. At Nipsey's memorial in April, Snoop gave a moving eulogy; in the studio, I ask him what Nipsey taught him. "Ownership," he explains. "I knew about it, but he made me go be about it. Your little homie can inspire you if you allow them to. You can teach an old dog a new trick if that old dog listen. He was always on some business shit with me. He wanted me to create a fucking amusement park called Doggyland. It used to blow my mind that this nigga was really thinking like that — like I deserve an amusement park. Now I see what he's saying. There's no limit to thought."
I walked in here past the plaque for the gospel album.
We did the gospel album in here, I did the I Wanna Thank Me album in there [points towards another, larger control room down the hall]. It's a zone thing. When I did the gospel record, I felt like the world was so negative and there was so much hate. We needed to put a bundle of love in the world, and the best way to do it was through gospel music, which makes everybody feel good. It was a moment in time where there was a void for that style of music. Same with this record. There's nobody doing rap like I do rap. I'm still here, still relevant, still able to do it, so why not add some more pieces to my puzzle and do the shit that Snoop Dogg do? Motherfuckers love Snoop Dogg. I could see if I was old and washed up, and motherfuckers was like, 'Sit your ass down somewhere, nigga!' But they don't be saying that.
Your last rap record was Neva Left.
That was a statement record, 'cause I felt like motherfuckers thought I was gone. I was like, "Nigga, I ain't never left!" I'm a competitive person. I could just be sitting back and be like "Man, fuck that," but I don't be mad at nobody — just the game in general.
What statement does this new album's title make?
I wanna thank me –– the many faces, styles, and versions of me, and the people that's associated with me. A lot of shit is put into making me. It's not just me who makes me, it's the pieces, forces, and energy that's created to make Snoop Dogg the superhuman that he is.
A lot of the songs on this album are topical. What was the writing process like?
A lot of it is right there at the [mixing] board, or in the booth. Sometimes I'll take the track in my back room or upstairs. It's just zones. I try to make sure my cadence, punctuation, enunciation — all that shit — is thorough and fluid, because the records I've made in the past have always had that.
As you get older, you don't wanna sound old. "On this old record he said that word, and look how he say it now! That nigga's shit slow as a motherfucker now!" I've heard some old rappers get old, and they be in there and are like, "Get his ass outta there. Tell him the board went dead." [Laughs]
You work without deadlines. How do you know when something's done?
You feel it. You know exactly where it's supposed to be, based off the way it makes you and others feel — the way it all comes together and connects. It's like a cake. You pull something out the oven and look and see it's brown on the outside, but then you push your finger in the middle and it's still soft. You're like, "Nah, that motherfucker ain't done." You gotta put him back in there. Then, when you put your finger back in there you're like, 'That motherfucker's nice and moist like Tollhouse.' [Laughs]
The guests range from Slick Rick to Slim Jxmmi.
You went from damn near 50 to 14! [Laughs]
Is there a common denominator among the rappers you're drawn to?
It's what they sound like. We the type of people where, if we make a record, we might sit back and be like "Man...that motherfucker from Rae Sremmurd would sound hard on this motherfucker. Holla at him!" Then we reach out. Or: "Hey, YG and Mustard man, y'all owe me a track! Y'all making all this hot shit, when y'all gonna make one for me, man, fuck! This your uncle Snoop, what's happening?" [Snoop launches into an impression of YG] "Alright unc, coming right up. Bump, bump, bump, bump. Blue face hunnids!" Some shit happens like that. It's me knowing what I want, not knowing how to do it, and having the right people who know how to give me what I want.
You talk a good deal about gang unity on this album. Was there a catalyst for that?
After Nipsey's passing, there was a Unity Walk in South Central L.A., where a lot of gang members that hadn't had communication with each other for many years finally got together and decided to have peace. I wanted to symbolize how that was a beautiful thing by making ["One Blood, One Cuz"] to take us back to that feeling. If we unite and become one, we'll all be better people and have a better place to walk around.

At the beginning of "Let Bygones Be Bygones," there's a clip from an interview where you say that peace isn't something you could merely have with Suge and other people, but something you had to actively seek out. What did you mean by that?
Sometimes you've gotta be the bigger man. To go sit down with people you've got a misunderstanding with is a big step. It shows that you have no hate in your heart, and you really wanna resolve it. I don't wanna do a phone call or a text message — I'd rather pull up on you so you can look me in my eyes and see that I don't have no hating bones in my body toward you. Whatever the misunderstanding was, let's get some understanding so we can keep doing what we doing.
I'm trying to be peaceful and enjoy my life. I ain't got time to be looking over my shoulder, and I ain't got time to be having my niggas do the same shit to you so you'll be looking over your shoulder. I'm in power right now. I've got a little bit more money and more guns than you, so you may wanna...you know what I'm saying? That's some gangster shit that we learned as kids watching movies. In The Godfather, he sat them all at the table to try to get some understanding. "Before I kill you motherfuckers, I'm trying to tell you, knock it off."
What are you better at now than you were a couple of years ago?
Taking my time. I used to feel like I always had to have something out. Now I only need quality shit out. For a long time, a bunch of artists from a bunch of different countries would be sending me some of the craziest, weirdest songs you ever heard in your life. I would do 'em because I was like, "Fuck it, I know what it means to do a song with this Cambodian artist, look up two weeks later, and [see] this nigga got 50 million fucking views on this song that ain't none of you niggas gon' ever fucking hear." Now, I wanna make sure everything I do is precise. Bible of Love was structured, and so is I Wanna Thank Me. It's not just "I'm making an album."
An image that recurs a few times on the album is your star on the Hollywood Walk of Fame. You've crossed over to mainstream America while retaining credibility with your fan base. What allows you to walk that line?
Fame...what will you do for fame? Some people will do anything for fame. Some people don't give a fuck about fame, and that's why they remain famous.
So when you're in the studio, you're not thinking about the charts?
What's the charts?