Slayyyter is gonna get what she wants (after she pays off her student loans)
The St. Louis native's brand of posh pop sounds like a bubbly chainsaw.
"St. Louis is humid as hell, so I think I'm just used to this heat," Slayyyter reasons on a sweltering afternoon at an anonymous diner in midtown Manhattan. "It's not that bad. Suck it up, boys!"
She's in town for a brief pitstop on the way to a show in Boston. Just a few weeks prior, she sold out back-to-back nights in Brooklyn — a feat made even more impressive by the fact that they were her first headlining shows ever. "To be honest it didn't all really click until I was standing on stage that first night," she recalls. Not a single girl or gay left those shows any less than ecstatic, the byproduct of a well-commanded room. At one point during the second night, a fan threw a $20 bill on stage, which Slayyyter graciously returned. "In my head I was thinking, Ooh I could get Taco Bell tomorrow," she laughs. "Then I thought, they bought a ticket to my show, I can't just take their twenty dollars."
Slayyyter's music is the stuff of fantasies. Specifically, ones imagined in 2007, back in the days of Motorola Razrs and Holly Madison and every movie having an "unrated" cut on DVD. "I've been fucking models, I've been popping bottles all night / Playboy in the grotto, put it on your face boy all right," she moans on "Daddy AF," one of the big singles from her self-titled debut mixtape, which is set to release this fall. By augmenting their absurdity, Slayyyter turns pipe dreams into something very tangible. These are songs for kids who grew up iconizing tabloid life in Southern California while landlocked in the Midwest.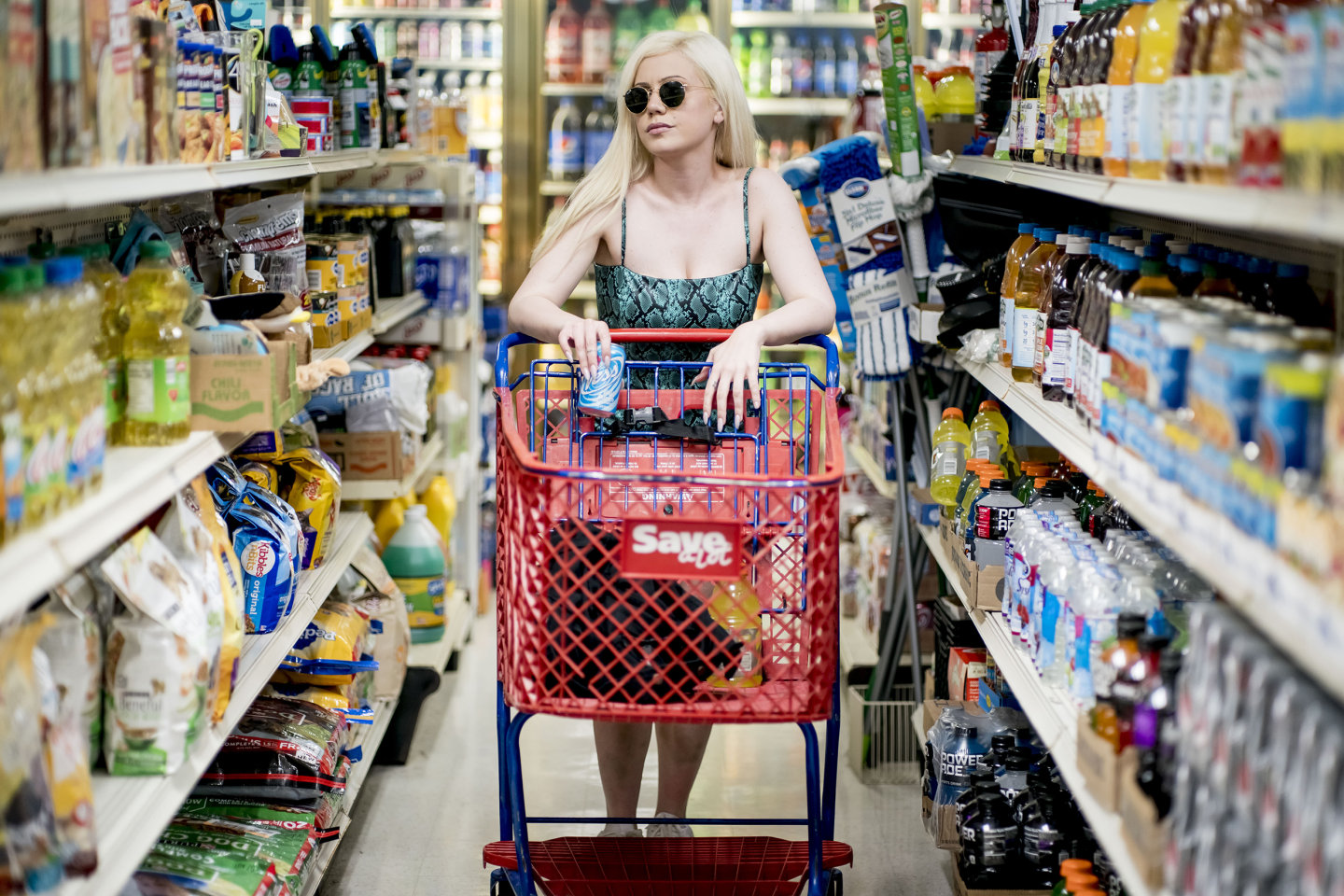 She sees herself moving to Los Angeles someday, once the music takes off. But for the time being, she lives in St. Louis with her mom and sister. She can't afford to move out yet; she's still paying off her student loans from one year of college at Mizzou. "It was a terrible time. I was so unhappy trying to be like the sorority girls. It wasn't just their interests, but their politics. I couldn't be in that culture for very long," she recalls. "That was when I started getting into underground SoundCloud, and listening to SOPHIE a lot. I was really depressed, and I used music to get it out of my system."
After her freshman year, Slayyyter dropped out and started waitressing at a local sushi restaurant. She later got a job as a receptionist at a salon, a position that entailed "long days dealing with bored housewives." Still, she could bleach her roots on the regular, and the excess monotony of the gig offered its own perk: plenty of time for her to write music and build her reputation online. Leaving her birth name at the door, she opted to be called Slater, the stoner dreamboy of her favorite movie Dazed and Confused. That meant adding a handful of "y"s in the middle until she could fully claim the username on social media platforms: "I didn't want to be like, @slater_music, or something like that."
"I want to change it up, maybe one day do hardcore metal music." —Slayyyter
Sometime during her tenure at the salon, she wrote her breakout single, a song called "BFF," a scintillating ode to bonds fastened by matching Juicy lockets and half-empty Bacardi bottles snatched from a parent's liquor cabinet. She wrote the song with underground hyperpop producer Ayesha Erotica, who provided the song's rumbling production. Shortly afterward, she posted it to SoundCloud, refreshing the page from her work desk and watching the play count fly from ten to fifty to four thousand. "I always thought of music as an impossible career, unless you have rich parents or go viral like Bhad Bhabie," she confesses. "Anything you want in life, you can use the internet to get it for yourself."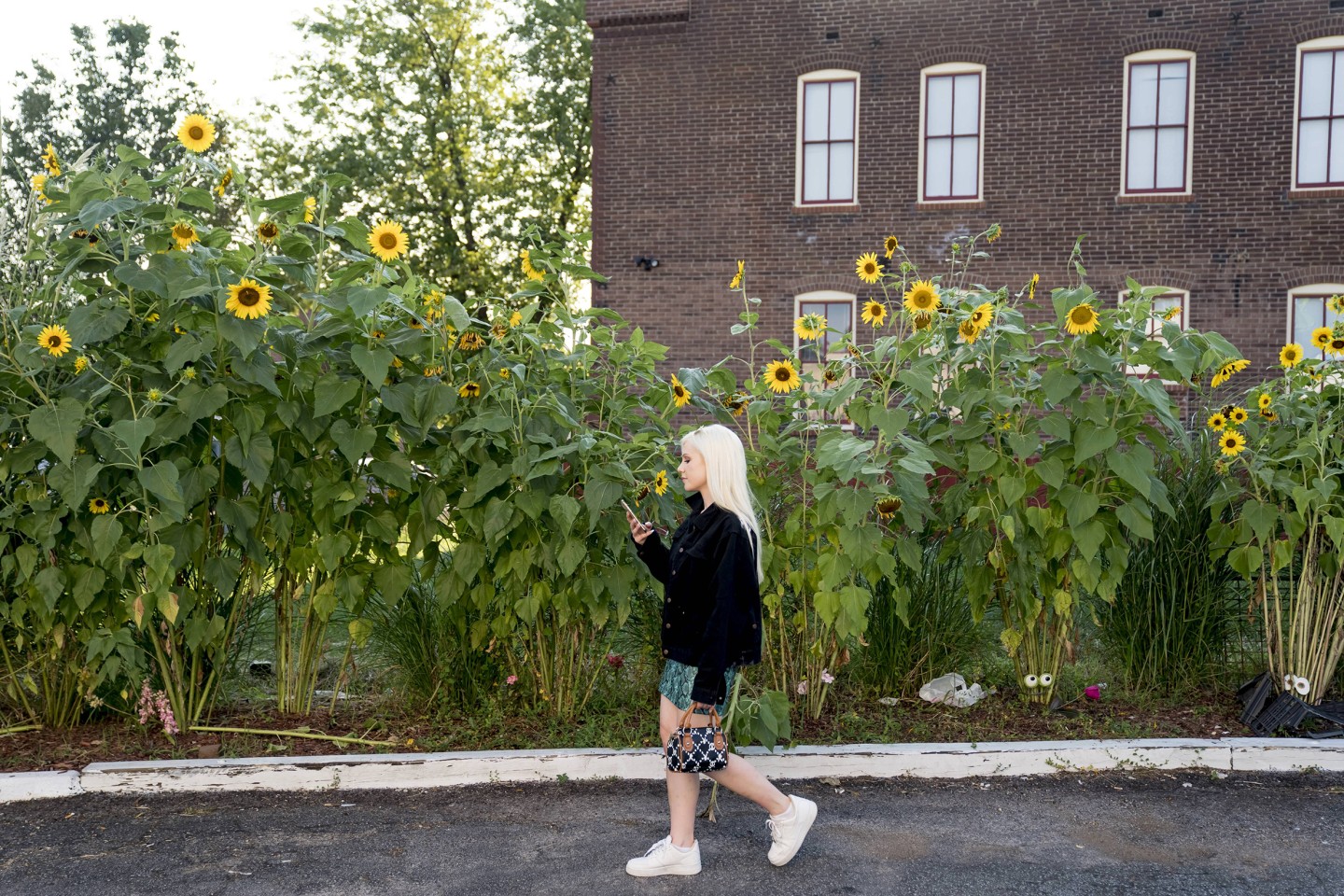 That doesn't mean the internet has always been on her side. "Some people take things too far, sifting around into my past life," she says. "I used to do internet sex work on the side, camming or whatever, and people have posted my old content without permission. At the end of the day, I can be like, Not bad for a whore with no talent! But because of my mom, I wanted all of that to stay in the past." As for how her mom feels about her lyrics, Slayyyter laughs. "She's such a sweet lady, and me and my sister have always been so foul mouthed. She's always like, You guys are so vulgar, why do you have to talk like that?"
Slayyyter is adamant that her musical ambitions stretch beyond the raunchpop of the first singles: "I don't ever want to make the same thing twice. After the mixtape comes out, there's no need to revisit that sound forever, just because that's what I came up in. I want to change it up, maybe one day do hardcore metal music." She's currently working on her debut album, a project she describes as "different… more industrial, but also trippy and sunshiney."
Whatever route she takes, she wants to keep it in the family. The music she's the most proud of has been made in her bedroom; her most important collaborators are her friends. Take, for instance, her "Mine" video, which they filmed on a camcorder in Vegas: "I really kissed that Elvis impersonator. He tasted like cigars and Mexican food." If the fantasies in Slayyyter's music feel real, it's because they're hers alone. "I'm still just me. Wait a couple years, maybe I'll be a little more Mariah. But I haven't earned that yet."