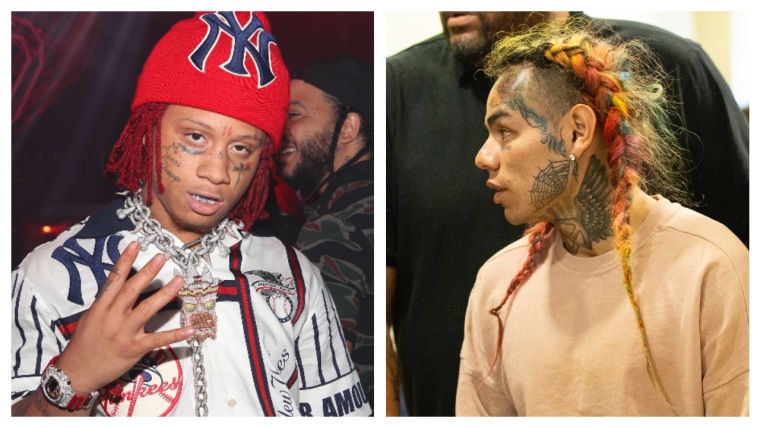 Daniel Hernandez (the rapper known as 6ix9ine) testified again this morning during the federal racketeering trial against Anthony "Harv" Ellison and Aljermiah "Nuke" Mack. After outing Trippie Redd's gang status yesterday, Hernandez has now revealed more about the history of their rivalry, and detailed an incident where he attacked the rapper (born Michael Lamar White IV) following a video shoot.
Matthew Russell Lee reports that Hernandez maintained that his "main dispute" was with White, due to his gang affiliation and their proximity through being labelmates. "There's a lot of jealousy involved," Hernandez said. "He was signed first. I later on signed... we had a song together, it was successful. Then jealousy, we got into online disputes."
The feud culminated with Hernandez and his entourage following White to his hotel to attack him, according to Hernandez's testimony. "Trippie Redd's manager said he wanted to squash the beef... he gave us the address of his video shoot," Hernandez testified. "We surveillanced it, waiting for Trippie Redd... we stake out, Trippie Redd comes, gets in with 15 people. We follow him for an hour on the highway." Hernandez stated that Ellison (Harv) punched White in the mouth upon arrival.
After pleading guilty to joining the Nine Trey Gangsta Bloods and committing "multiple counts of racketeering, conspiracy, firearms offenses, and narcotics trafficking," Hernandez faces a potential 47 years in prison, though his testimony may net him a reduced sentence.
The FADER has reached out to a representative of Trippie Redd for further comment.