Doja Cat will do whatever she wants
The California rapper's quirky process has birthed delightfully imaginative bangers.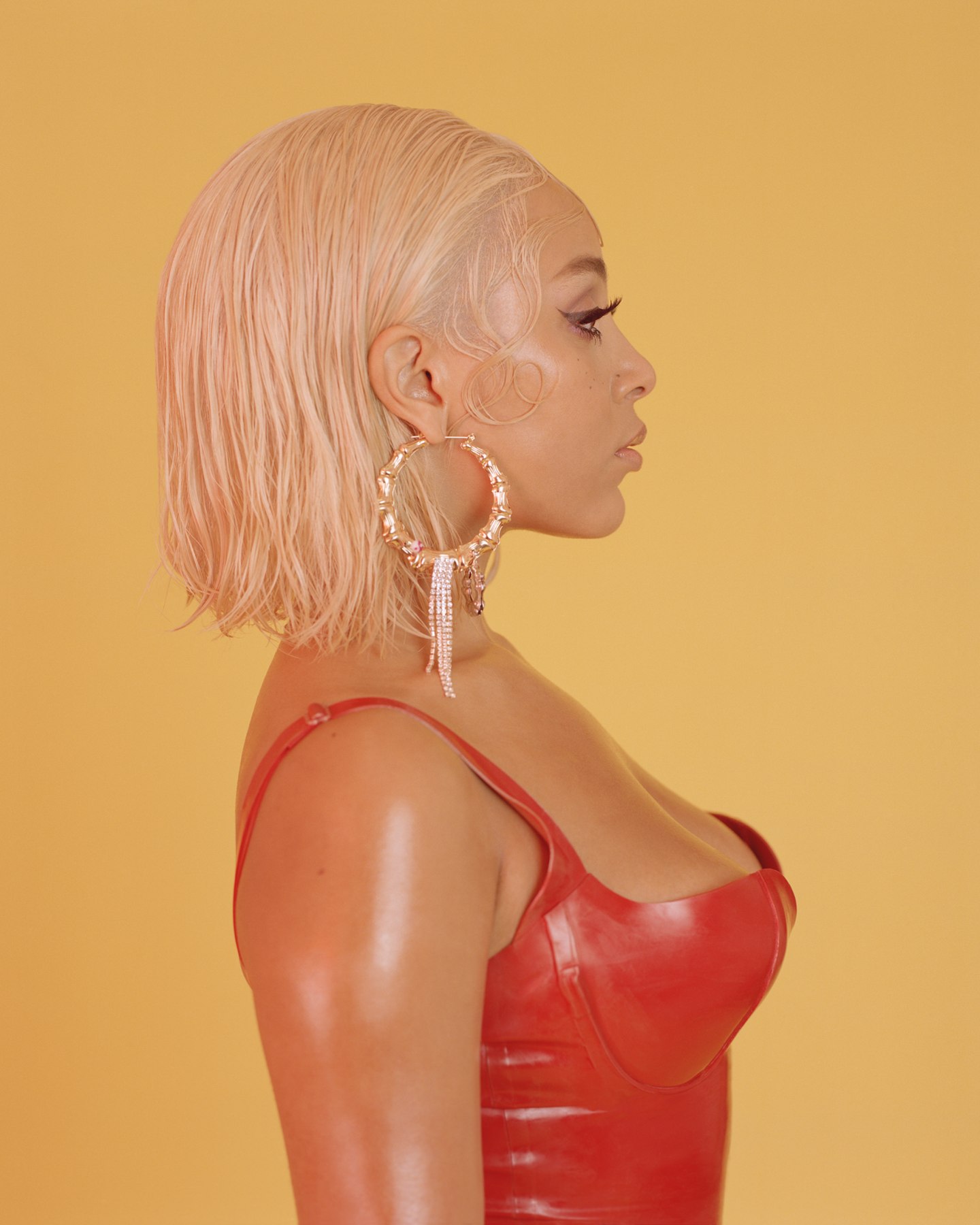 If Doja Cat wears a cow print outfit, she'll make a song about it. If she has new glasses, she'll make a song about it. If she has strep throat, she'll make a song about that too. This is the process that the eccentric singer, songwriter, and rapper's fans have grown accustomed to: slappers based on nothing in particular, created out of sheer spontaneity.
On a rainy Thursday in Los Angeles, I'm on my way to a coffee shop down the street from Doja's Hollywood apartment to wait for our scheduled interview to start. My menstrual tracker app, Flo, says my period will arrive today. Apparently, Doja was expecting hers as well. The night before, she sent out a series of messages on Instagram Stories including: "I feel my period creeping it's fucking oooooooooverrrrrrrrrrr" and "It's a fuckin wrap bitch I need a whole day to hate all u fuckin hoes for no reason." The next morning, she sent out another IG Story of herself laying in bed with a bonnet, captioned, "Wish I had a penith."
When I arrive at the coffee shop, her PR manager informs me that Doja has strep throat and has to reschedule. My period was late due to air travel, and Mercury was in retrograde. Due to
science, there was no possibility of our periods syncing up that day, and no chance to connect in person. We eventually scheduled an interview for the following week via FaceTime. The day after our attempted interview, she posted an a capella video of her harmonizing a song about having strep throat, and, as expected, it slapped.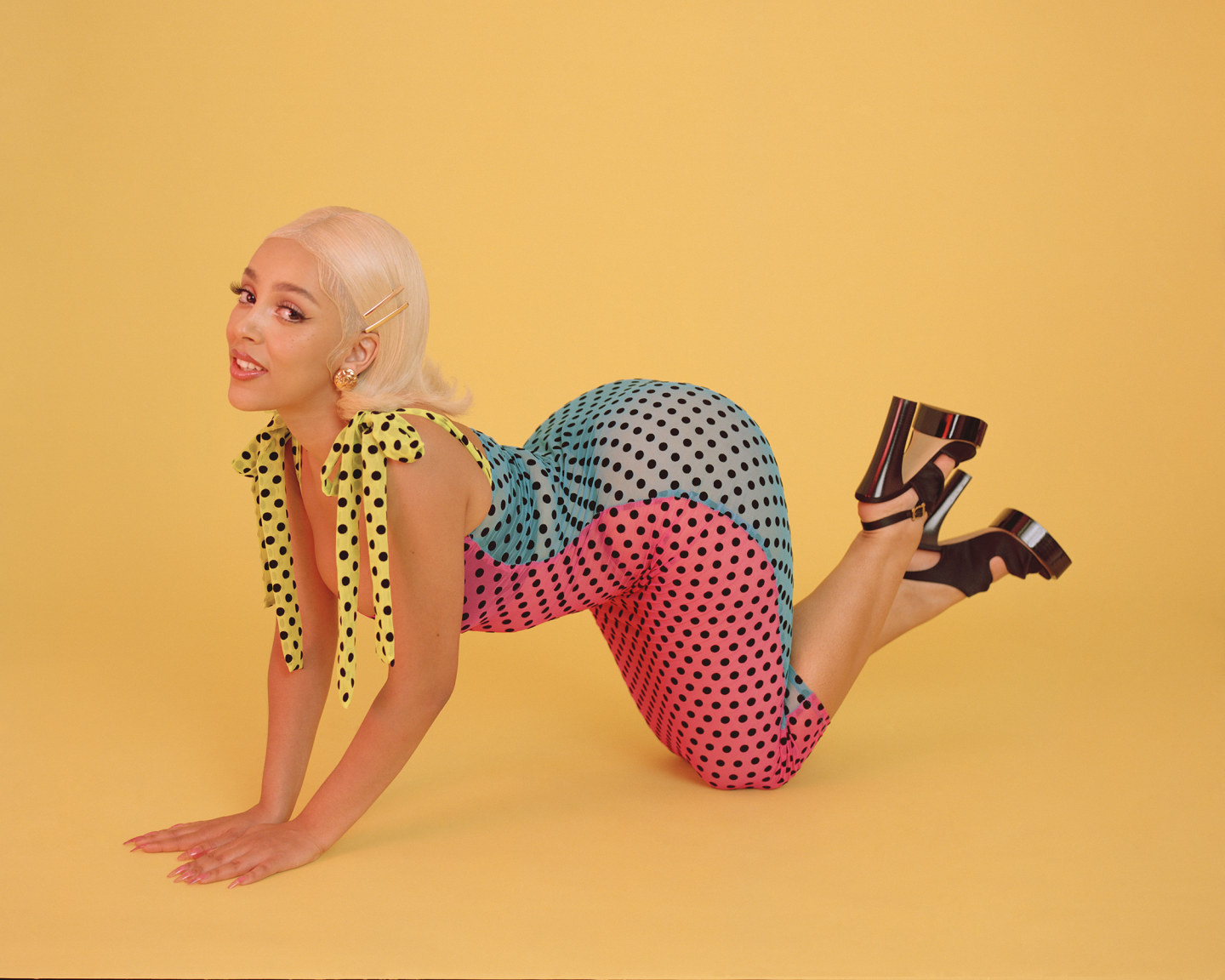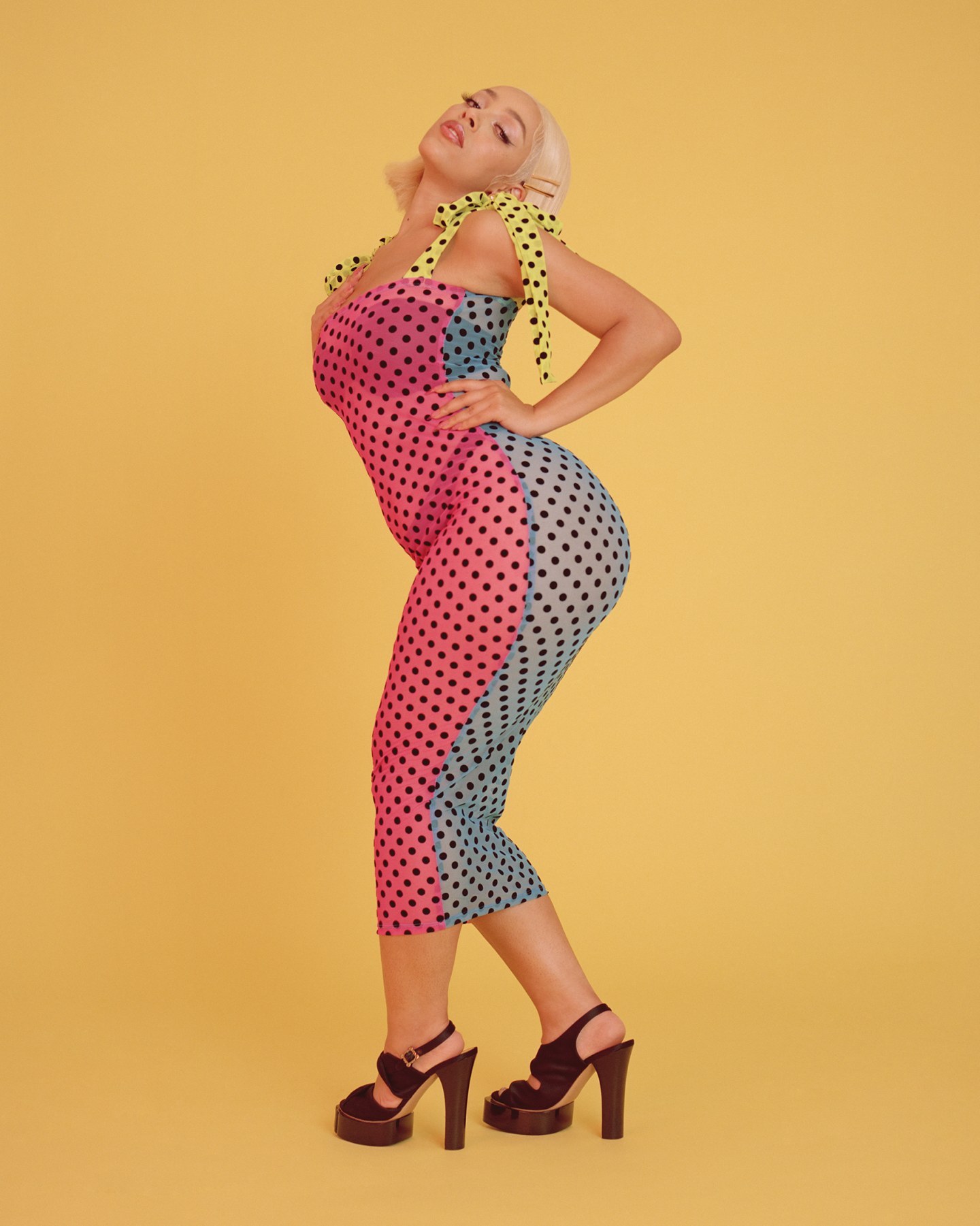 Doja was born Amala Zandile Dlamini in 1995. She was raised by her mother, a Jewish-American painter in Los Angeles. Her father, a South African actor, producer and composer, was not involved in raising her, but actively comments on her Instagram page. "I don't hold grudges against him or anything in any way, but obviously it's a little weird," she says. She has siblings, but they're scattered across various cities. Doja says she feels "blessed," despite not having a typical nuclear family. "It's always great to have both of your parents in your life and all of your brothers and sisters and everybody loves each other," she says, "but like, shit isn't like that sometimes."
At home, Doja and her mother listened to a lot of D'Angelo and Jamiroquai. When she was finally able to curate her own music consumption, she gravitated towards Rihanna, Amy Winehouse, and Lady Sovereign, among others. The first album she ever bought was Music Of The Sun by Rihanna.
Before she gained enough confidence to share her music on the internet, Doja Cat began experimenting in her bedroom. "I think I wanted to sing, but I just couldn't because I was so shy," she says. "I didn't really know how to begin that other than like, singing in my room, locking the door, and trying to sing kind of quietly. I knew my mom would want to listen and she would probably bug me about it." At 16, Doja ripped beats from YouTube, recording songs on GarageBand, and posting them to SoundCloud. "I got like two likes but it was the craziest thing ever. I think I cried. It was insane," she says.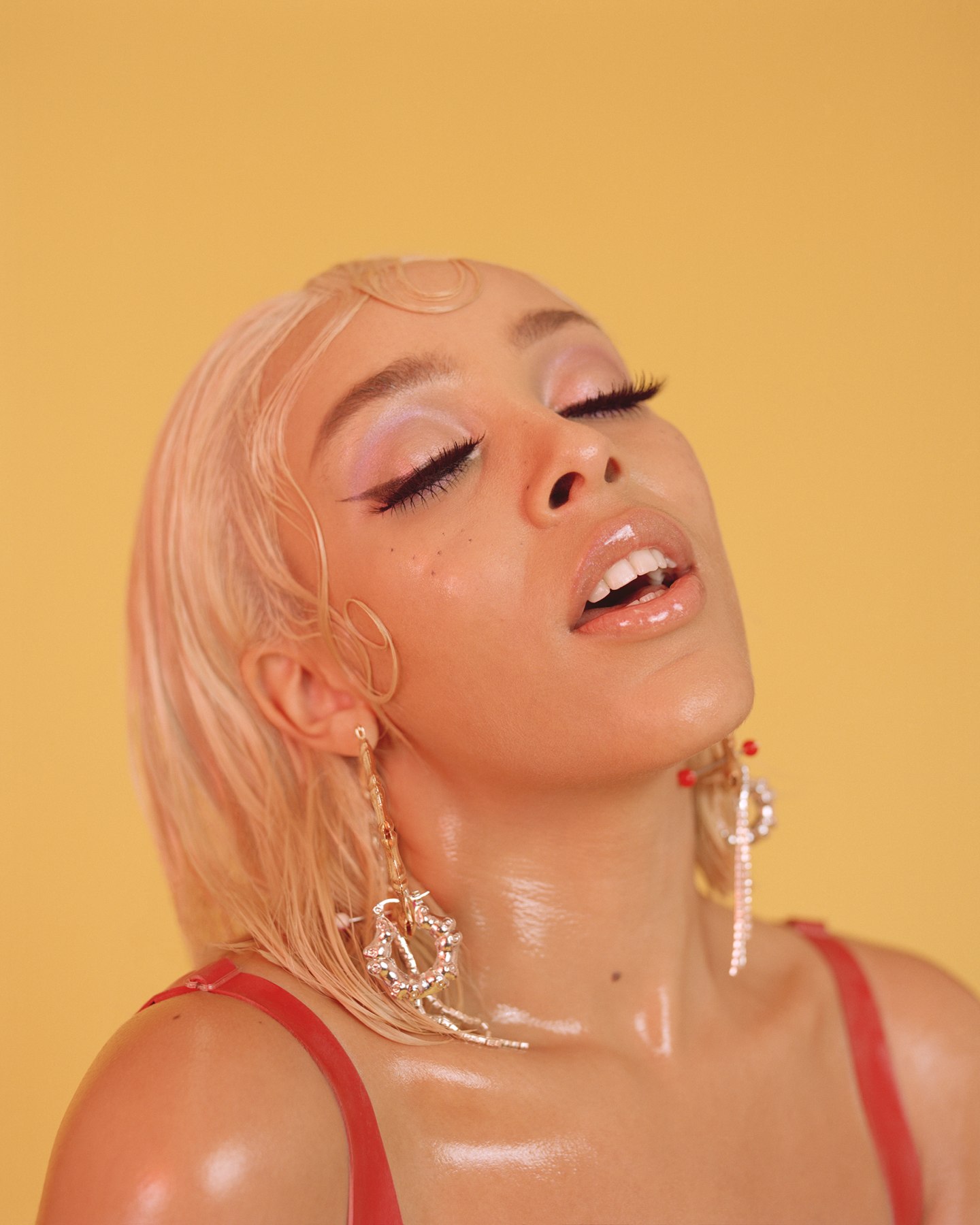 The earliest song on her SoundCloud is "So High," a smooth, repetitive, Soulection-esque number about precisely what the title suggests. After its initial release in late 2012, when she was just 17, the song took off and was repackaged as a debut single a year later. She signed with RCA/Kemosabe records — the label founded by controversial music figure Dr. Luke — in 2014. (Through her representatives, Doja Cat declined to comment on her connection to Dr. Luke.) From there, she went on to release a handful of well-received tracks on SoundCloud before her debut EP Purrr! came in 2014. But it wasn't until after her debut album Amala last year that Doja scored her first hit in the most unlikely of ways with "Mooo!."
Inspired by a cow print tour outfit, Doja thought "Maybe [it] would be cool if I just made a song about cows." After 12 and a half hours, she finished editing the beat, layering vocals, designing a set in her bedroom, and recording the entire video. It went viral. The internet was as amused as it was bewildered: How does a silly song about cows go so hard? The production seemed effortless, lo-fi, casual, but the speed at which it was created, the cleverness of the lyrics, and the vocal arrangements suggested that this was someone who was absolutely intentional, even if the song felt like a joke or a meme. The song's virality introduced Doja to a well of listeners who were previously unaware of her existence, yet eager to find out more about her story.
Just weeks after "Mooo!" went viral, Twitter users dug up a tweet from 2015, in which Doja directed a homophobic slur at Tyler, The Creator and Earl Sweatshirt. It read: "@fucktyler @earlxsweat you both are faggots." She responded shortly after with a (since-deleted) tweet: "I called a couple people faggots when I was in high school in 2015 does this mean I don't deserve support? I've said faggot roughly like 15 thousand times in my life. Does saying faggot mean you hate gay people? I don't think I hate gay people. Gay is ok."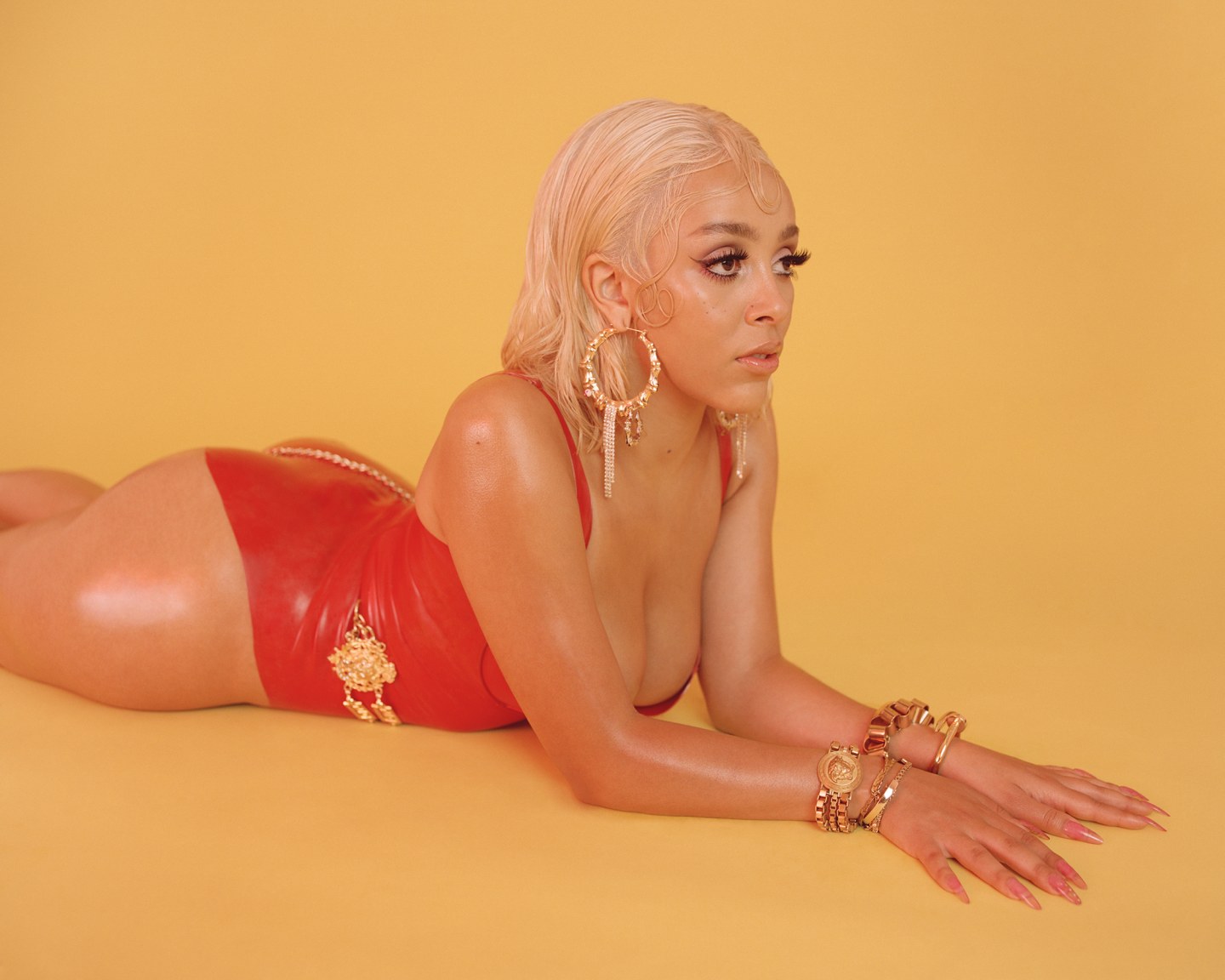 Fans and spectators who were already upset over the initial tweet were further enraged by the seemingly nonchalant response. She tweeted a public apology shortly after: "I truly apologize to anyone that I've offended or deeply hurt with my words. I used hateful and derogatory words out of ignorance and didn't intend to discriminate against anyone for their race, religion, or sexual orientation. I understand how serious this is and know that I have let a lot of my fans and supporters down. I promise to do better for myself and each and every one of you."
"I said some insensitive stuff a long time ago when I was young and at the time didn't understand how it would hurt people," Doja writes via email following our FaceTime call in regards to how she's reflected since the incident. "It's something [I] learned a lot from and I understand that it was not well written or thought through and I apologized (and still apologize) if it offended anyone. Truth is, I love everyone that is a good person regardless of what they look like, walk like, or who they love."
The incident magnifies a dilemma that young artists and highly-visible figures with a social media footprint dating back to their childhood or adolescent years are facing: they've grown up sharing their thoughts, opinions, and ideas with the entire world, while often eventually rethinking and modifying them. Sometimes, the reckless, problematic, and hurtful messages they once dumped into the void come back to haunt them.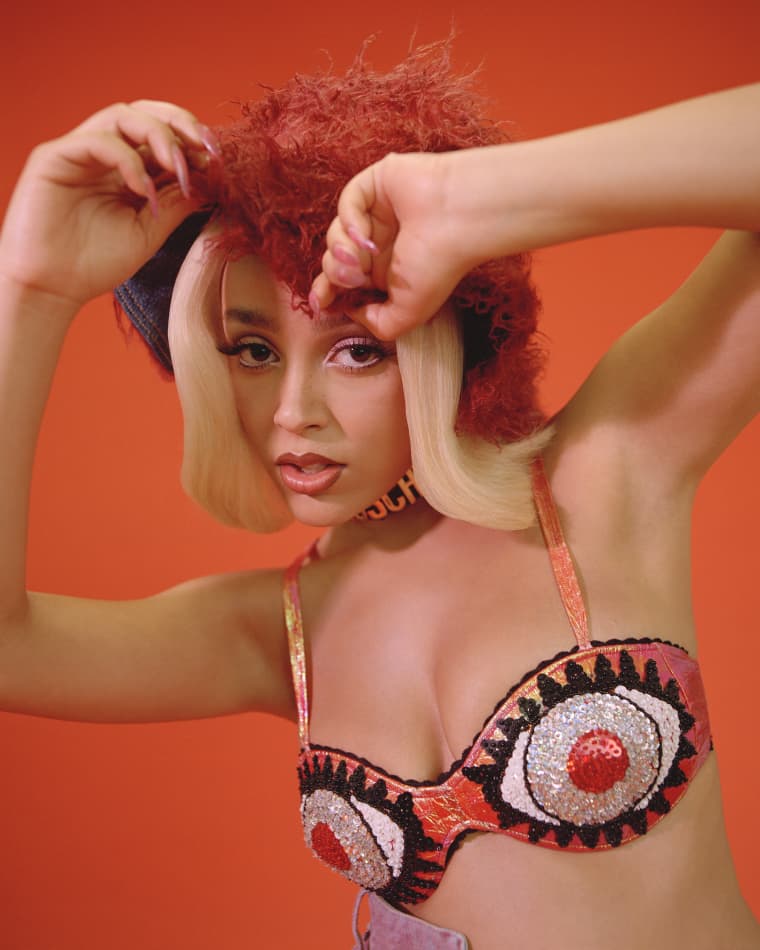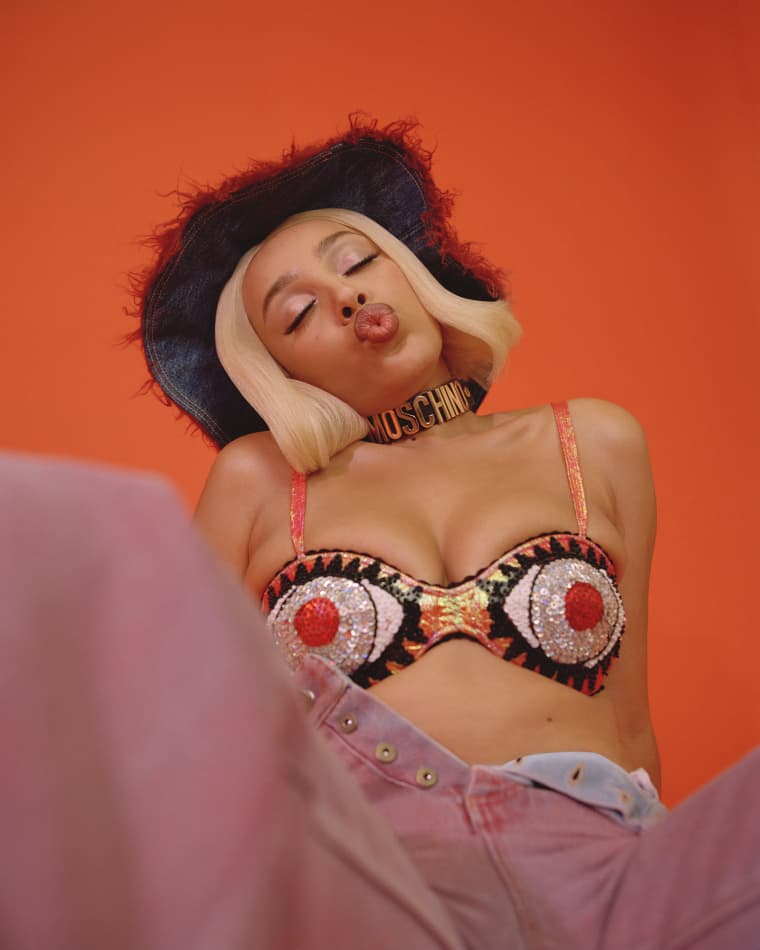 Doja is approaching social media differently these days. "I don't check Twitter as much or tweet as often because, honestly, sometimes social media is draining and brings out all of the negative things going on," she goes on to write. "It's a place where there are bullies and people analyzing everything you post looking for something wrong, so, for me, the healthiest thing has been to step away and focus on what's important."
She's still active on Instagram Live, the platform she's used to playfully freestyle and experiment with her sound. The setting for her Live videos is often her bedroom, a vibrant, colorful space surrounded by various textures and rainbows. What eventually became "Tia Tamera," featuring Rico Nasty, was first created months prior in front of her fans on Instagram. Often breaking out in full costume, Doja's freestyles are inspired by what she's wearing. This carefree, playful adaptability is what makes her one of the most compelling and creative artists of 2019.
So far, Doja has been tight-lipped regarding the details of Hot Pink, though she says it's her "most exciting project." As she's grown and evolved with her fans in real time, she's developed a sound that feels true to her. "With my first album it was a little bit like I was practicing," she says. "It's like, you know the first time you do anything, you kind of have to figure out who you are? I feel like with this second project I know who I am and I know what I want and I know what I want it to sound like. I'm really proud of this."