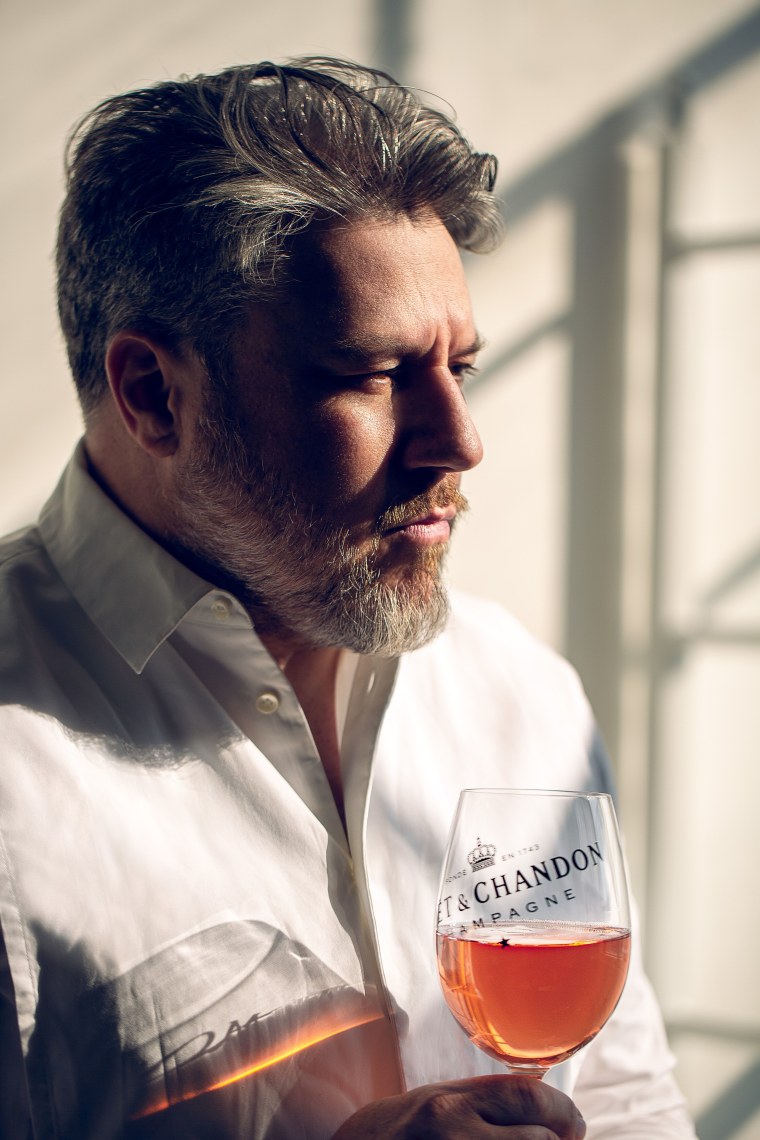 If there ever was a such thing as the Mount Rushmore of hip-hop documentarians, a head you'd be guaranteed to see is that of photographer Jonathan Mannion. Since moving to New York City from his native Cleveland in 1993, Mannion has captured some of the most iconic moments in the genre's history, including many of the genre's most exalted figures. Some of his considerably special shots include DMX wrangling a pitbull with each of his arms, Biggie performing in front of a packed crowd in a suit, and Kanye West's first magazine cover of his career. But Mannion's expertise expands far beyond any particular artist or era.
Because of that multigenerational reach, Jonathan Mannion continues to be sought after as a go-to photographer. That'd explain the latest development in his career, which is being the face of a new campaign by legacy champagne brand Moet & Chandon. This week, the brand launched a new bottle for its Imperial Rose and announced a new program titled Nectar of the Culture, which Mannion will be a part of as well. The celebrated photographer recently had a quick chat with The FADER about his legacy, his relationship to Moet, and some of his fond memories of working with FADER.
You're currently heading a campaign with Moet & Chandon.

For the last 25 years, I've been working in hip-hop, R&B, reggae, and soca. I was chosen for the contributions I've made to culture thus far on the highest level — working with the greatest artists of our time and the FADER on at least a dozen covers over the years. They wanted somebody that had achieved at a high level but also was still on the path to defining this new generation, and I haven't stopped.
I chose to be a photographer because it's opened beautiful doors: travel, having meaningful conversations with artists, working with a team, working individually. Because of this relentless drive to create culture, they thought I'd be a good choice for Nectar of the Culture, and the FADER is a beautiful tie-in. The FADER is always celebrating what's next and artists that were ahead of their time. It's the first magazine to ever put Kanye, Nicki Minaj, and Drake on a cover.
So many songs in the '90s mention Moet & Chandon in a celebratory manner.

I've loved hip-hop since '88. It's always been music I've attached to. Whether it was Big Daddy Kane, The D.O.C., N.W.A., Ice-T, Slick Rick — there was always this moment of fascination. When I moved to New York in '93, it was the beginning of Bad Boy — Biggie, JAY-Z, Wu-Tang. That's when I really planted my feet. Moet always had this sophistication that people always acknowledged. This was an aspirational company to align with, because they're synonymous with glamour, success, and quality. These artists want to drink the best, so Moet was ever-present.

One of the early FADER covers you shot was Mos Def. This past weekend was the 20th anniversary of Black on Both Sides. What do you remember about that time?

There are people that cut through and instantly become super-popular. The machine gets behind it, pumps out the support, puts you on radio, and you play all the songs over and over. Some people had beautiful rises that way, but Mos was under the radar — but he has these tunes that just stick with you, like "Ms. Fat Booty." He is such an amazing creator. He just represents such a special category of music — someone like Kendrick Lamar has this meteoric rise, but it stays grounded in quality product.
To work with Mos for The FADER in 2000, with the Paul Smith trench coat in the subway — we waited for him for maybe three hours to get that last bit of golden light in our studio, and he showed up so late. He's like, "Sorry homie, I just got here," and I'm like, It's pitch black, what are we gonna do? I was like, "Let's go down to the subway," and he said it was the stop he actually took to go to school. There was pure laughter. It was a moment of joy. I've probably done my most pure work with The FADER.
As you've gained more years over your belt as a photographer, have you started to view your role differently?

Very much so. I'm a purely trained and technically sound photographer on digital and film. Technically, I'm a professional photographer — there are a lot of people who take pictures, but I'm professionally trained. I love to make that distinction, but my role has been to kick down the door and make it a little easier for photographers to create and make a living. Some of my role is that of a storyteller about hip-hop's rise to this moment. These touchpoints keep this oral tradition of hip-hop going. People have so much coming at their direction at all times now that it's tough. It's about getting to the point of recognizing quality, but part of my role is as a mentor. I'm destined to teach, always having photographers under my wing, whether they work with me or for me or are on set with me. I'm constantly talking to the next generation of true voices — who really want it and have the gift. I help them with contracts, help them talk through problems, how to motivate, and what they should look for in portfolio reviews. A lot of that is part of my next wave. To hoard the information is not what you're supposed to do as a human being. If you have the answers, you're supposed to teach.