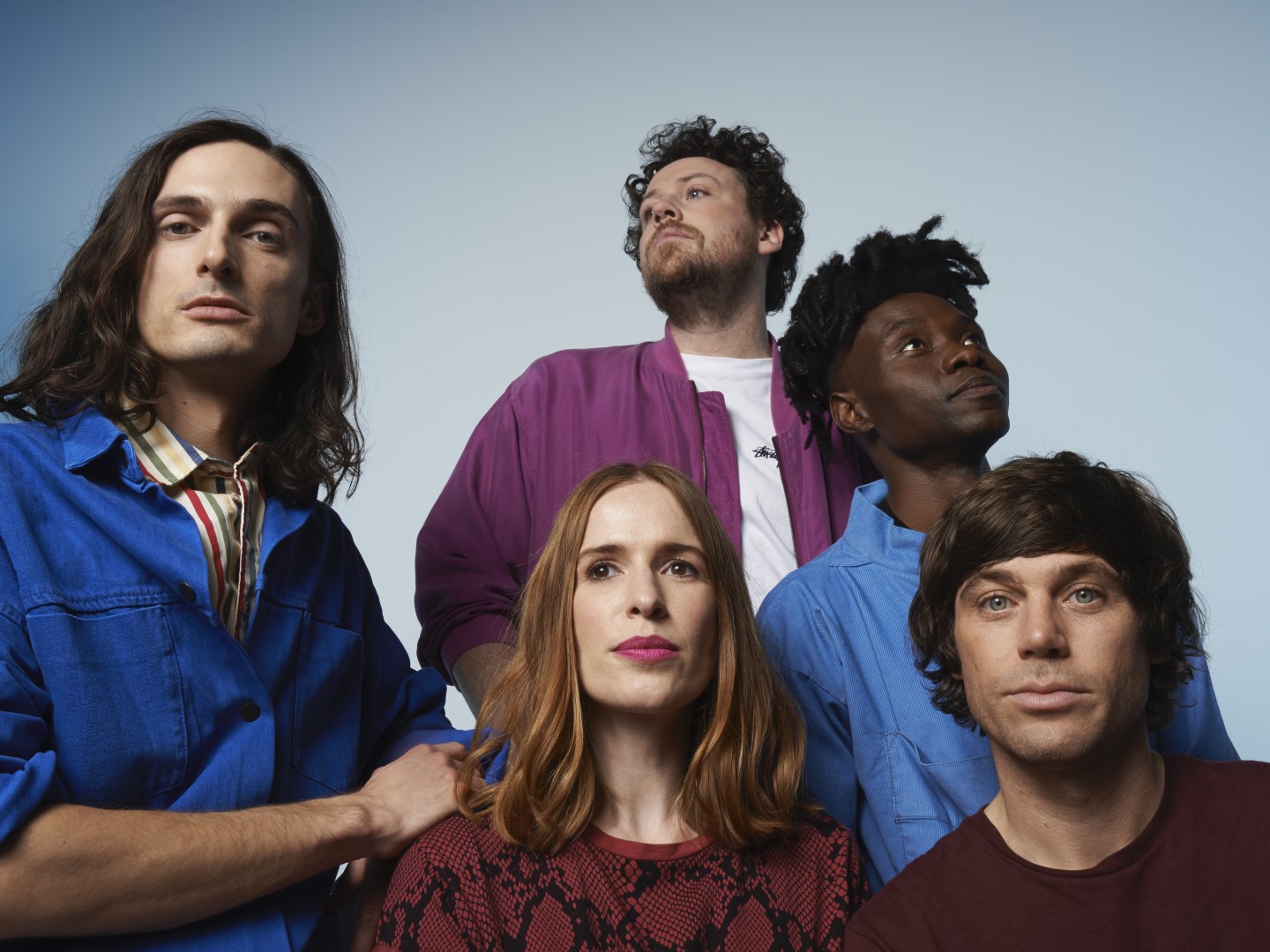 Joseph Mount is the proud owner of a red tractor. He can drop the word "rotovate" with the casual aplomb of someone who knows how to deal with errant bracken. It is, perhaps, not what you'd expect from a man who is six albums deep with his musical project Metronomy, a man who spent nearly four years toiling alongside Robyn to help bring her long-awaited record Honey, to life. Joseph Mount, what exactly is happening? "It's a midlife crisis!" quips the 36-year-old, as ever, full of dry rejoinders. Just ask him how he met Robyn: "Tinder".
Since releasing his last record, 2016's stellar Summer 08, Mount's relocated from Paris to the English countryside, decamping with his partner and their two curly-haired boys to a plot of land in Kent. For a full year, Metronomy — that includes Mount's cousin Oscar Cash on keys, Olugbenga Adelekan on bass, drummer Anna Prior, and guitarist Michael Lovett (AKA Nzca Lines) — didn't tour at all, a ballsy move. Mount had more pressing plans, namely building a home studio, planting a vegetable patch, hanging out with his family, and living the bucolic ideal.
"My thinking was, I have two young children, and Benga had missed the birth of his first child because we had a gig and he didn't get back in time!" explains Mount, sipping cider sitting on my balcony the night before a sold out (underplay) show at Brooklyn's Rough Trade. "How important is this? More important than the birth of a child? I thought we should have a break to spend some time on ourselves."
Much like Mount himself, Metronomy Forever is wry and strange and as pinsharp as the drum fills on "Lately." As always, he wrote it alone, creating polished, oddball pop that swerves from bassline-driven funk ("Whitsand Bay") to awkward-sweet synth ditties ("Lately (Going Spare)"). "The Light" offers expansive alien-groove instrumentals while "Sex Emoji," with its Prince-like falsetto chorus, is straight up bizarre. It's a 17-track Mount-made mixtape, which is rather fitting seeing as Metronomy Forever concludes with a melancholy number about making a mixtape for your teenage crush, only to discover a decade later that it was the crush's brother who really dug your music taste.
At 36, Mount is remarkable because he is somewhat unremarkable in the most complimentary way. He's steady as his shoulders are broad; he's avoided every rock & roll cliche. Unlike the new rave acts of the mid-2000s (Klaxons, CSS, Late of the Pier), with whom Metronomy was uncomfortably lumped, Mount never suffered from the scrutiny and fallout of having your debut record go nuclear. His first two albums gave him the grace and space to experiment and explore before The English Riviera became a cult hit in 2011. Early next year Metronomy will play for 7,500 people in Mexico City, but Mount can still slide through life as an average Joe. It's quiet confidence rather than ego that drives Metronomy. It's great grooves rather than diaristic emotional outpourings that keep fans engaged. If you go to a Metronomy show, you go to dance.
You have a song called "Insecure" and another called "Insecurity," but you strike me as so unflappable. When was the last time you felt that emotion?

Probably yesterday. We did a video shoot and I was feeling like this video is amazing and I'm the only thing letting it down. The worst thing is that I'm clever enough to know that everyone feels like that. It doesn't matter how attractive you might find someone, you can be very sure that they don't feel that way about themselves. Releasing a record is an odd rollercoaster of emotions.
Do you ever feel like you don't know how to write music?

I've started to feel quite zen whilst feeling insecure. What makes people people is individuality. You can write something, and I can write something, and Anna can write something, and you can't say objectively This is brilliant, this is shit, because it's yours and it's coming from you. So I never really worry because I've got to this point where if my music suddenly started getting worse, well, that would become part of my story.
Let's talk about working with Robyn. What did you learn from that experience?

Robyn and Klas [Åhlund] are very experienced, professional people, but their average working day would start at eleven, but it's really noon, and then you have lunch, so it's 1:30 when you actually start, and then you finish at five. So then you're thinking, Well shit, we only worked four and a half hours and half of the time we were talking! I would find it frustrating because I'd be in Stockholm for four days which means we're going to do 16 hours of work. In theory, we could work for 48 hours. I'd go back to the hotel and sit in front of the computer all evening, listen to stuff, change things, and take it in the next day, and they'd just dismiss it! [Laughs]
They'd be like, I've been talking about this thing, we should do this. And then they'd implement the idea! I started doing it that way, where you think about what you've done, you don't listen to it over and over. That's not how I work exclusively now, but I am somewhere in-between that and what I was doing before. It's good!
Was there a point when you thought the record might never come out?

Yeah! One of the really enjoyable things about making the record with Robyn is that we were both smoking. We'd do a song and have a cigarette and have nice chats. I said when the record is finished, I'm going to quit. Two years ago I was in Stockholm and I'd gone to do what I thought was going to be the last session for the album and it became obvious it wasn't going to be. I thought, Well, I'm just going to have to stop smoking because the finishing of the album being the event that starts my quitting might never happen! There was a point where I thought maybe she's just going to scrap it, but now I know she was just making sure she was happy.
The record is tremendously personal. Did she talk to you a lot about the lyrics?

Yeah, everything. She'll be like, I want to write a song about my friend dying and how it makes me feel and you're kind of like, Ok, wow, I've never really done this before, and then you start talking about it. That's how she writes, but she can't do that with you unless she trusts you. When I met her in 2013, that was her beginning to become friends with me to get to this point where she could be open.
Who would you like to write songs for?

With! With Rihanna. For a long time I've hated it when musicians talked about themselves as artists. I find it really awful: you're not an artist, you're a musician. [But now] I realize what I do is perhaps a bit more conceptual and outside of pop music than I thought it would be. So if I'm working with someone, it has to be sitting in a room understanding them and trying to do something for them, not for the radio. Something for them to nourish their soul! [Laughs] I would like to write with Rihanna because she's a very interesting, clever artist. I think she'd enjoy working with me, we'd have fun!

How do you feel about The English Riviera now as a turning point record?

It's the reason I'm here. "The Look" and "The Bay" from that record are the biggest Metronomy tracks out there. Depending on where you're playing, "The Look" can drive people crazy. If you asked anyone who has a track like that they'd probably tell you the same thing: it becomes a self-perpetuating creature. It was an amazing record in terms of what it did with Metronomy and how it connected with people, but beyond that, it's people and those songs that have made it into this thing that with more distance becomes more significant. You don't want to feel like that defines you, but I don't think I ever imagined I'd write a song that had that effect on people.
I really remember when people like Julian from The Strokes started name-dropping you and me thinking, Oh shit, this is really traveling beyond Europe.

Yeah! The other funny thing is that as far as I'm aware, people like Julian, and Josh Homme, who became a friend because of that, and Ronnie [Vanucci, The Killers], and Brian [Burton, Danger Mouse] — all these people who I've been influenced by in varying ways were really into the album's production and how it was mixed. It was the first record that I made in a studio, just me and Ash Workman having fun, so for it to interest people on that production level was super cool.
I think artists have two moments in their careers where they have a young special record and then they do it again. Like the [Red Hot] Chili Peppers: Blood Sugar Sex Magik and then Californication; Green Day had Dookie and then American Idiot. I thought this album would be the second act, but I feel like it could be the one after this one! [Laughs]