Fetty Wap in motion
The one-time hitmaker has returned to his regional roots and the sound that made him famous.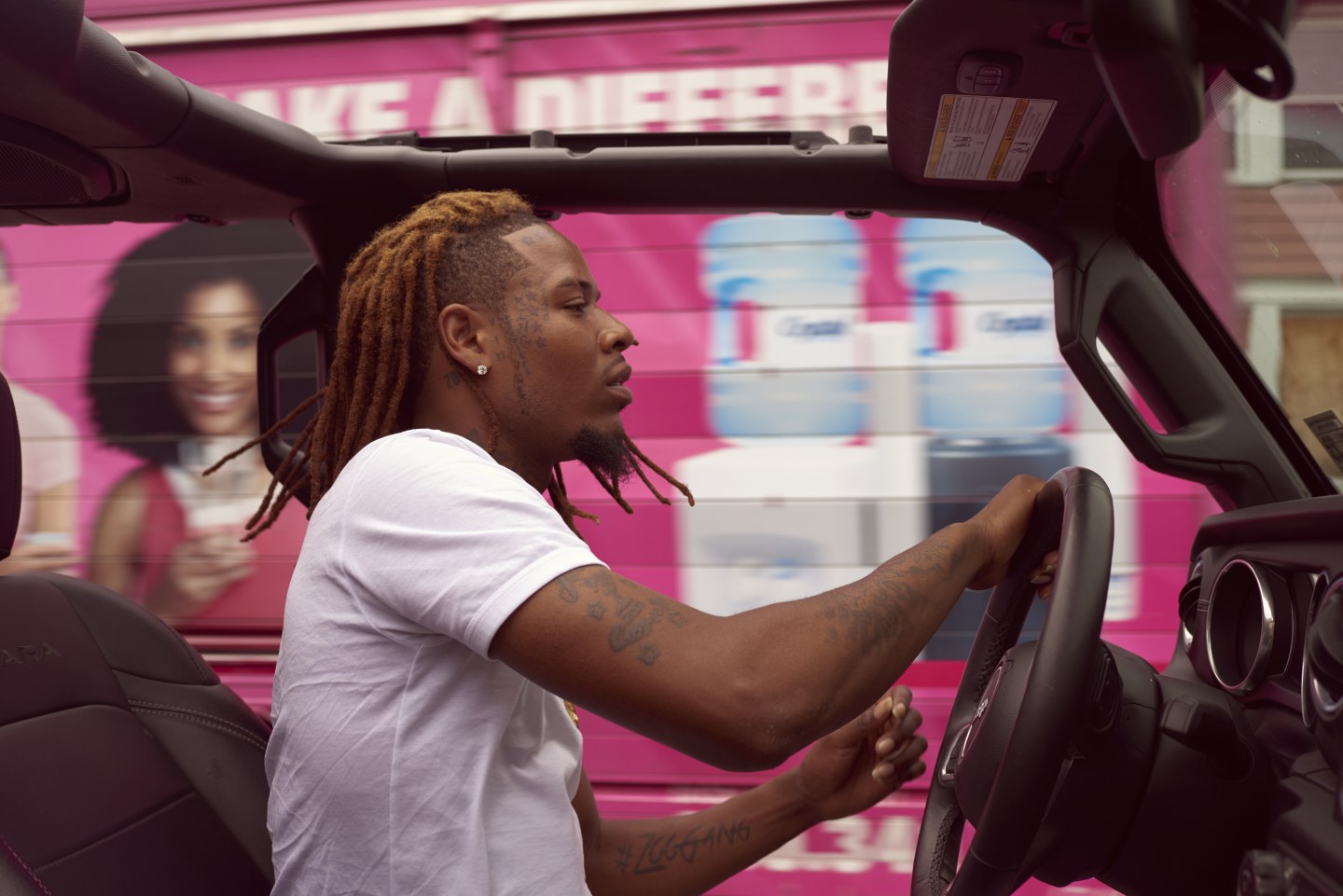 I'm standing in the drop-off area of a huge residential building in Fort Lee, New Jersey, on the final day of July of last year when a group of young men file out of the building's lobby in white t-shirts. The tallest of the group is Jersey's most prized export of the decade, Willie Maxwell II, better known as Fetty Wap; I'm here to get an idea of what the Paterson native has been doing since dominating the hip-hop airwaves in 2015. But before any of that happens, me and Fetty's publicist have to follow his car down Interstate 80 so he can have the doors to his black Jeep Wrangler reattached, in anticipation of the forecasted rain later in the day.
After trailing Fetty and friends for a half hour, we pull into Paterson as he slows down a side street and puts the car in park. His friend Fuzz — whose leg and black ankle sock were hanging out of the Wrangler for our entire drive — walks over to switch cars with our photographer so Fetty can be captured from the passenger side of his jeep while we cruise the city. Rocking a red-topped fade, Fuzz mentions that it's his birthday as he gets into our car; "I'm lit already," he excitedly asserts, syncing his phone with the car's bluetooth system and playing his just-released mixtape. "I'm hittin' them from left field with this one," he says with a smile on his face before bopping his head like it's the first time he ever heard it. "They ain't know I rap!"
Our ensuing ride through Paterson's 4th ward (where Fuzz says he and Fetty hail from) feels like an around-the-way version of big-time political figures arriving to a city's center, only with a much warmer embrace from the people. From our trailing view, Fetty's sandy brown locs flutter in the humid wind, a rainbow of colorful vinyl siding accentuating the ride; he's blasting his own music, and every few blocks someone on the street notices him and yells out, with Fetty saluting in kind. When our car finally catches up to him at a red light, Fetty's grinning so wide that his eyes are almost closed completely. There's a sense that, for him, showing off his home turf is a source of supreme joy.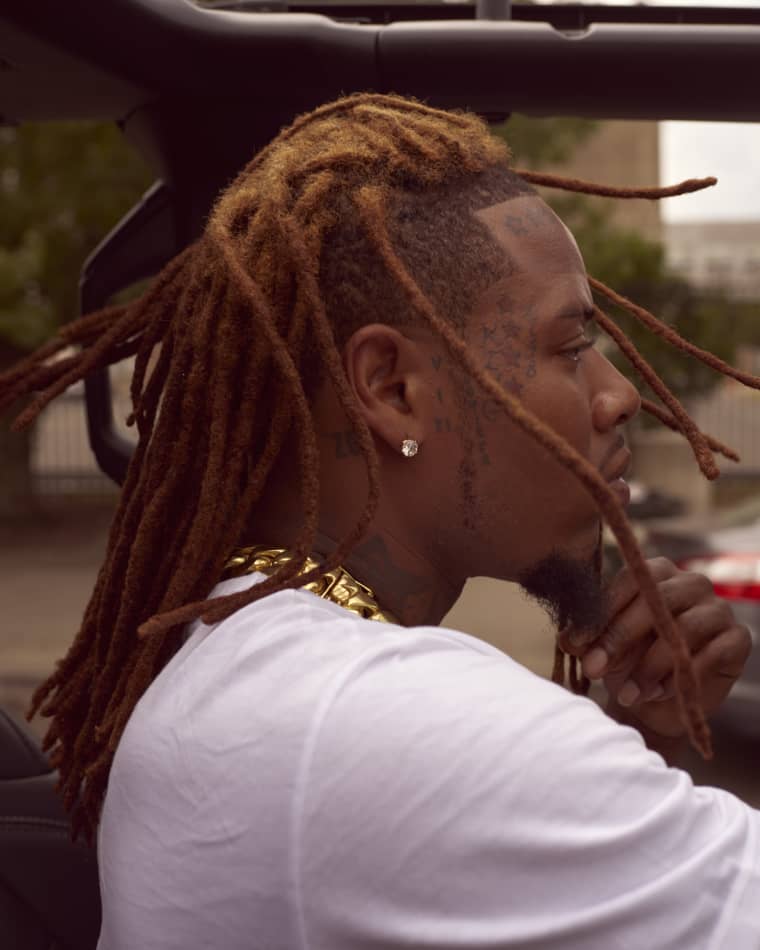 Our destination is a strip that includes a car wash, a car detailing shop, and a food truck. Fetty hops out of the car and greets a few of the guys hanging outside the car wash; he's sporting a wrinkled white V-neck tee, gray sweatpants rolled up above his ankles, and a pair of white, pink, and blue sneakers. The only part of his fit that suggests he's a rapper is the huge cuban link chain around his neck. "Let me show you all this shit," he offers, taking me to the detailing shop where he has a couple of cars getting new looks as we speak. When we approach a door that leads to the back of the space, Jersey City rapper Albee Al is making his way out; he and Fetty dap each other up, then we head back outside and find a place to sit and chat about the new songs slated for his forthcoming sophomore album.
"I'm really excited about this shit, bro," he calmly tells me while crouching down on a red planters box. "I got something to prove — I gotta show that my lyrics have succeeded way beyond the measures of my first album. When you hear my music, you'll understand what I'm talking about. I put a lot of thought process into this shit."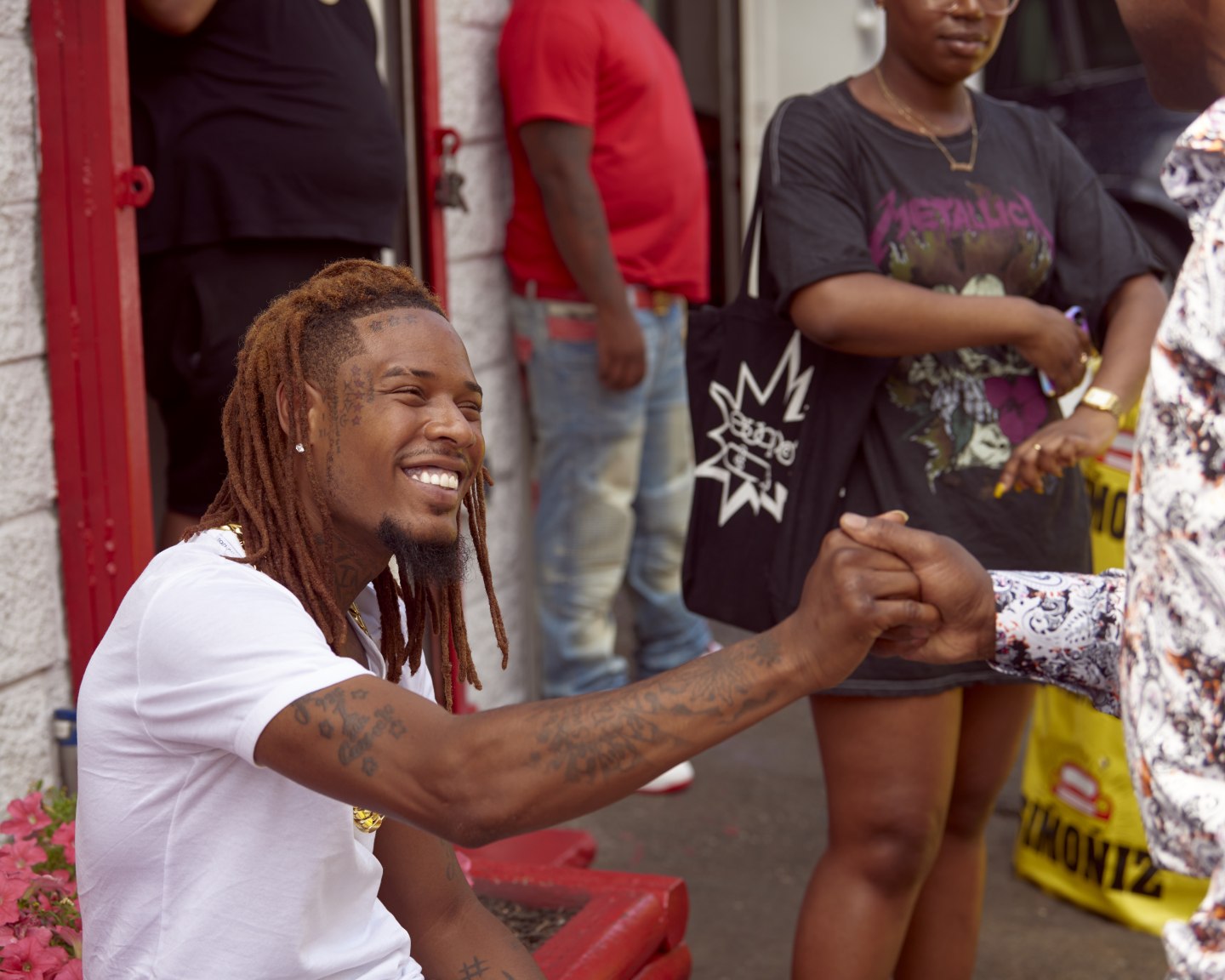 Fetty Wap's self-titled debut album capped off a rookie year that hip-hop hadn't quite seen in the digital age. "Trap Queen," the song that launched him into stardom, had been buzzing in Jersey for nearly a year thanks to marketing on the street and social media. Possessing jubilant energy, the song framed Fetty as a charming loverboy type with some mystery to him; His voice, in tone and delivery alone, was something that hadn't really been heard before — the closest point of similarity being the unhinged harmonies of Atlanta snap group D4L's FABO. Fetty Wap's success also came when many of hip-hop's hottest songs were trending towards a more melodic future: ILoveMakonnen's "Tuesday," Dej Loaf's "Try Me," and Post Malone's "White Iverson" all achieved major success in the previous year without much actual rapping involved.
"Trap Queen" eventually peaked at #2 on the Billboard Hot 100, surpassed Taylor Swift as the most Shazam'd song in the country, and led to Fetty being backed by Fall Out Boy at the iHeartRadio Music Festival in Las Vegas that year; eventually, three more singles from his 2015 self-titled debut LP ("Again," "679," and "My Way," the latter of which nabbed a guest verse from Drake on the remix) charted between 4 and 33 of the Hot 100. Fetty seemed poised as the face of rap's strange, ballad-leaning future — but other aspects of the music industry's changing culture derailed Fetty's quick rise.
The same year that "Trap Queen" hit, JAY-Z bought and relaunched Tidal, Apple launched Apple Music, and YouTube announced YouTube Music. The life of a hit song was becoming rapidly reliant on the number of digital streams it accrued, creating an increased incentive for artists to attempt replication of their own successes to maintain dominance. Even though Fetty Wap had hits and eventually went double-platinum, nearly every non-hit on the album was painfully forgettable, revealing little of Fetty as a person.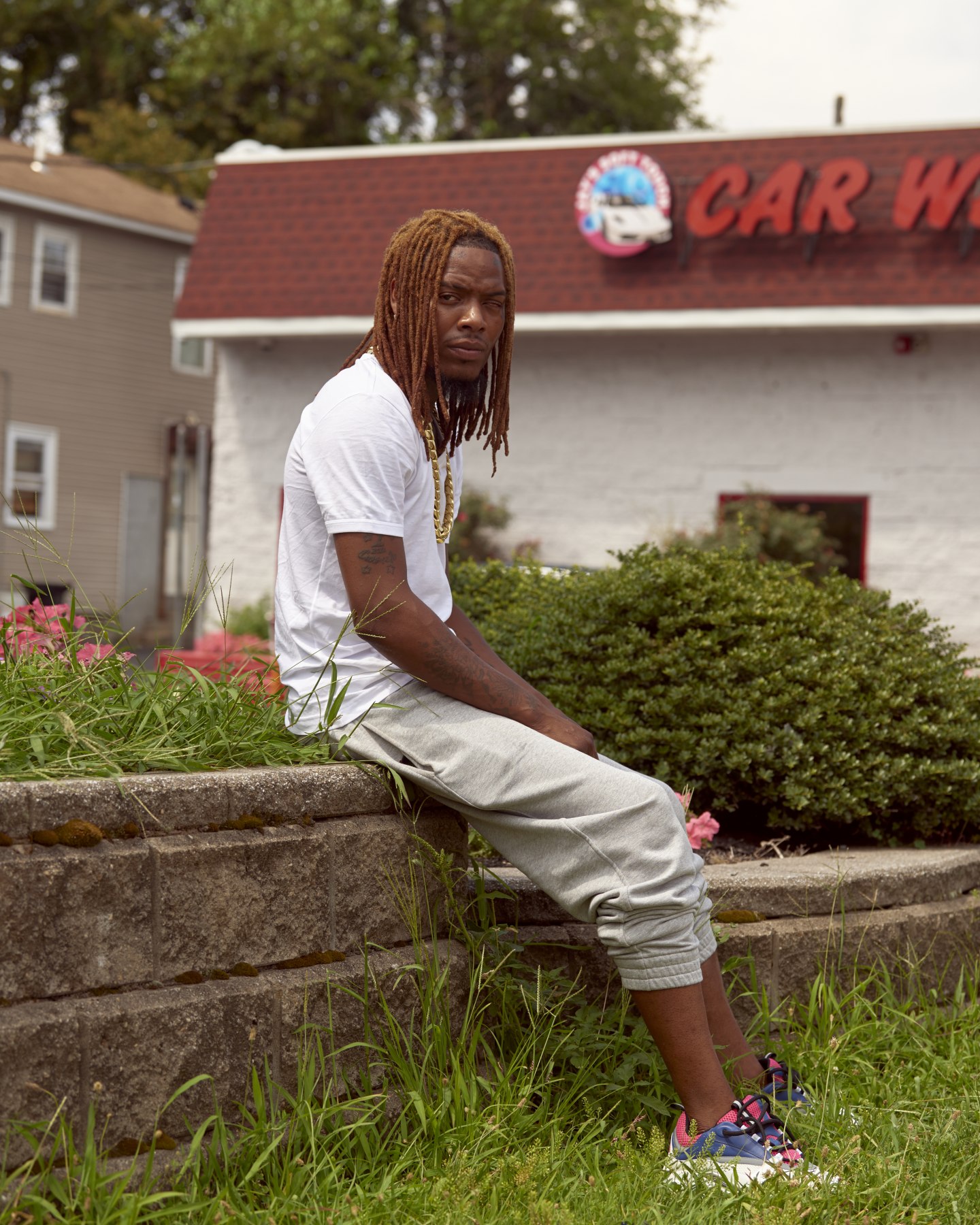 "The first album was my first go 'round, I wasn't really," Fetty pauses mid-thought. "My singles was so crazy that I wasn't trying. I didn't really have to try to make an album. It didn't even matter if I made other songs. People still probably never got through that album yet. The digital shit was going crazy at this time. Streaming just popped off, so people could just go straight to what they wanted to hear."
This moment of introspection outside the car wash is interrupted when a dude with a crisp white tee and deep waves walks up, stops us mid-convo, and requests, "Can I get a flick real quick?" Fetty agrees without hesitation and they exchange a warm embrace before the dude trails off and starts talking to others hanging outside. "I was just running. I was having fun," Fetty continues. "I worked my ass off to get this blessing. I got what I deserved. After awhile, I knew I needed to go harder. But at that time, everything was going so crazy that I aint have to. It didn't matter to me, I was just having fun." The success began to cloud his creativity. During that run, he'd also broken his leg in a motorcycle accident after colliding head-on with another vehicle in Paterson.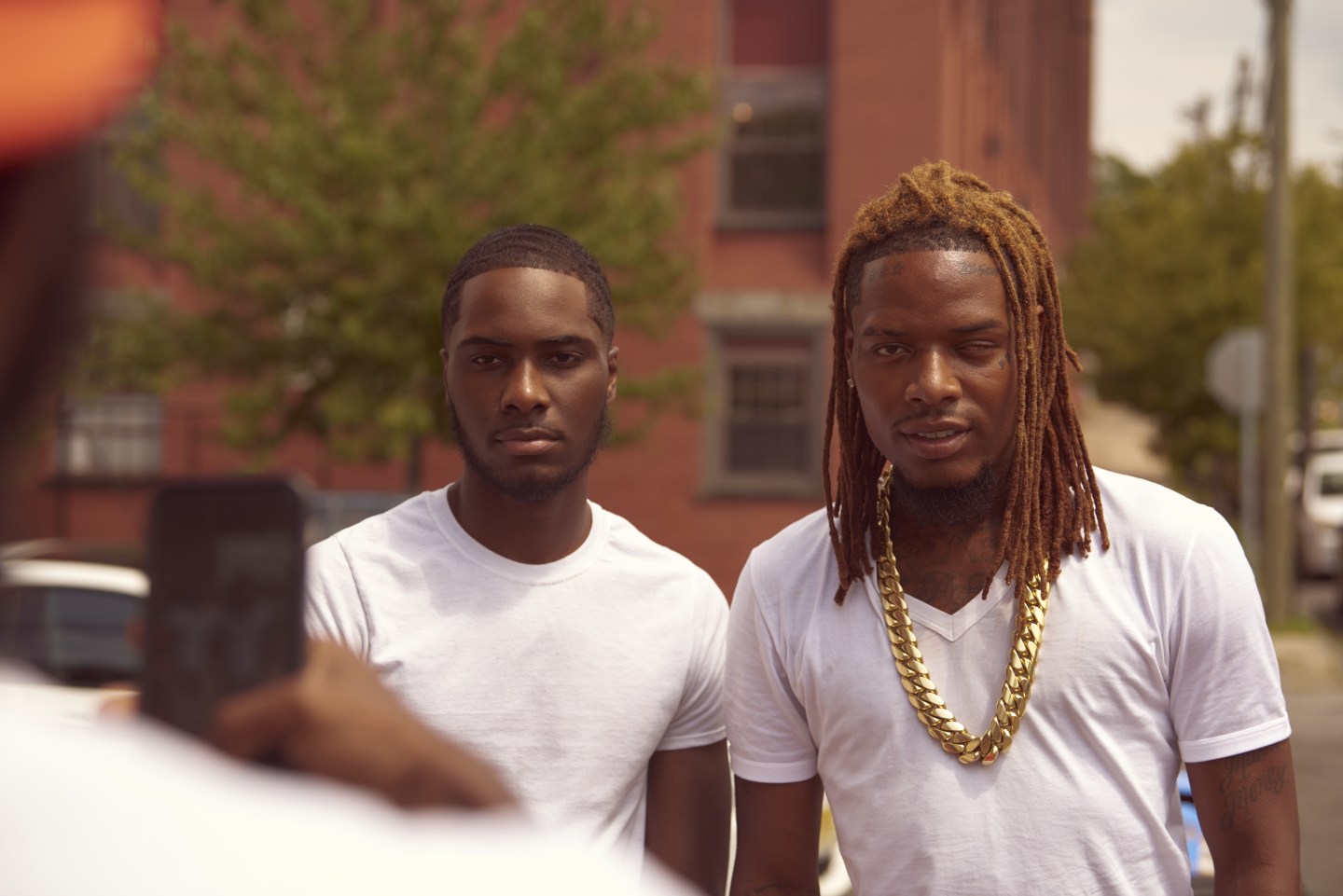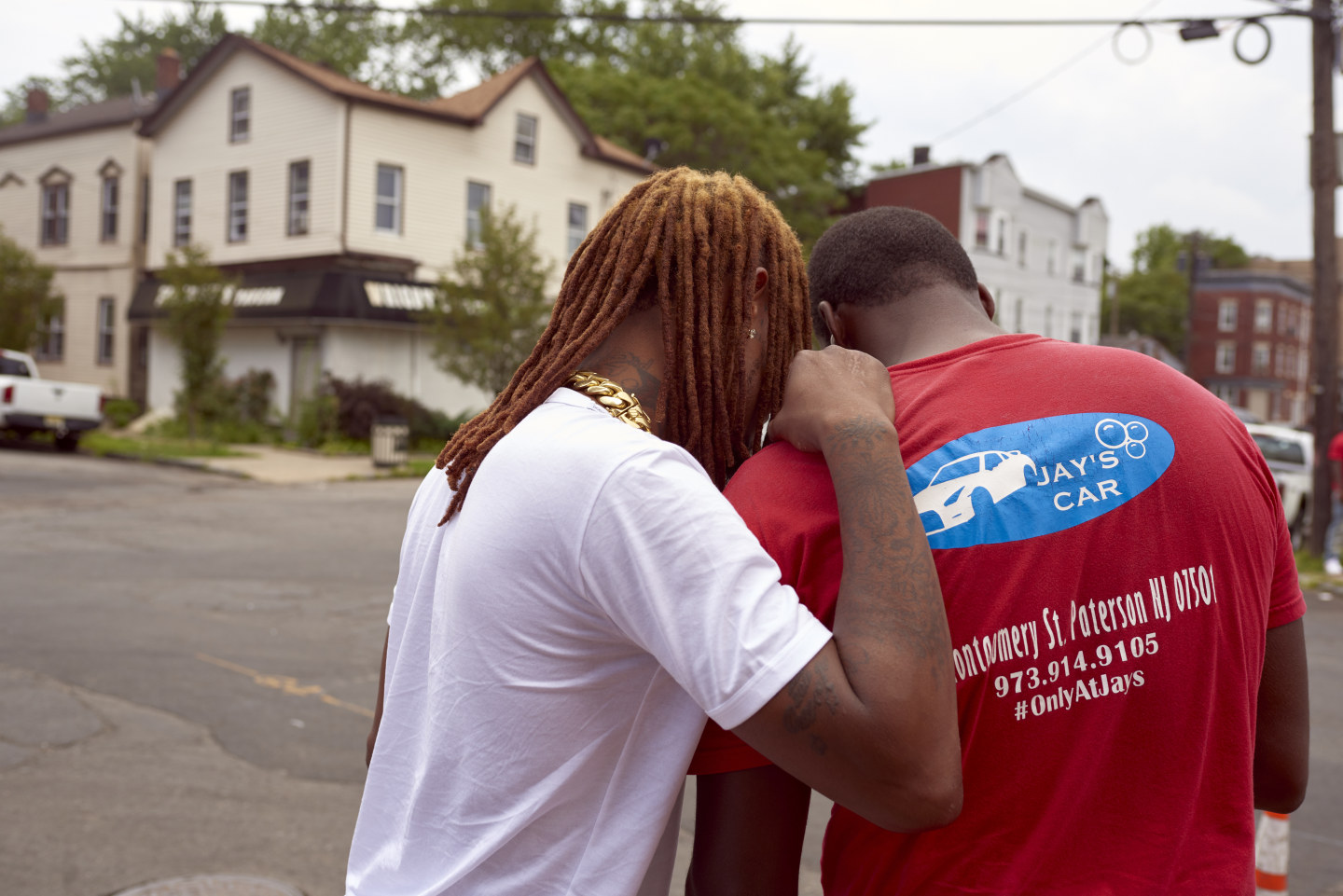 Since that breakout year, Fetty's released eleven projects — the latest to receive critical attention being the Bruce Wayne mixtape from 2018, which Pitchfork panned while referring to him as a "one-dimensional chant rapper." The most visibility he's experienced in recent memory has been as a cast member in VH1's Love & Hip-Hop franchise; in 2018, after growing homesick and tired of jetting back and forth between Atlanta and Los Angeles, he moved back to Jersey. "I was like, This aint me," he remembers. "I liked the vibe [in Los Angeles], but it was Damn, I want my niggas with me."
Fetty also started to recenter on what was actually important to him, eventually realizing that he needed time to scale back and focus. "You live your life once," he tells me. "I done been through all this shit — i went from super-duper sky-high all way back to the bottom. Now, I'm a whole new Fetty Wap."
As evening approaches, the scene outside the car wash grows increasingly lively. Either someone gave out the word that Fetty was in the area hanging out, or this was just a regular occurrence for a summer day in Paterson; judging by his temperament, the latter seemed very plausible. Fuzz and few others sit on folding chairs while passing around hookah, blunts, and beer; from the distance, speakers thump down the street — the source of the sound a middle-aged dude with both arms fully-tatted, rolling past on a Harley while bumping Fetty's recent single "Birthday," which features frequent collaborator Monty. A few minutes later, another guy in all red and a bedazzled American flag cap walks up and gives Fetty a pound. "I know you got a CD for me." Fetty doesn't.
When I ask him if hitting the strip and checking in on friends and what I assume to be a family business is part of his day-to-day routine, he quickly replies, "Naw, this they business," pointing towards his cousin Jay — who answers sternly, "It's our business." Fetty doesn't crave people gushing over his accomplishments as much as he does seeing the people around him thriving; he eventually switches the focus to his uncle's seafood truck (titled Fish Gate Fish & Chips) in the lot, exclaiming with pride, "Every hour and a half, he change the grease. Everything fresh." The truck (which is only open on weekends) serves fried shrimp, catfish, lobster tails, and an eggroll filled with yams and mac & cheese — and Fetty has a special named after him too. "I get two lobster tails, shrimp, rice, vegetables, macaroni salad, a yam roll, and the fish," he boasts. "That's the Fetty Wap."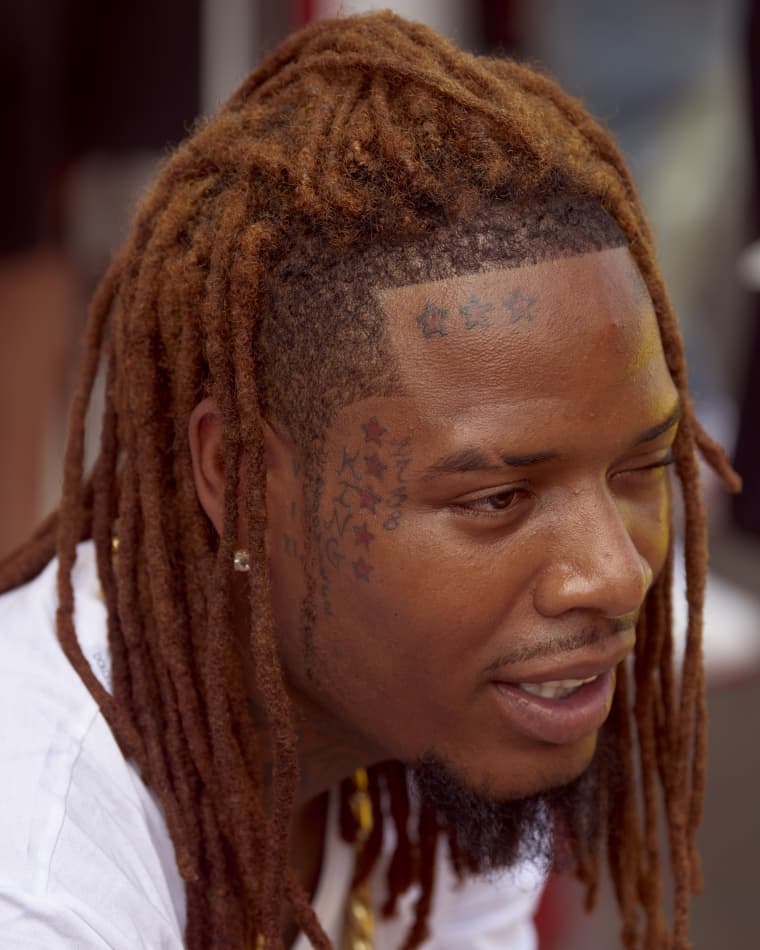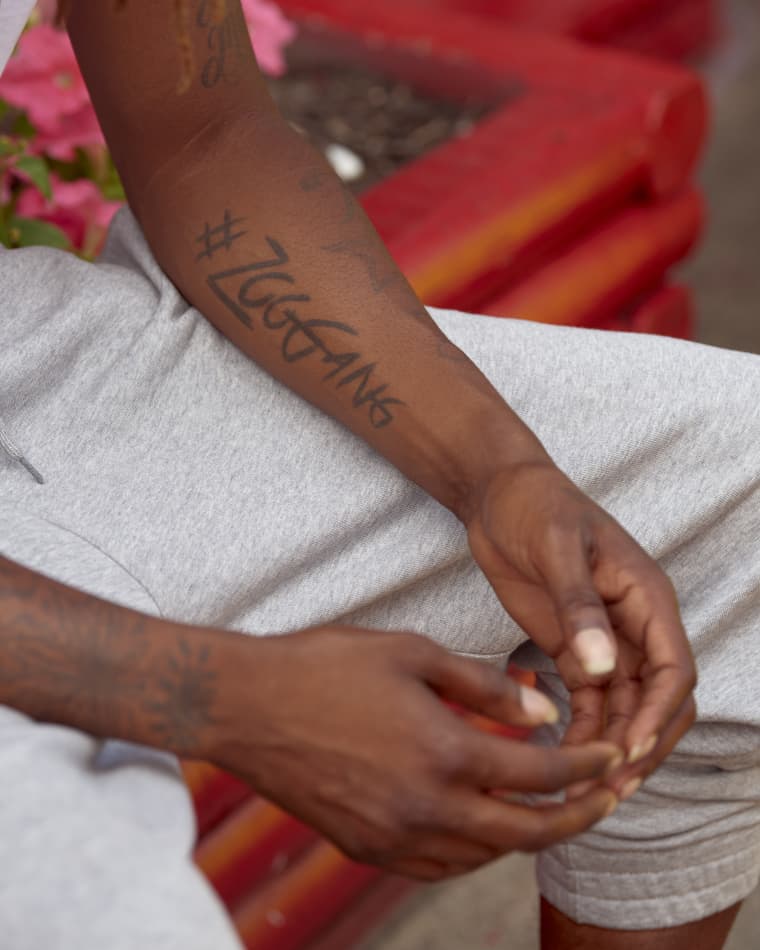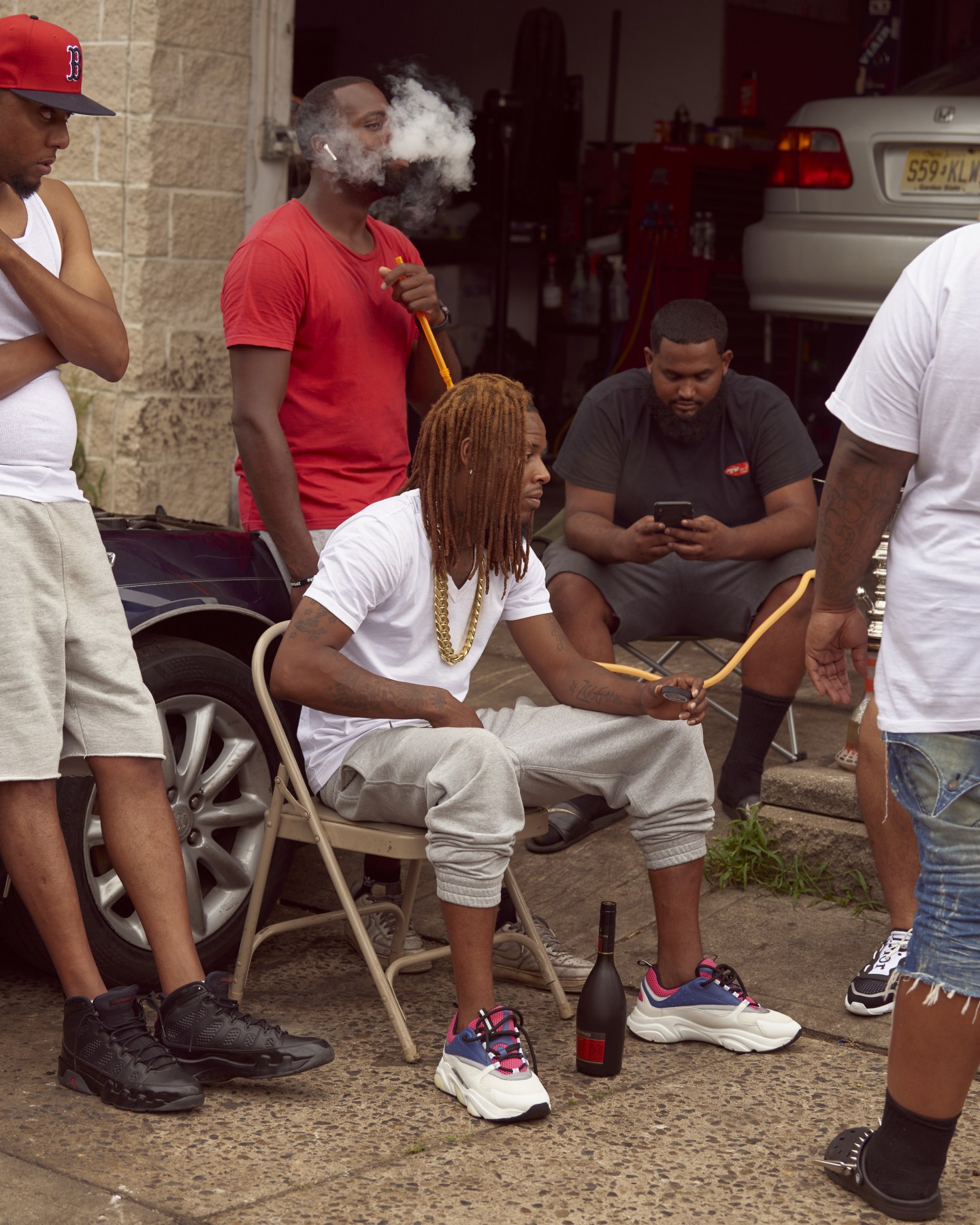 After praising those around him, though, he opens up about how much of his current focus is influenced by lessons learned over the past four years. "Everybody ain't who they say they is," he says as we lean against his Jeep, doors newly reattached. "I really am who I say I am. It ain't nothing wrong with checking on people, it's a problem spending checks on people. That's the problem. It took me a while. I dont want niggas to think I'm fake. But when I ain't have no money, muhfuckas ain't never ask me for no money then. I never seen you have no problem all way until I had money."
This current mindset sits in stark contrast to his recent past; throughout much of Fetty's early career, it almost felt like he was being inclusive to a fault. Nine of the 19 tracks on his debut album featured Monty; during press appearances behind the album, he repeatedly mentioned the importance of Remy Boyz and his label RGF. Although he doesn't specify who's been draining his energy as of late, he claims that his new outlook will be reflected in his sophomore album, which is slated for early this year. "These emotions are emotions I never had because I was always for my squad — for us, my family," he says. "I already did what I felt like I had to do for everybody else."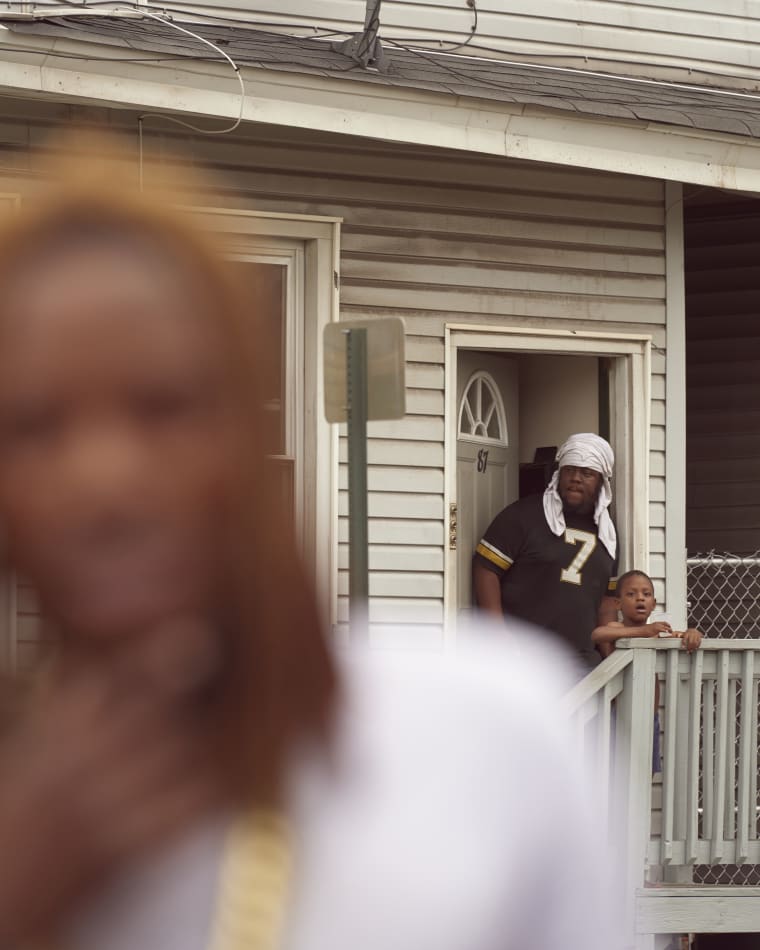 Indeed, the first of eight songs slated for the album that were sent to me pre-interview is centered around his recent thoughts — but despite his claims, the song reflects that the extent of what he's been thinking about is money, calling his ex, and pondering what else life has in store for him in the near future. Another song alludes to him acting "brand new" but doesn't go any deeper than those words, devolving into a "Trap Queen"-esque number about mutually being present for one another in a relationship. Overall, the tracks mostly sound ripped from the sound and lyrical content he was mining in 2015.There's a sense that in efforts to ground himself, Fetty may find the most comfort in doing what he has already seen work for him.
For much of my day with him, he continues to live defiantly in his own bubble, hanging out in familiar quarters of New Jersey with family and friends who've been around since his youth. It's an impressively strong bond with people from his beginnings, a seemingly unwavering love from his community, and a peace of mind that comes with not having to worry about keeping up with the perpetual bustle in major cities. But there's also a tinge of naïveté in his belief that his new music will eventually catch on again, even as the new music I've been sent sounds like more of a continuation of the past than an evolution.
Before we part ways, Fetty calls his uncle (who's a detective by day) to fire up the grill. He prepares us some perfectly fried shrimp along with seasoned fries and a homemade aioli; while we eat our platters on the trunk of a car parked in the body shop's lot, I ask Fetty if he cares whether or not his forthcoming album receives critical acclaim or public admiration. "I don't be giving a fuck — that's always been my motto, everybody know that about me," he says with a proud grin. "All publicity is good publicity. As long as they talkin'. When I put this album out, it's not gon' be for other people. It's not gon' be for people to automatically love. They gotta be able to understand where I'm coming from."