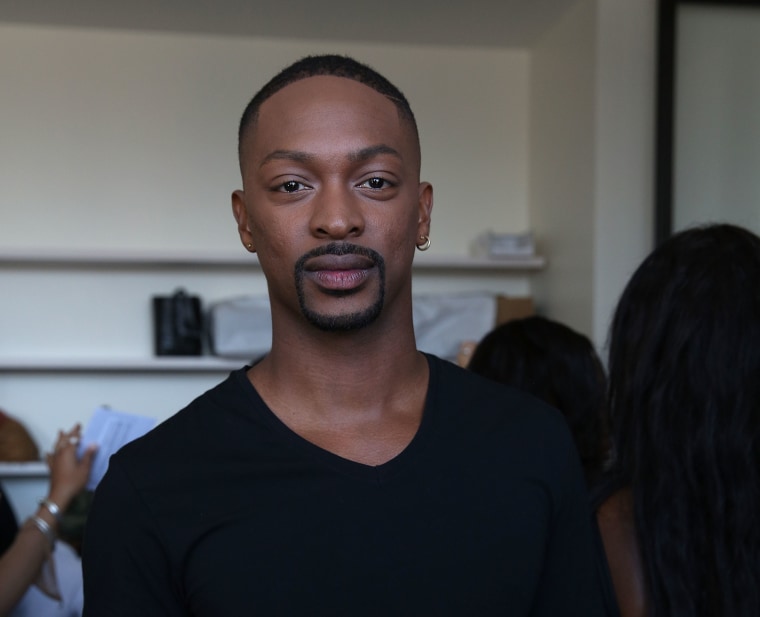 Backstage at the LaQuan Smith show at Spring Studios II on the first Saturday of New York Fashion Week, a white fur bag — four feet wide and just as tall, emblazoned with the words "I'M MOVING OUT" in bold black across its front — is dominating one corner of the room. Models, members of the press, and Smith's friends are buzzing about, packing up supplies, and making conversation as I wait for access to the designer who brought this furry spectacle into the world. A few people around the bag whisper among themselves, and I can tell they're all wondering the same thing I am: Can I? Should I? So I do. I grab the bag and sling it over my shoulder. Almost immediately people begin asking if they can have it next, seizing their moment with The Bag now that someone's broken the ice.
On the runway, the bag was a show-stopper. The footage we posted was quickly [stolen and] turned into a viral meme.
Me at the age of 9 when something didn't go my way https://t.co/nJzaG5uFTw

— Dream girl (@80spostergirl) February 9, 2020
Queens-born Smith is known for its bold use of vibrant color and carefully structured pieces. He debuted at his first New York Fashion Week at the Society of Illustrators when he was just 21 years old, after hustling his way onto the scene and leveraging his resources as an intern and stylist for BlackBook. Now, at 31, he's outfitted the biggest names in pop culture for some of their biggest moments. Rihanna donned Smith's sheer Anamlia Catsuit on her Interview cover. Beyonce debuted several custom LaQuan Smith looks across the globe through the On The Run II Tour. His runway shows have featured high-end models, with Winnie Hawrlow and Duckie Thot bringing life to his collections. Smith's designs aren't only for the deep-pocketed either. His partnerships with brands like ASOS and Jordache have made him accessible to those who have style without the stacks to back it up.
For the debut of his Spring '20 collection, Smith brought in fresh faces to represent his vision. It set out Smith's vision of femme fashion today: glittering sheer crystal gowns, vibrant leathers, and luxurious white furs.
We spoke to him backstage after the show about his inspiration for the collection, his growth as a designer, and what he's got coming next.
Would you talk to me a little bit about your concept for tonight? What was your inspiration, what you were trying to convey with your collection?

I just wanted to convey a woman who was really empowered and really strong. Someone who's not afraid to be themselves, who is just living unapologetically, not having to apologize for what they represent. I wanted to reinforce this really strong, intense understanding that sex is alive. I think that no matter how old you are, or how young you are, or what size you are, I think every woman wants to feel sexy. Every woman wants to feel desired. And I think that the clothing that I designed is specifically for that matter, so that you can kind of zip it up and kind of regain your bad bitchness again.
So when you were looking for models to embody this collection and that spirit, what would you say you were looking for?

Just that high energy, sass attitude, a sense of luxury, a sense of glamor, something that I can, really, I guess, sell. I think that every girl that I cast, I wanted them to look like they were actually pulling the clothes out of their closet as opposed to being styled in a look. And so I think that I feel like I've done that. I think all the models loved exactly what they wore and it fit their personalities and that's what it's about. Authenticity.
You debuted at your first fashion week at 21, so you've been around the block a few times now. After 10 years of shows, how would you say you've grown as a designer?

I mean, I've grown tremendously. I think that over the years I have definitely just taught myself, I've watched, I've learned, I've listened — rebranding, restructuring, I failed a lot. And I think it's really about just picking yourself back up and doing it all over again, but doing it in a way where it's unapologetic and I feel like I'm in a lane of my own. I'm not trying to compete with anyone else just because I know exactly what I'm designing for.
In a 2018 interview with Fashionista, you said that you felt like you hadn't achieved your big break yet because you were waiting for a moment that felt like you were celebrating the female form in a way that appeared exclusive to you. Do you feel like you've achieved that now?

Not quite. Not quite. I'm a Virgo. I'm an overachiever. I'm the hardest one on myself. I'm never impressed with anything that I do. So I think that groundedness and that level of humility comes from my roots. It's really just about being thankful for the ability to even design. So I mean, the sky's the limit. As long as I'm here on this earth, I'm just going to continue to just do what I love.
So what's next for you?

What's next? The collection is going to hit stores soon. I got a collaboration with Jordache right now. You saw the denim pieces that's coming out soon. I did custom shoes with Gianvito Rossi. I'm the Ambassador for Moët. There's so many incredible things happening right now, so you just got to stay tuned and see what's good.