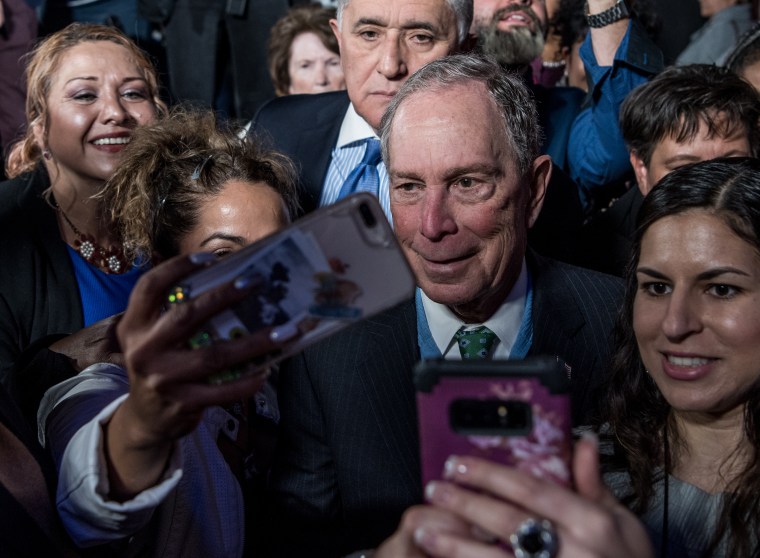 If you don't follow any meme accounts on Instagram, congratulations. But if you do, you may have noticed a heavy influx of memes designed as screenshots of DM conversations with presidential candidate Michael Bloomberg which coursed through the feed on Wednesday and Thursday, courtesy of a number of viral content curators such as @fuckjerry, @grapejuiceboys, and @sonny5ideup. Each of the memes arrived with a caption confirming the meme was sponsored by Bloomberg himself.
Yesterday, the New York Times confirmed that the Bloomberg campaign had sponsored the blast of memes, and was working with Meme 2020 — a new initiative helmed by Mick Purzycki, the chief executive of Jerry Media (who also handled publicity for Fyre Festival back in 2017). It's unknown how much each of these Instagram accounts were compensated for their posts, but last week, The Daily Beast reported that on Tribe, Bloomberg's campaign was offering a flat $150 to "micro influencers" (with 1,000 to 100,000 followers) to post content "that tells us why Mike Bloomberg is the electable candidate who can rise above the fray [and] work across the aisle so ALL Americans feel heard & respected."
Many of these accounts have faced backlash from inside the meme community since the blast. In a comment posted to his Instagram, meme curator Joshua Ostrovsky (most widely known as @thefatjewish) says he declined an offer from the Bloomberg campaign. "I grew up in New York City, so I can tell you firsthand, Bloomberg is a colossal shitbag," Ostrovsky wrote. "From the subjugation of minorities through stop and frisk policies to his hardline anti-marijuana stance, dude is a total hoe. I'd encourage any meme account owner to take schmoney from basically any brand... because brands are trash and deserve to have their money taken, but this dystopian black mirror simulation is too much for me."
Perhaps one of the most disconcerting traits of this unprecedented initiative is that there's no way to gauge just how many of these accounts accepted money from Bloomberg's campaign, and how many have parodied the format of being sponsored by Bloomberg and turned that into a meme itself. During the initial blast, we counted 23. Here's a running list of all those accounts, with their accompanying Bloomberg memes (not including private accounts such as thefunnyintrovert, adam.the.creator, cohmedy, who also participated).