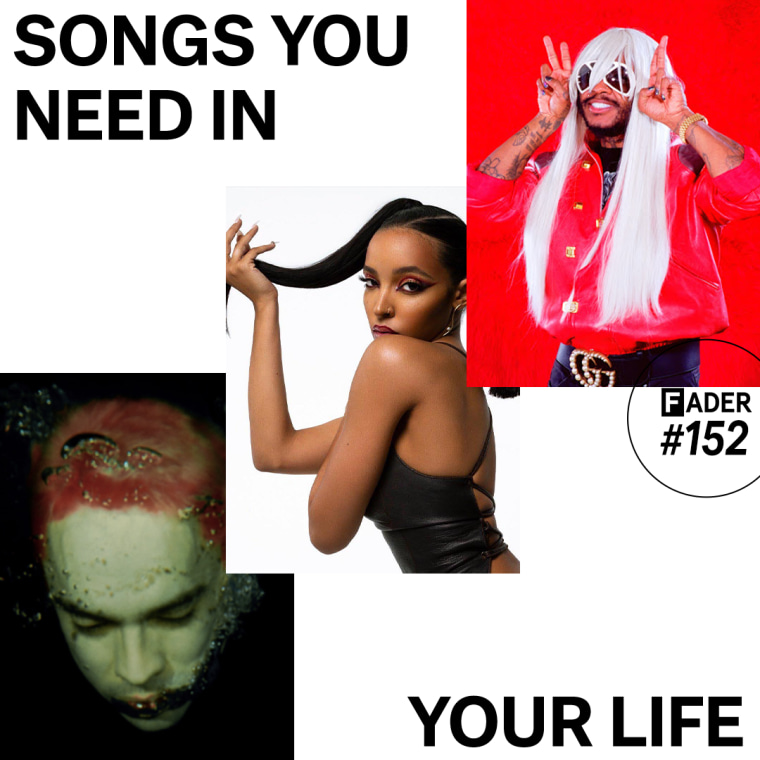 "Dragonball Durag" — Thundercat
Only Thundercat and Flying Lotus could pull off a sex jam decked out in anime paraphernalia and cat hair. Obviously we're here for it.
"Gospel For A New Century" — Yves Tumor
"Entertnmnt" — Oklou
Oklou and Mura Masa's new collaboration is everything you want it to be: rumbling with synths, blushing in its confessions, and sealed with a simple (but effective) video.
"Breathe Deeper" — Tame Impala
In our recent conversation with Kevin Parker, he explained that "Breathe Deeper" was inspired by the first time he took ecstasy. Narcotics aside, the six-minute track offers all of the head rush and none of the comedown.
"Raising Hell" — Sega Bodega
"Raising Hell" is an adequate entry point into the wonderfully warped and unapologetically horny landscape of Sega Bodega's intriguing debut album, Salvador, which dropped on Valentine's Day.
"Save Room For Us (Remix)" — Tinashe, MAKJ
Tinashe is gonna make "Save Room For Us" happen, dammit. The remix of her MAKJ collab kicks the song into overdrive, tapping into a strobe-lit pseudo-Y2K energy, without ever veering into nostalgia porn.
"Flowers To My Demons" — NNAMDÏ
NNAMDÏ sets off his forthcoming album BRAT with the bristling, introspective "Flowers To My Demons." It's less indicative of any specific sound the Chicago polymath has settled on, but rather the sonic risks he's willing to take.
"Stardew" — Purity Ring
It's been five years since Purity Ring put out their last album. If there was any doubt that Megan James and Corin Roddick can still conjure that sense of wonder, "stardew" obliterates it, imploring us to find the otherworldliness of right now: "I know it seems far, but just be where you are."
"Vibe" — Cookiee Kawaii
Technically speaking, Cookiee Kawaii's "Vibe" has been out since last year. But thanks to a surge of TikToks, the Jersey club near-phenomenon has us all wondering: if we back it up, is it fat enough? When we throw it back, is it fast enough?
"Dreaming" — Pop Smoke
One of the final tracks on Pop Smoke's newly released project Meet The Woo 2 captures the drill torchbearer scheming at Neiman Marcus. It's not the most ubiquitous track in his catalog, but moreso a snapshot of his mission, one that was cut far too short.