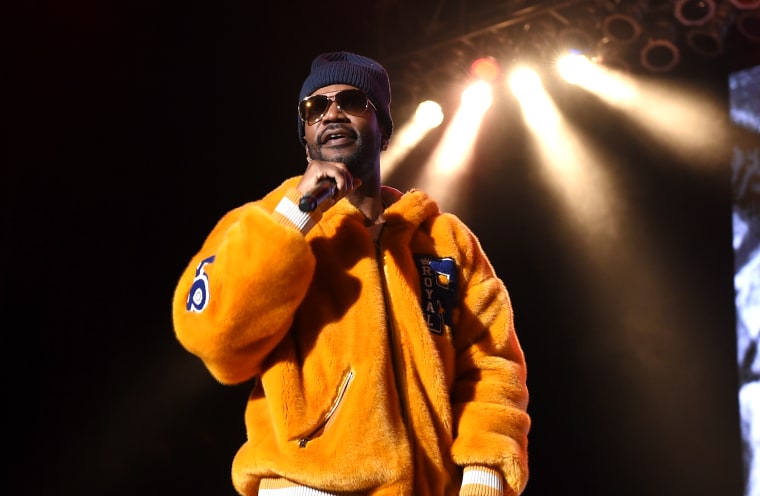 Juicy J is taking aim at his record label in a self-produced diss track called "Fuk Columbia Records."
Earlier today, the Three 6 Mafia founder uploaded the song to his Soundcloud after threatening to leak his "whole album" and accusing Columbia of treating him "like back wash" for over 20 years.
Fuk @ColumbiaRecords I'm gonna leak my whole album stay tuned

— juicy j (@therealjuicyj) February 29, 2020
I gave @ColumbiaRecords 20 + years of my life & they treat me like back wash

— juicy j (@therealjuicyj) February 29, 2020
In the track itself, Juicy alleges that Columbia — which he's been signed to since the release Three 6 Mafia's 2003 album Da Unbreakables — took credit for his work and restricted him as an artist. To emphasize his viewpoint, Juicy samples Prince's 2000 Soul Train Awards speech, in which he criticized the music industry's treatment of musicians. The rapper also uses a photo of Prince with the word "SLAVE" written on his face as the track's cover art.
Here ya go new song FUK @ColumbiaRecords prod by juicy j pic.twitter.com/55GmoG9wgo

— juicy j (@therealjuicyj) February 29, 2020
Following the release of "Fuk Columbia Records," Juicy posted a video of himself dancing to the track, before sending another message to Columbia CEO Ron Perry and EVP Imran Majid.
"Don't sign with these people," he wrote via his Instagram Story. "Fuk em!"

[UPDATE, 6:21 p.m.] Juicy appears to have since deleted the diss track. He's also followed up with an Instagram post that says, "Spoke to @ColumbiaRecords we are all good!"
See his latest update below.

On February 29, this post was updated to reflect Juicy J's update.