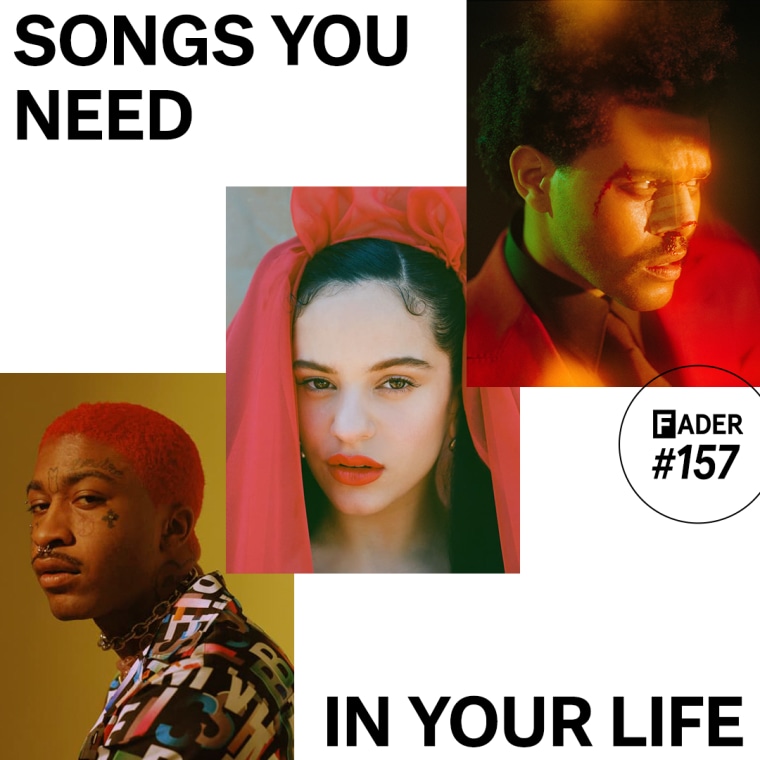 Each week, The FADER staff rounds up the songs we can't get enough of. Here they are, in no particular order.
Subscribe to Songs You Need In Your Life on Spotify.
"Dolerme" — Rosalía
The melodrama! The masochism! The Spanish guitar! The towering autotuned chorus! Rosalía can do no wrong.
"pink lightning" — Purity Ring
The latest offering from Megan James and Corin Roddick's third album as Purity Ring, WOMB, is a glistening transmission from inside the eye of the storm.
"bonjour!" — Lil Tracy
In an ideal world, all international airports would broadcast Lil Tracy over the intercom. We're not there yet, but on "bonjour!" it isn't difficult to imagine the possibility.
"Sludge" — Squid
When Ollie Judge wailed "there's a place I go where I'm all alone," I felt that. Fortunately, Squid's newest single is riotous enough to slap away the cabin fever, if only for five minutes.
"Save Your Tears (OPN Remix)" — The Weeknd
Before this, the closest thing we had to a Oneohtrix Point Never and The Weeknd collab was when Daniel Lopatin scored Abel Tesfaye's big scene in Uncut Gems. On the OPN remix of "Save Your Tears," they meet in the middle, igniting a technicolor spectacle.
"Fucc Friends" — Shordie Shordie
Shordie is stuck in the friend zone in the first cut off the Baltimore rapper's forthcoming project > Music. Luckily for us, though, the friend zone is fertile ground for an insanely catchy hook.
"This Is Not A Drill" — ize
The only thing you need to know about the clobbering first single from ize's Ize Cream Man is that it really isn't a drill. Do with that what you will.
"Sway" — Jordana
When words escape her, Kansas-based singer songwriter Jordana waltzes toward what feels right. On "Sway," that inclination develops into a soft groove of its own.
"Roses/Lotus/Violet/Iris" — Hayley Williams
There's something deeply drowsy and intoxicating about the latest Petals For Armor cut, in which Hayley Williams is backed by Phoebe Bridgers, Julien Baker, and Lucy Dacus.
"Persona Non Grata" — Bright Eyes
If there ever was a time for Conor Oberst to unload his irreconcilable malaise over a chorus of bagpipes, it's obviously right the fuck now.