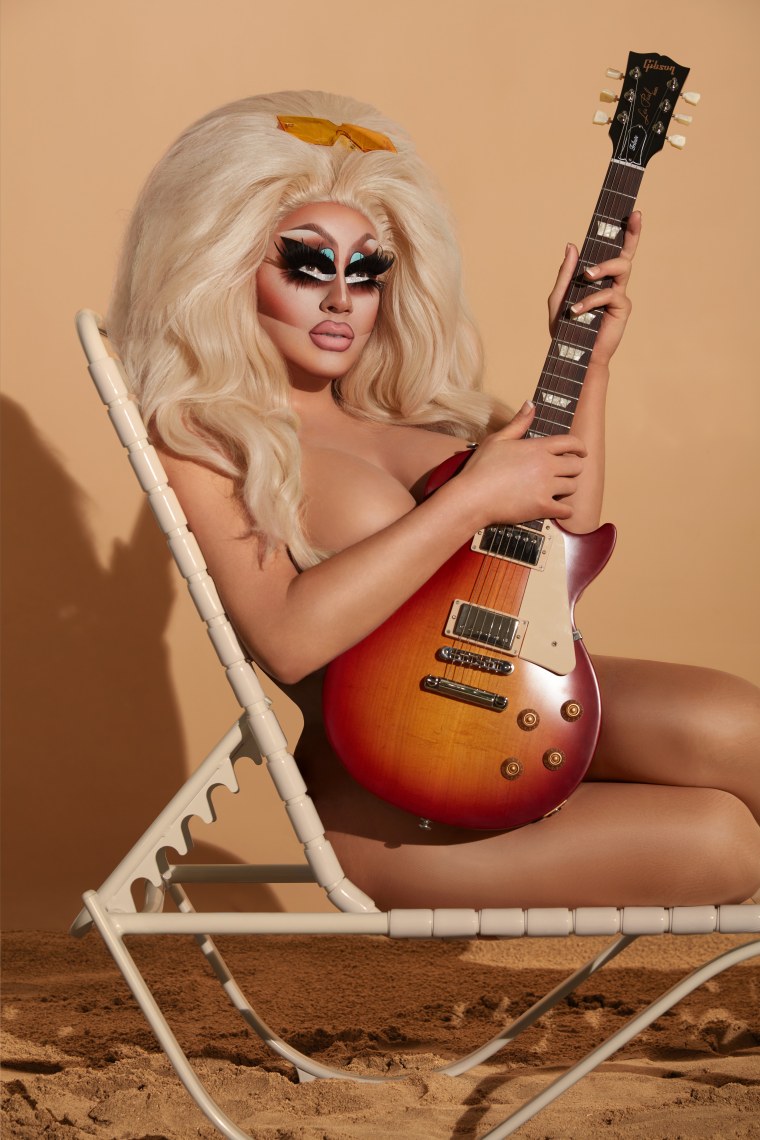 There are few performers who work as hard as drag queens. The hours are long, the wigs are heavy, and the layers of elaborate makeup are thick. So for someone like Trixie Mattel — country-singing drag queen, winner of RuPaul's Drag Race: All Stars season three, and notorious workaholic — quarantine has proven to be a big change. "Three weeks ago, I was 25 cities into a 51-date tour," Mattel tells me via phone from her home in Los Angeles. "Touring is everything to me, performing is everything to me."
The postponement of Mattel's tour dates was a devastating blow during what was shaping up to be a banner year for one of modern drag's most revered entertainers. In February, Mattel released Barbara, her third original country record; last month, Moving Parts — the acclaimed documentary on the past few years of her life — came to Netflix.
Still, there's a positivity to the way Mattel is looking at the COVID-19 situation. "Drag queens, we adapt," she says. "I think you need to focus on what you can control. My tours were cancelled for the year in the blink of an eye, but I can control my makeup business, my YouTube, my records." Of course, the caustic edge to her sense of humor remains intact. "Once you accept it and forget about the money you're losing, and about your lack of artistic fulfillment, [you realize] that you can just sit at home and do whatever you want," she adds dryly.
In all, Mattel is frustrated with the way Americans, generally, are dealing with quarantine — "Americans are so privileged that we can't even be burdened with the responsibility of sitting and doing nothing," she tells me — but is finding that staying inside means she can finally dedicate some hours to things she loves, but rarely has times for, like learning covers (for her fans, on her Friday evening livestreams) and playing The Sims. Below, Trixie Mattel talks about how she spends her time in COVID-19 quarantine.
Organizing livestreams
Trixie Mattel: I perform best knowing there's actually eyes on me, and that there's actual stakes. So making something that's live is just more exciting. I know that when people tune in, they're seeing a real, live thing — It's literally just me in my house with my guitar — and luckily, I have a good handle on streaming software. Lighting is something I know how to do. Doing Full-Coverage Fridays keeps me really metered — like, today's Wednesday, by Friday I have to pick out my songs, I gotta pick out my outfit, I have to rehearse. A lot of these songs are covers that I've never done that I'm just learning for Full-Coverage Fridays, so it just gives me purpose. Friday has become my favorite day of the week — from three 'til five I film with Katya, and from six til seven I do Full-Coverage Friday.
Playing The Sims
I love The Sims, and I've always loved it. But if you don't have a lot of free time — I don't know if you've ever played it — but you don't just sit down and play for fifteen minutes. You need like, six hours to kill. It's that kind of game. It's a sandbox game, meaning it's open world. There's no beginning, middle, and end. So you can really just get into it and let your mind take a break. It's one of my favorite games when I really wanna unplug from reality. I love playing it on tour — if I really wanna unplug from the tour that day, I'll sit backstage in drag and play The Sims. I've been playing it since I was in high school, so it's kind of a nostalgia game. We're practicing social distancing, and The Sims is a life simulator. You can sort of live another life because yours is on pause. And it's The Sims, so there's plenty of ways to throw wrenches in that — have an alien baby, be a witch. Last week my boyfriend made a bunch of celebrity Sims, so it was like, a house with me and Tammie Brown and Katya. The stupidity of it, that's the fun part.
Organizing her doll collection
I'm a thirty-year-old man who collects dolls. I don't play with them, I collect in the way you'd collect trains — you know, you have a room for it and a whole thing. I collect mostly Barbies from '63 to '75, that's kinda my sweet spot. I love sixties Barbie. I have a whole collection, they're all on stands in my house on display. Because my whole collection is so vast, this is such a fun time to like — I've read pretty much every piece of non-fiction literature about Barbie that's out there. So this is a fun time to revisit some of my favorite toys from my favorite eras and re-remember what I love about them. Certain toys have certain stories about how they were made. When you have a toy like Barbie, when every doll is basically a time capsule for the era, it's fun because every doll sort-of has a story to it, because it reflects society at that time. I'm doing a series for my YouTube where I'm gonna count down my top ten favorite dolls from each decade and give the backstory on why, who made it, why it's significant. I have an almost encyclopedic knowledge of dolls — I can tell you the year they were made, who made them, what was going on at the company when it was made, and so on. Fleshing out the character of Trixie, for me, was like, finding as much information about the dolls as I could. Not that I'm a Barbie imitator, but if anything, Trixie is two things: she's modeled after a toy, and she's a capitalist.
Going for runs
Especially being a touring musician, I love running. As a performer, as a singer, as a guitar player, as a comedian, I'm best when my body is very responsive. Dedicating some time every day to get my heart rate up means that when I'm onstage, I'm much more present, much more fluid, very springy. I know this is gay, but I always put on a fun little running outfit — I have these pink shoes, and a pink sweatshirt, some concealer. I put on a little makeup for my run, even though I'm a thirty-year-old bald man. The news said that it's safe to leave the house and go for a run for your heath. Cardiovascular health is obviously important for everything, every part of your body. Most people right now are concerned about fighting off depression, and a little bit of sunlight and a little bit of running? What a difference. You don't feel like a prisoner in your home. It's just a little reminder that there are some ways that everything can be the same. Running right now is great because there's no cars on the street.
What's the first thing you're going to do post-quarantine?
I left my house keys at the gym the day before quarantine, and the gym closed, so I've been having to use my spares. So I'm going to go to the gym and get my keys back. I know you're supposed to be allowed Postmates but I haven't been using it, so there's a few of my favorite restaurants I want to go to. I love Veggie Grill, I know that's kind of basic, but I'm gonna go to Veggie Grill. It's my boyfriend's birthday this week, and we didn't get a chance to go anywhere, so I think when we get a chance we're gonna go to Palm Springs. When the comedy clubs in LA open up again, I'll probably test some new material.