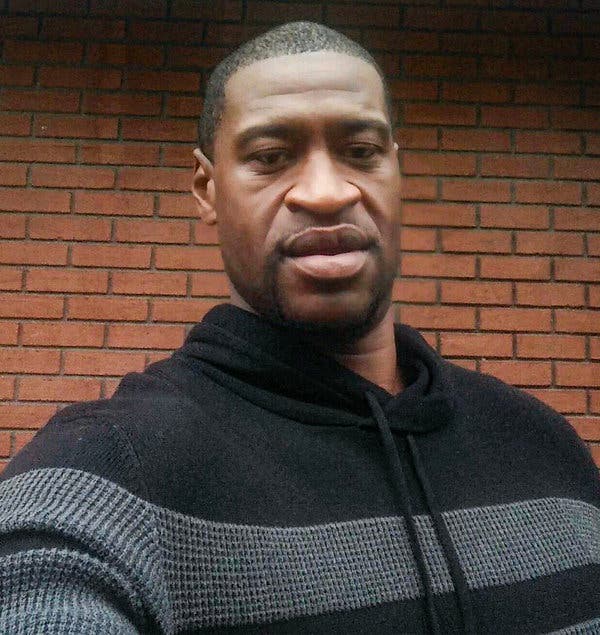 When we're in the thick of the surreal, cyclical experience that is watching (voluntarily or otherwise) as a Black person dies at the hands of racist law enforcement, that individual's personhood is often compromised. Their lives become a politicized spectacle. Outsiders use that person's life however they need to in order to affirm the space they occupy in their own communities. These deaths inspire uprisings, ill-advised takes from celebrities, and fuel for racist rhetoric that informs similar incidents. But it's rare that we take a moment to understand how those individuals contributed to the greater human experience before their lives were taken away.
George Floyd — the 46-year-old Black man who was suffocated to death when a white police officer planted a knee onto his neck earlier this week in Minnesota — was more than the last few grueling moments of his life that were captured. A native of Houston's Third Ward, Floyd was an affiliate of DJ Screw's legendary Screwed Up Click. He rapped under the name Big Floyd. Shortly after his death, fans of S.U.C. began sharing what many Texans had already been aware of: Floyd's features on Screw tapes from the '90s.
One that surfaced is a 24-minute track titled "So Tired Of Ballin," in which Big Floyd enters around the 14-minutes mark. DJ Screw introduces him with an encouraging "Come on Big Floyd," and Floyd proceeds to glide over a funky slowed beat, boasting his Third Ward roots, dreaming of driving a drop top Bentley, and showing his "raw naked hide" on the competition for two minutes straight. On another, he and an artist named Daryl rap over a screwed version of AZ's "Sugar Hill." There, Floyd waxes poetic about the things he wants to obtain in life: a mansion for his mother, not being worried about bills, and regularly eating four-course meals at fancy restaurants. And, just this week, someone isolated and uploaded his verse on a song called "Sittin On Top of the World" from DJ Screw's 1996 Chapter 324 Dusk 2 Dawn mixtape. Floyd took that opportunity to further affirm his love for the Third Ward and everything that came with it: having a smoke and drinks with his friends and the very Houston tradition of "chopping blades."
It shouldn't add value to George Floyd's life that he had close proximity to one of the most innovative figures in hip-hop's history. But this knowledge does add the necessary color for the public to get some sense of what he meant to his community while he was living. He contributed to a form of hip-hop that has garnered international respect, proudly represented his hometown, and moved to Minneapolis for a chance to expand as a person. It's important to share these things because they underline something that many white Americans (cops or otherwise) fail to acknowledge, which is that Black people are entitled to a sense of individuality (If not the same decency that is offered to someone like Dylann Roof — who was taken to Burger King after killing nine Black people in a South Carolina church.)
In the aftermath of George Floyd's death, many that knew him have come forward to redirect attention to the type of person he was while still here. Former NBA player Stephen Jackson, who grew up with Floyd in Houston's Third Ward, took to Instagram to eulogize his friend (who he called Twin because they resembled each other): "Twin couldn't wait to tell me he moved to Minnesota to work and drive trucks. He knew he had to relocate to be his best self. His ❤️ was in the right place." Courteney Ross, a friend of Floyd's, told Minnesota's WCCO that, "He stood up for people, he was there for people when they were down, he loved people that were thrown away." Jovanni Thunstrom, the owner of the restaurant where Floyd worked security told CNN, "He was loved by all my employees and my customers. He was my friend." Every account of Floyd's nature since his death has shown a consistency in that he was a decent person and one that looked out for others.
And though his story has gotten the vast majority of coverage of late, this string of tragedy does not begin or end with George Floyd. On Wednesday evening, multiple people said they witnessed Toronto police push 29-year-old Black woman Regis Korchinski-Paquet off a balcony to her death. In March, Breonna Taylor, a 26-year-old Black EMT was killed in Louisville, Kentucky, while she was asleep during a police raid intended for a man who was already in custody. And before that, in February, 25-year-old Black man Ahmaud Arbery was shot to death by a white father and son while jogging in Glynn County, Georgia — it wasn't until earlier this month when footage of the incident surfaced that the two were arrested. Each of these victims deserve the same amount of support, and their deaths merit equal outrage.

All of this is extremely frustrating to witness on a number of levels. Black people have gone to every length to assert that we don't deserve to be assumed as criminals who need to prove their innocence just by virtue of existing. The officers involved in George Floyd's death have been fired, but have not been arrested even though they are caught on camera killing Floyd with intent. And even if they are eventually arrested, history does not suggest that they will be brought to justice. The aftermath of these deaths is also frustrating because non-Black people who constantly take up space within Black culture can choose whether or not they will fight against the racist systems that allow these tragedies to happen. And when they do decide to tweet some shallow, half-baked performative outrage about it, they are heralded as allies without lending a finger to the resistance. It's frustrating because, earlier this month, a group of mostly white people (many armed) crowded in front of the Minnesota State Capitol to protest being on lockdown to slow down a global pandemic and were not met with violence. But public demonstrations against George Floyd's death have been met with tear gas (which is disturbingly cruel considering that COVID-19 attacks the respiratory system) and a tweet from Donald Trump threatening looters with military violence.
We're not in a cycle of racist acts. This historical moment is part of a long legacy of racial violence that has helped this country establish itself as a global power. And it's becoming increasingly more infuriating because there is no light at the end of the tunnel — no indication that suggests that this will stop any time soon. Rest in peace to George Floyd a.k.a. Big Floyd of the Screwed Up Click, Regis Korchinski-Paquet, Breonna Taylor, Ahmaud Arbery, and every other Black person who has been murdered in cold blood by white Americans whose motivation to kill stems from a history that tells them Black life is disposable (whether they realize it or not). When you listen to Big Floyd, remember him as an artist and a beloved member of his community. Because that's what he was before his life was snatched away.