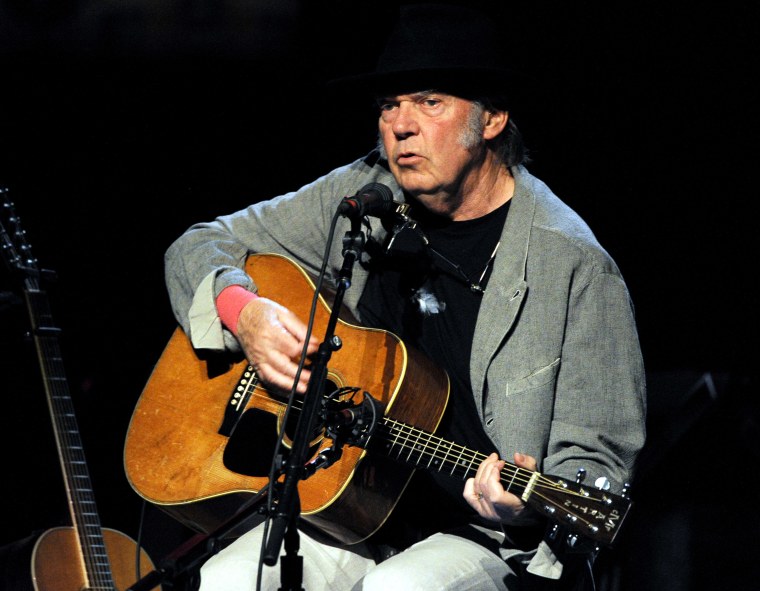 Last week, singer-songwriter Neil Young lamented the Trump campaign's use of his song "Rockin in the Free World" during rallies. "Imagine what it feels like to hear 'Rockin' in the Free World' after this president speaks, like it is his theme song," Young wrote in a letter on his website. Young said that the controversy had led him to consider launching a copyright infringement lawsuit against the Trump campaign, and today he's done just that, according to The Hollywood Reporter.
A copy of the lawsuit was published on Neil Young's website. Young is listed as the sole owner of the songs "Rockin in the Free World" and "Devil's Sidewalk," another Young song played at Trump rallies, including a recent rally in Tulsa, Oklahoma (the Young songs "Cowgirl in the Sand" and "Like a Hurricane" have also been played at other Trump events).
Young's lawsuit reads: "The Campaign does not now have, and did not at the time of the Tulsa rally, have a license or Plaintiff's permission to play the two Songs at any public political event." The lawsuit accuses the Trump campaign of ignoring Young's request not to use his music "despite a lack of license and despite its knowledge that a license is required in order to do so."
The lawsuit seeks "not more" than $150,000 in damages from the Trump campaign, plus lawyer's fees. More crucially, Young wants the campaign to be prevented from playing his music: "[The Campaign must] be enjoined primarily and permanently from publicly performing the Songs—or any musical compositions owned by Plaintiff—and from causing or permitting the Songs to be publicly performed at public events conducted, controlled, managed, supervised, or arranged for by the Campaign and/or aiding or abetting the public performance of the Songs in any such place."