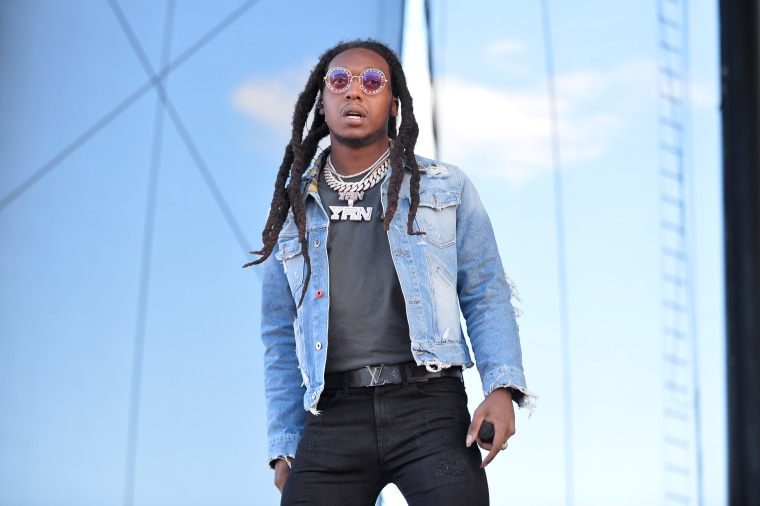 A woman has filed a civil lawsuit against Takeoff, accusing the Migos rapper of rape, The New York Times reports.
The alleged incident took place at a house party in Encino, California, in late June. The woman, referred to as Jane Doe in the lawsuit, says she attended at the invitation of Daryl McPherson a.k.a. DJ Durel, who tours with Migos as their DJ. The woman alleges that Takeoff made several advances that made her "uncomfortable," and she alerted Durel, who took her to a room upstairs.
The suit alleges that, shortly after 2 a.m., Takeoff entered the room and "began touching her." The woman says she made it clear that she did not want to have sex, but according to court documents, Takeoff "removed her clothes and forcibly penetrated her."
The woman reportedly went to the hospital where "physical evidence of forceful rape" was observed and the Los Angeles Police Department was contacted. Neama Rahmani, a lawyer for the accuser, says that her client has launched the civil suit because of perceived delays in the criminal investigation — Rahmani claims that police have not spoken with her since June, despite attempts to make her available for interviews.
Takeoff denied the allegation through a statement issued by his attorney, Drew Findling, to TMZ. Read it below:
"We have reviewed the allegations and have similarly done our own due diligence. What has become abundantly clear is that the allegations made against Takeoff are patently and provably false. The claims and statements made regarding this lawsuit indicate that the plaintiffs' representatives have not spoken with relevant witnesses or reviewed available evidence."
"Takeoff is renowned for his artistic talent as well as his quiet, reserved and peaceful personality. In this instance, those known personality traits have made him a target of an obvious exploitative money grab. As his counsel, we are well aware and well versed on the importance of civil and criminal prosecution of true sexual assaults. This is not one of those situations."
The FADER has reached out to Takeoff's representative for more information.