Inside the world of Glo Gang creative director Casimir Spaulding
Casimir Spaulding discusses how he became the go-to visual artist for rappers like 2 Chainz, Chief Keef, Young Thug, and more.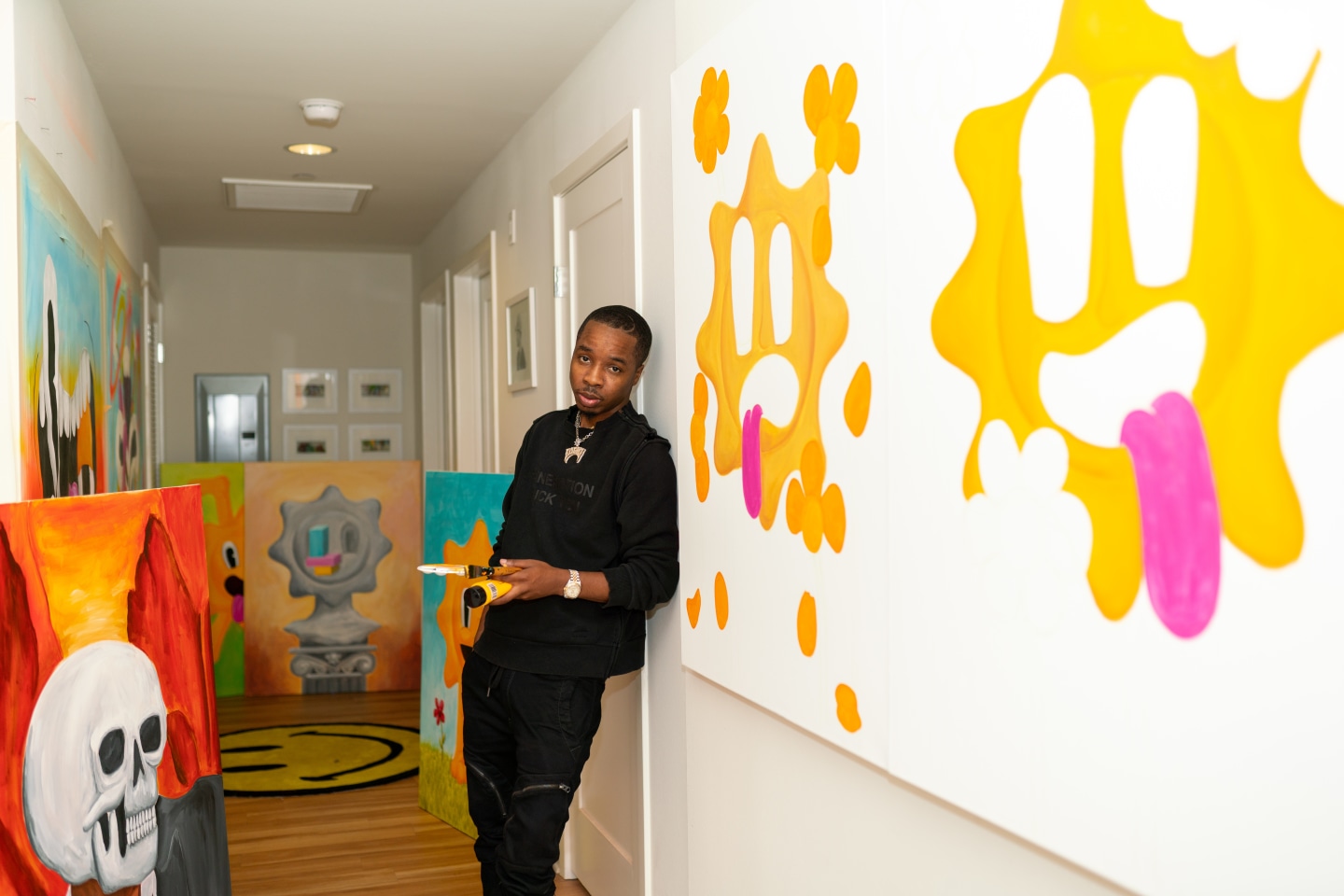 "My whole life has been based around pain. So I try not to ever use gloomy colors. I want something to make you happy. I want something [that], when you come into the household and when you look at it, it's gonna make you smile."
Casimir Spaulding sits across from me, reminiscing on the days before his artwork became album art for top selling records, and before his paintings started adorning the homes of R&B and hip-hop giants like Chris Brown, G Herbo and more. Now, as a 20-something, Spaulding — Cas to his friends — is responsible for much of the viral artwork and iconic logos associated with the Chicago rapper Chief Keef and his label Glo Gang. His LA home doubles as a studio in which he creates his fluid, striking artwork, which is inspired by Japanese pop art, comic books, and his own hard childhood beginnings.
Growing up in a household with two older brothers, three sisters, and lots of nieces and nephews, sketching became Spaulding's alone time, hours drawing and tracing over his brother's Marvel comic books helping develop his skill and style. Spaulding says that his childhood in the Bronx simultaneously forced him to grow up fast and inspired much of the work we see today. After his family sold their home, he and his sister moved to Connecticut, where, in high school, he gained access to his first computer. That access allowed him the opportunity to teach himself some of the basic Photoshop elements that we see present in his artwork today.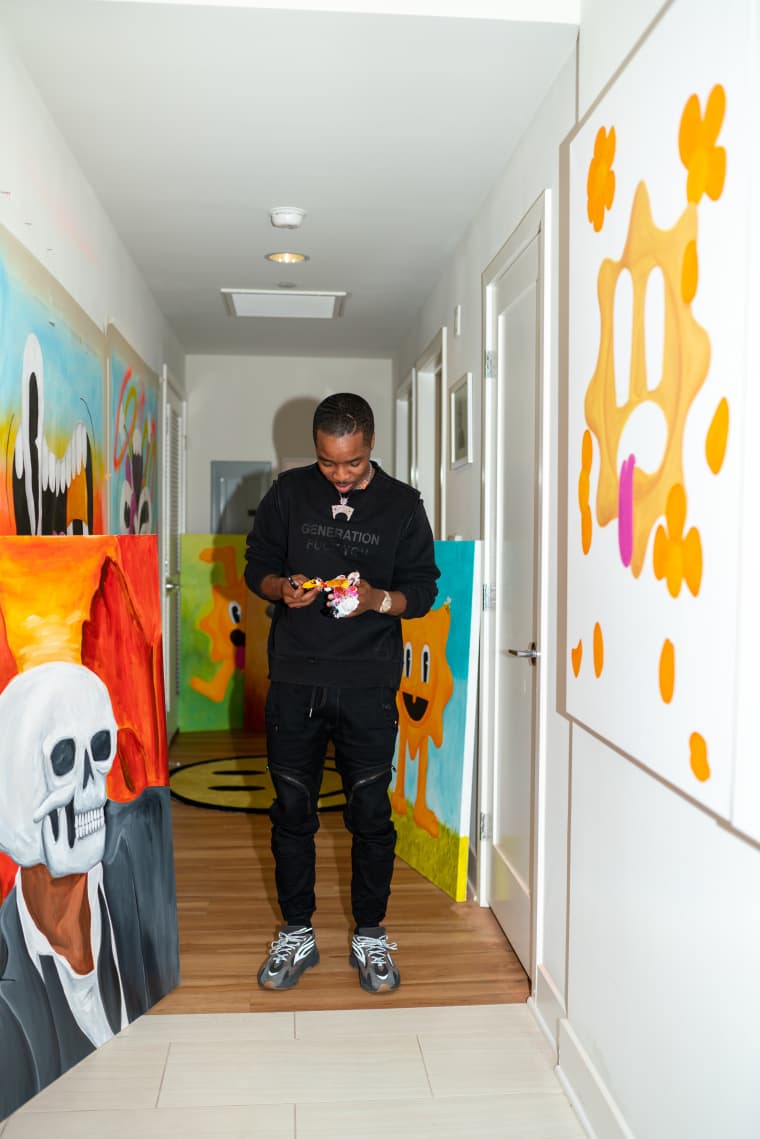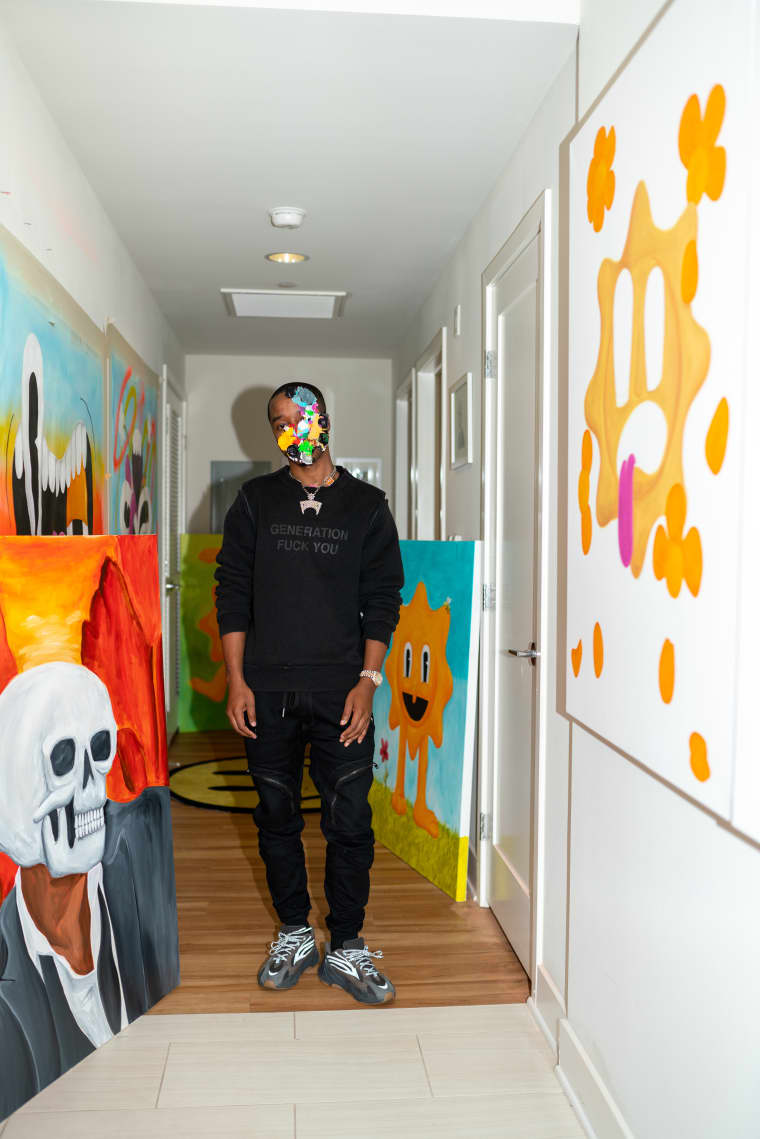 "I remember in high school a lady came and pitched the trade school in Orlando, so I said 'Fuck it.' I just signed up to go to the trade school for graphic design and animation," Spaulding says, describing the moment that changed the course of his artistic journey forever. "I just flew out with nothing but a suitcase."
His last year of school, Cas scored a job at his local printing company that printed for all of the night clubs in central Florida. "I would pretty much design all the flyers, all the logos, all the album covers for all the local artists and events, and add my signature logo to all of the promotions," he says. It wasn't long before his work got the attention of artists like 2 Chainz and Young Thug, who recruited him for their early mixtape covers. "Everyone started recognizing my logo and it was all from self-marketing — just putting my logo on 20,000 CDs. Artists started calling my phone 24/7 and I was picking up, four o'clock in the morning. I made sure I never missed a call. It got to a point where people just thought I had a whole team behind me. And it was just me by myself."
Spaulding's philosophy of using visual art to manifest joy is probably best reflected through his bright catalogue of artwork and heavy-hitting roster of collaborations. Whether he's revamping DaBaby's logo, making single covers for Stunna 4 Vegas, Cas and Coi Le Ray, shooting music videos for G Herbo, or rendering 3D cut-outs for Chief Keef, Spaulding's talent is undeniable.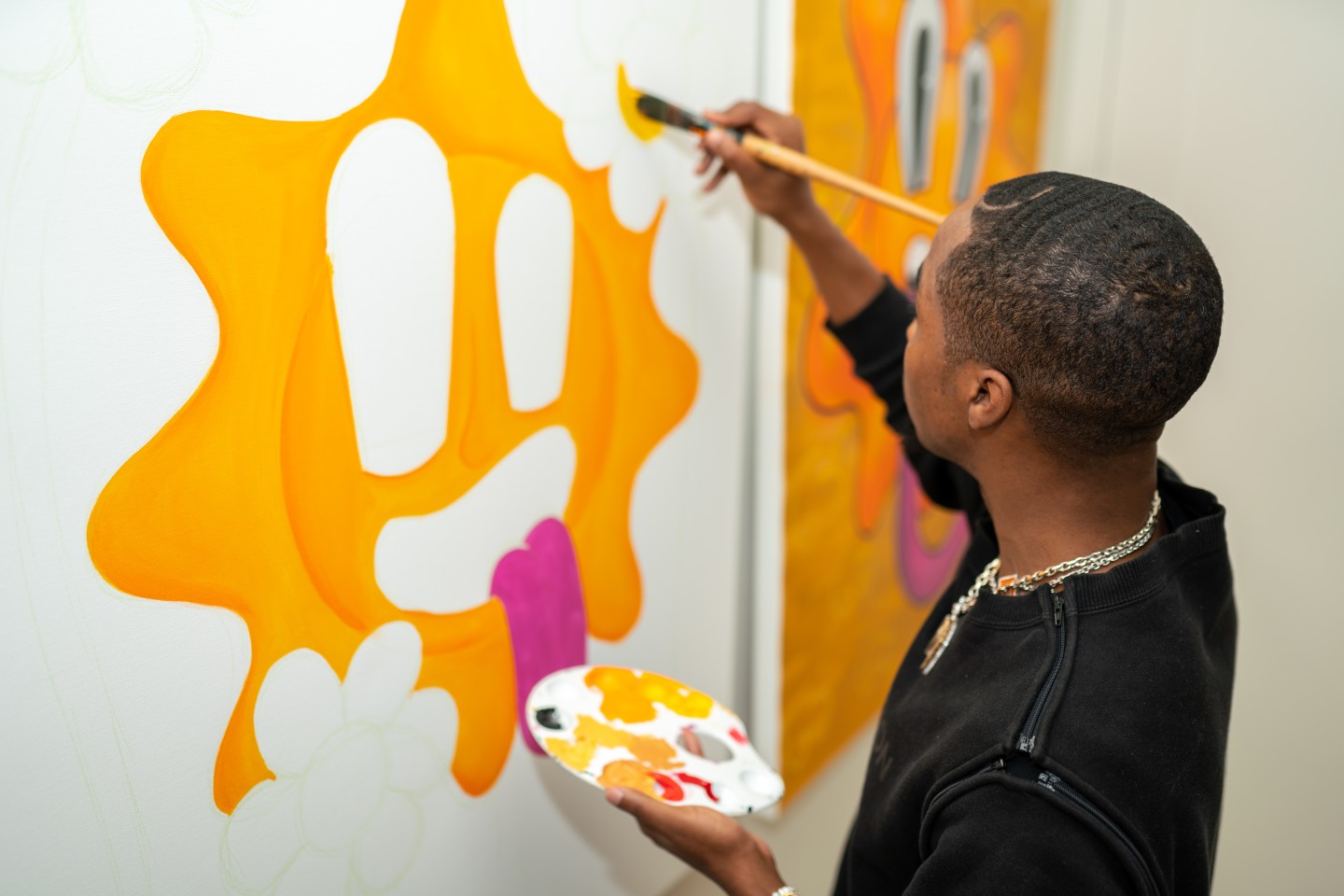 The FADER: You're able to create across so many different artistic mediums. When you're creating these various projects, where are you typically drawing inspiration from?
Casimir Spaulding: All I do is Japanese inspired. It's anime and then it's the street stuff that influenced me a lot. Me growing up in the Bronx, me growing up around dudes that sell drugs, trappers. Me being on the porch and just watching this, seeing it all going around me, and me just be in the corner sketching and drawing. All this stuff is going around me. There's shootings down the street. There's police cars. There's sirens. Fire trucks. All of that, combined in one inspired me.

As far as how I got into designing clothing, my mom was big in fashion. Back in Jamaica, my mom had her own stylist living in the crib and I used to go with the lady to go pick up threads and fabrics. I used to pick out jewelry and with her, since she had all the biggest jewelry, all the best clothing. But my mother passed away when I was like nine. About to be nine years old in Jamaica, she got killed when I was like nine and I was still out there with her. So that's where I get the fashion stuff from, from my mother. It's not from rappers or celebrities. It's not from celebrities. I get that from seeing my mother. This why I like chains, why I like to buy jewelry. Why I like to create. She still inspires me to get more. She inspired me to do better and to succeed."

It's great that your mother was able to have such a lasting impact on you. I know that you and Chief Keef also have a very strong brotherly bond that helps in creating a lot of the projects you produce.
MySpace is where I met Chief Keef. That's where it started. Him literally DM-ing me, bothering me all day like he bothers me now, "How you do this, how you do that" (laughs). Literally, I'll wake up seven in the morning every single day, it's a text from him. If nobody hears from him, they probably hit me like "You heard from Sosa?" Like, you know I did. He text me already, he probably just don't wanna fuck with nobody right now. He's such a creative. This guy's a real creative. I'm talking about art and everything too, it's insane. He tries to paint. But he's been doing edits on videos and stuff like this, he does animation. I'm like "How you learning this stuff?" I'm like, "You buying templates?" He's like "Nah." He's doing it by himself. I'm like "Okay, how you learn this shit so fast?" He's really a computer geek. That's why he's good at recording, good at making beats, 'cause he knows how to manipulate and do this and do that."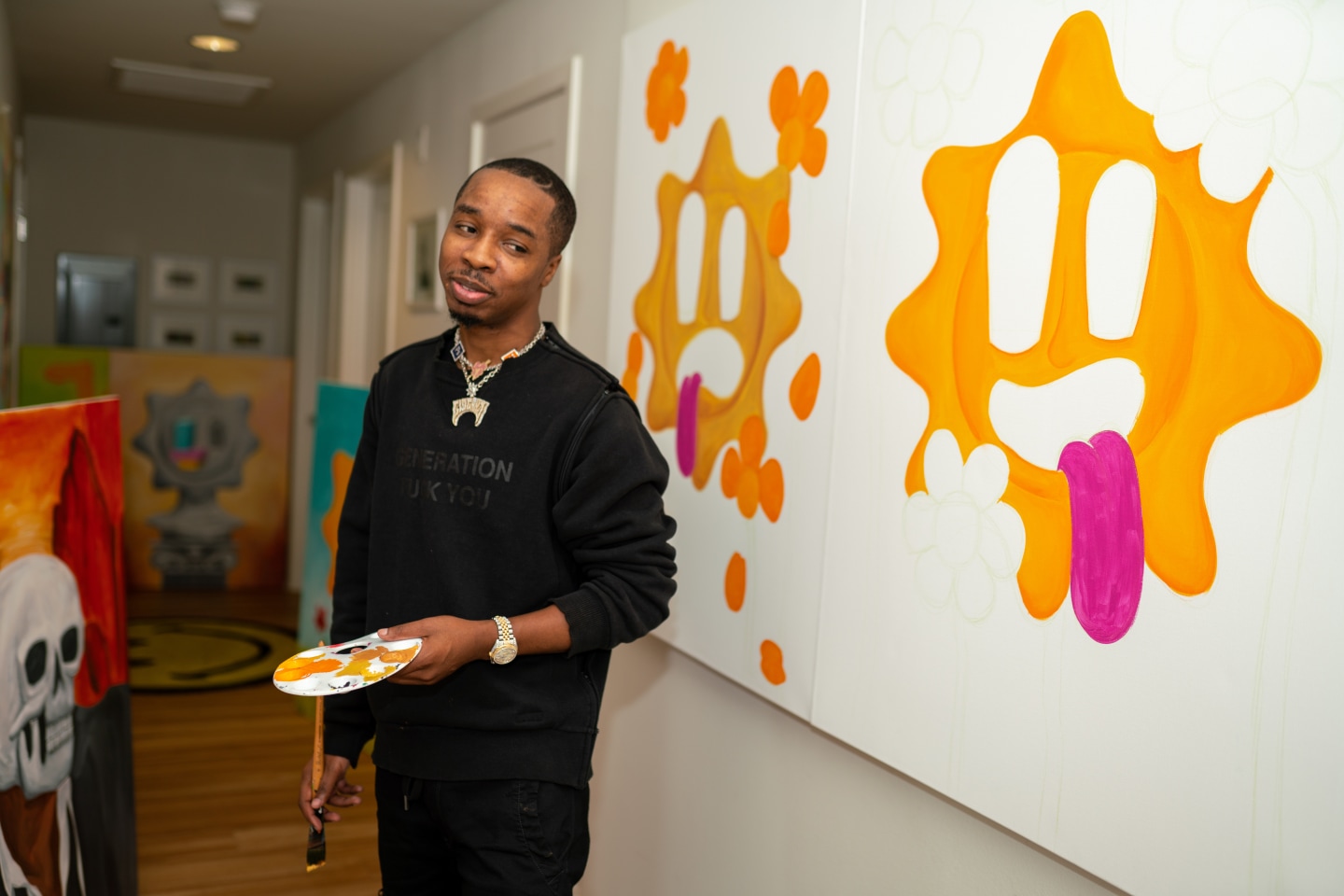 Coming from a different background and being both a creative director and visual artist, what has your own experience within the music industry been like?
Visual arts and hip-hop go hand in hand. You can't have one without the other, the art really defines a lot of artists, without that you have no identity to portray or tell your story of who you are or what your music represents. I don't think the visual artists behind the scenes get a lot of recognition in this world. From the cover art to the merch designs, sometimes the people in the background go unnoticed. I'm happy that people like my art, people wear my art, people tattoo my art. There are hundreds of people with our tattoo. It's insane because I don't even have the Glo man tattoo yet, so when I see it I'm like, "Yo, this shit is really .. it's serious." It reminds me of like, I don't know if anybody else got so much like their logo tattoo, other than the Wu Tang logo. And I didn't expect it to be iconic like that for everybody to fall in love with it. It just grew its own legs. I see rappers and football players with it tattooed. You not a part of us, but you got our logo tattooed on you. It says something. Like, oh shit, it's so real. Sometimes I can't believe it.

As creative director of Glo Gang what world-wide impact do you strive for the brand to have in the next 5 years?
As creative director, I'm involved in the painting, building, design and artwork of the Turf Shop. Keef is the one who's been doing all the cut out and painting, recently he got a lot better. As far as Glo Navy I would create most of the logos for them, the original Glory Boyz logo was done by Keef, but I created the Glo Gang sun and the rest of the characters we use for multiple things like clothing and accessories all the way down to plush toys. It's really just our own world our supporters can feel a part of. For Glo Gang it's deeper than music. Right now, we're building Glo Navy to become one of the biggest gaming brands. We're building more art, starting to do art shows while steady growing the clothing brand. So, we're looking to expand into all areas.

As a young Black creative, do you ever feel the industry double standard when it comes to Black owned businesses?
"A lot of times people say "Black businesses are overpriced." But you're paying twice that amount for a name brand designer. It's insane because it's like, could pull up to somebody, pop my trunk, sell them a t-shirt, and [they'll be] like, "Oh, thirty dollars? I've got twenty." That same person will walk into Balenciaga with no problem and not try to negotiate nothing. You can't negotiate inside Balenciaga or Chanel… So why when your friend or whatever comes to you to try to sell a product, you go "Oh no man too overpriced." That's why I think it's time we keep everything in your community type shit or keep everything in your culture, cause that's what everybody is doing.

A lot of times you see these bigger brands taking from our culture and profiting from the culture and they don't know anything about the culture. They see it and they just take it and just run with it and they make millions off this like, bandana. They put a red bandana, a pair of jeans, they just make millions off of that. They know nothing about gang-banging, but guarantee all these dudes are going to buy these jeans up. All the celebrities are going to buy the shit up, just to say that they bought it because it's an $800, $1000 pair of jeans. But you won't buy a $30 t-shirt from your home boy?"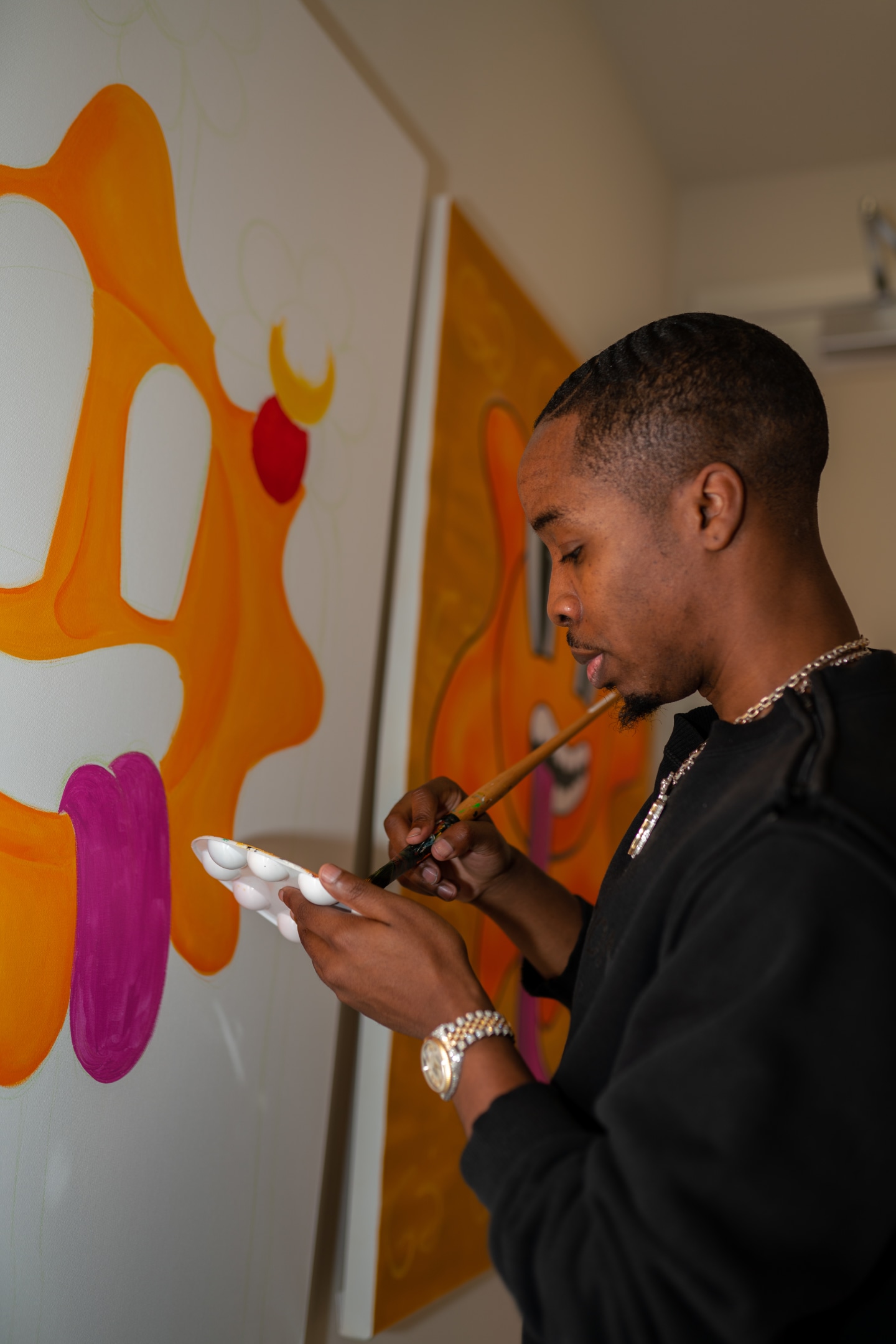 Of those who have supported you thus far, do you have a favorite collaboration?
Right now, it has to be my collaboration with Carrots we have coming out. It was a random sketch that I posted in my IG story. When Anwar [Carrots, founder of streetwear label Carrots] seen me post that he DM'ed me and said "Let's use this for a collaboration, there's no reason why this artwork should be wasted." So that came to life for a capsule which consisted of a shirt hoodie. As far as favorite Glo Gang artwork, my favorite would have to be of the characters of his cousin Blood Money and Capo, they got killed. They were about 144x96 inches, he hung them up over his bed. But my only other favorite personal artwork I've ever done is this painting of Donald Trump with a sword going through his head like Kanye's album cover for My Beautiful Dark Twisted Fantasy. The cover was [originally] done by George Condo, one of my favorite artists."

After hearing a lot of your story, and hearing how you learned much of your own talents during your formative years in school — I think that's why it's so necessary that we fight to make sure there is no more funding cut from art programs in inner city schools, because most of us find our creative paths through that.
Having arts in school is very important. I remember me having like, home ec in middle school, where we learned how to cook the simple stuff, how to thread the sewing machine. Those classes taught me a lot even to this day. I haven't sewn in years, but when I pick up a sewing machine, I knew how to thread. I can't imagine where I'd be if I didn't learn all of this.

But now they take that stuff out of the curriculum, and teach you things you don't use. When you're in school, they don't teach you how to manage your money. How to really get a job. They don't teach you that stuff that you need to know. In high school there should really be classes that teach you how to open up a LLC, start a business, how to invest your money, how to get your credit right. They don't teach you any of that. When you get out of school, you're just left with yourself. It's like 'Here, you got your diploma, find your way.'

Speaking of, if you could give advice to other young artists who are reading this, what would it be?
The message is like, just have fun with it. Whatever you doing, just have fun. Don't stress yourself out. Don't expect nothing from it. Everybody has their own way. It's like, if you walk into a maze, everybody find their own way out this maze. It might take you a year to get out this maze, might take you two days. Might take you ten years. But, you gon' find yourself out that maze unless you give up and turn back around. So you gotta keep on going forward. The challenge is worth it.