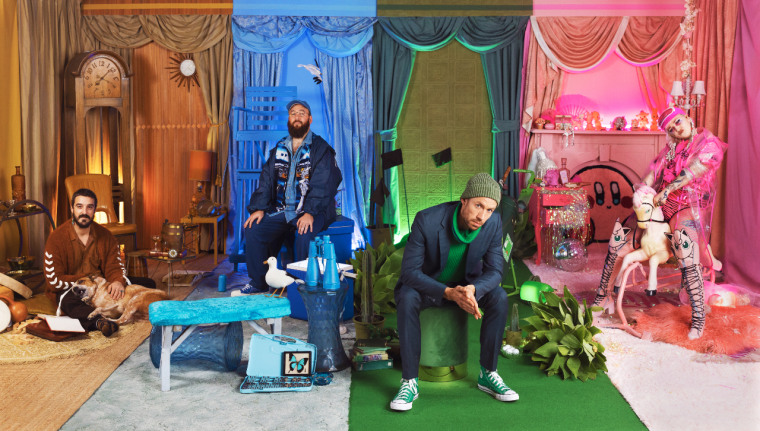 There's a lot going on in Hiatus Kaiyote's "And We Go Gentle" video, which is the kind of visual you'll want to wheel up a good few times to really decipher every last detail. Inspired by Japanese sci-fi and fantasy in which special effects are king, the video translates the supernatural and magical realism that runs through their beloved movies and TV shows to tell the story of a shimmering moth that flits between psychedelic settings via a mini-Jeep.
Vocalist and band leader Nai Palm explained a little more about the concept behind the video in a statement shared with The FADER:
"'And We Go Gentle is a song about why moths are attracted to light," she said. "For the video, I wanted to reference the Japanese film style of tokusatsu in celebration of Mothra (an angel moth that can defeat Godzilla). I made the costume myself out of aquarium plants and old tabi boots.The video is a search for love, but from a quirky humorous perspective. On the morning of the shoot, there was an earthquake, which added to the mystery and epic-ness of the shoot. It was such a dream to work with director Grey Ghost again. He is such a creative champion."
"And We Go Gentle" is taken from Hiatus Kaiyote's 2021 album Mood Valiant, they previously shared a video for lead single "Get Sun." Next year the group will embark on a series of 2022 fall European tour dates. The eleven-date run begins in Berlin on September 29 with stops in Dublin, London and Paris before wrapping up in Barcelona on October 18. Tickets go on general sale Friday, November 19.
Hiatus Kaiyote will play:
9/29/22 - Berlin, Germany @ Huxley
10/1/22 - Dublin, Ireland @ National Stadium
10/3/22 - London, UK @ Brixton Academy
10/5/22 - Manchester, UK @ Albert Hall
10/7/22 - Antwerp, Belgium @ De Roma
10/9/22 - Utrecht, Holland @ Ronda
10/11/22 - Amsterdam, Holland @ Paradiso
10/12/22 - Rotterdam, Holland @ Schouwburg
10/14/22 - Paris, France @ Salle Pleyel
10/18/22 - Barcelona, Spain @ Razzmatazz