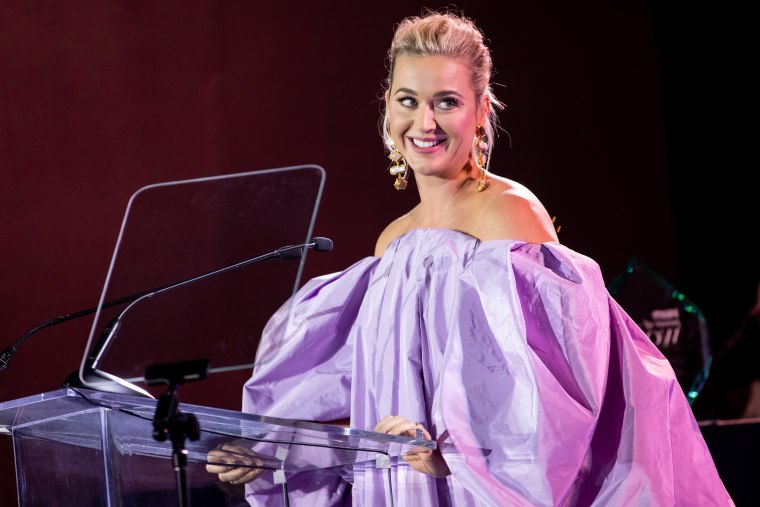 Katy Perry performed the first show of her Las Vegas residency, PLAY, last night at the brand new Resorts World Theater. The concert, dubbed "Perry's Playhouse" by the singer, was a 95-minute sing-along, featuring songs from across her hit-filled career such as "Hot N Cold," "E.T.," "Firework," and, of course, "Waking Up In Vegas." She also premiered "When I'm Gone," a just-released track produced by Alesso, and covered Whitney Houston's "Greatest Love of All."
But Perry's set pieces and skits outstaged even her biggest hits last night. She sang from inside a giant, talking toilet; danced alongside an anthropomorphic alarm clock, a life-sized sock puppet, and two beefed-up walk-talkies; held a conversation with a humanoid facemask; and filled a glass with beer pumped from her bra.
Perry will perform 15 more PLAY shows at Resorts World: one on New Year's Eve, six in early January, and eight in March. Tickets are available on the artist's website. View her opening-night setlist below.
Katy Perry PLAY opening night setlist
1. E.T.
2. Chained to the Rhythm
3. Dark Horse
4. It's Not The End of The World
5. California Gurls
6. Hot N Cold / Last Friday Night
7. Waking Up in Vegas
8. Bon Appetit
9. Daisies
10. I Kissed A Girl
11. Lost / Part of Me / Wide Awake
12. Swish Swish
13. When I'm Gone / Walking On Air
14. Never Really Over
15. Teenage Dream
16. Smile
17. Roar
18. Greatest Love Of All (Whitney Houston cover)
19. Firework