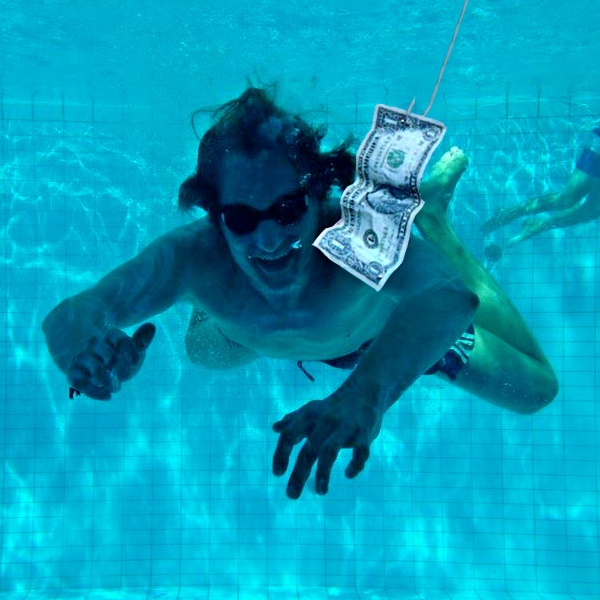 U.S. District Judge Fernando M. Olguin of California's Central District dismissed a child pornography case against Nirvana LLC and others this morning. The lawsuit was filed in August by Spencer Elden, who was photographed naked for the cover of Nirvana's seminal 1991 grunge crossover record, Nevermind, when he was four months old. Now 31 years of age, Elden claims the band and their label "knowingly produced, possessed, and advertised commercial child pornography," that "they knowingly received value in exchange for doing so," and that they "failed to take reasonable steps to protect [Elden] and prevent his widespread sexual exploitation and image trafficking."
"As a result," Elden's attorney wrote in his initial complaint, Elden has "suffered and will continue to suffer lifelong damages." Elden also alleged that he was never paid for his appearance and that his parents never signed a release form consenting to the use of his image.
On December 22, the firm representing all 17 defendants in the case — including the labels Nirvana LLC, Universal Music Group, Geffen Records, Warner Records, and MCA Music; photographer Kirk Weddle; band members Chad Channing, Krist Novelsic, David Grohl, and Robert Fisher; and Courtney Love as executor of Kurt Cobain's estate — filed for dismissal, on the grounds that Elden had known about, and profited from, the image for years, and that the statute of limitations on the claims expired in 2011. From their motion to dismiss:
This dispute concerns one of the most famous photographs of all time. The cover art for the rock album "Nevermind" by Nirvana, released in 1991, shows a photograph of an unclothed baby floating in a swimming pool, while a dollar bill dangles from a fishhook in the foreground.
The photograph evokes themes of greed, innocence, and the motif of the cherub in Western art. The album, with its famous cover art, has sold millions upon millions of copies around the world. Since the 1990s, tens of millions of Americans have had copies of the album's famous cover photograph in their homes, via the album itself, T-shirts, posters, and other memorabilia. Now, the plaintiff in this action says that this world-famous, widely-possessed photograph is "child pornography."
The photograph was taken and released in 1991. The baby in the photograph is now a thirty-year-old man, the plaintiff, Spencer Elden. Elden has spent three decades profiting from his celebrity as the self-anointed "Nirvana Baby." He has re-enacted the photograph in exchange for a fee, many times; he has had the album title "Nevermind" tattooed across his chest; he has appeared on a talk show wearing a self-parodying, nude-colored onesie; he has autographed copies of the album cover for sale on eBay; and he has used the connection to try to pick up women.
Elden's lawyer had until December 30 to respond to the motion but failed to do so. According to Judge Olguin's ruling, Elden and his attorney now have until January 13 to "file a Second Amended Complaint attempting to cure, to the extent he believes is warranted by existing law, the alleged defects outlined in defendants' Motion."
The FADER has reached out to the legal representatives of both Elden and the defendants for further comment.