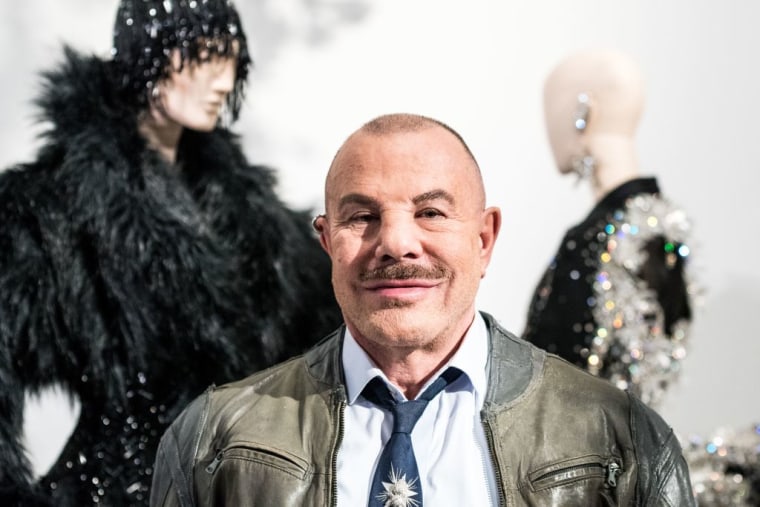 French fashion designer Thierry Mugler, whose work was worn by some of the world's biggest pop stars and singers, has died. He was 73. Mugler's death was confirmed in a statement published on Mugler's Instagram page. "We are devastated to announce the passing of Mr Manfred Thierry Mugler on Sunday January 23rd 2022," the post reads. His agent has stated that Mugler died of "natural causes."
Beyoncé posted a message of rememberance for Mugler shortly after his passing was announced. Mugler styled her on many occasions, including for her Sasha Fierce era, taking on the role of artistic director for the "I Am…" world tour. Other artists Mugler styled in the past include David Bowie (who wore a Mugler dress on Saturday Night Live in 1979.), Madonna, Cardi B, Lady Gaga, Katy Perry, and Rihanna. In 2019, working to that year's camp theme, he created Kim Kardashian's Met Gala look.
Rest In Peace, Thierry Mugler. 🤍https://t.co/V63MffuLAv pic.twitter.com/zs80zsR7Gj

— BEYONCÉ LEGION (@BeyLegion) January 24, 2022
Born in Strasbourg, France in December 1948, moved to Paris age 20 and later created his first brand, Cafe de Paris, in 1973. A year later he founded Thierry Mugler which he ran until 2002 when the fashion division shut down. Around that time Mugler had also become involved in fragrances, including the popular perfume Angel.
Mugler trained as a ballet dancer and presented his structured high fashion designs at lavish runway shows. Widely credited with being ahead of his time, the designer regularly worked with trans models during the 1980s and would also cast drag artists and club kids on and off the runway.
"You can't take fashion too seriously," Mugler said in 2017. "The whole thing is about giving the women who wear your clothes some power, some fun, some service. It's great to make it as art. But first, it's a service to someone."
Among those paying tribute to Mugler today include Diana Ross and fellow designer Marc Jacobs.
I will miss you Thierry Mugler this was a wonderful time in our lives pic.twitter.com/Z3ggaVjK2D

— Ms. Ross (@DianaRoss) January 24, 2022