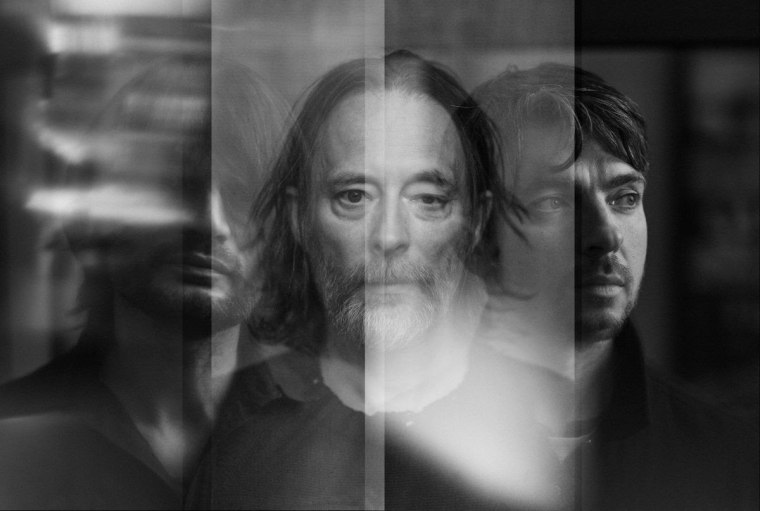 Thom Yorke, Jonny Greenwood, and Tom Skinner have returned with their second track as The Smile. The Radiohead singer and guitarist joined forces with the drummer of English jazz quartet Sons of Kemet in May 2021 for a surprise performance at Glastonbury, and shared their debut single, "You Will Never Work In Television Again" at the start of the year. Today, they released its follow-up, "The Smoke."
"You Will Never" wouldn't have felt too far afield in Radiohead's early catalog, but "The Smoke" is more aligned with their later stuff. Skinner's jazz background is incorporated via some smooth pocket drumming, accompanied by a driving, funky bass line from Greenwood. Yorke sounds every bit himself, sitting squarely in his cool falsetto range as he sings about self-immomolation with seeming indifference.
The new track comes with a loose interpretation of a "lyric video" — the words are largely illegible — from BAFTA-winning writer and director Mark Jenkin. Watch it, and see the set times for The Smile's three live-streamed shows from Magazine Londong this weekend, below. Tickets to watch the performances at home or attend a local screening are available via the band's brand new website.
The Smile live-streamed shows at Magazine London, 1/29–1/30
BROADCAST #1: London – 8pm Sat. / New York – 3pm Sat. / Los Angeles – 12pm Sat. / Sydney – 7am Sun. / Tokyo – 5am Sun.
BROADCAST #2: London – 1am Sun. / New York – 8pm Sat. / Los Angeles – 5pm Sat. / Sydney – 12pm Sun. / Tokyo – 10am Sun.
BROADCAST #3: London – 11am Sun. / New York – 6am Sun. / Los Angeles – 3am Sun. / Sydney – 10pm Sun. / Tokyo – 8pm Sun.
All three Broadcasts will also be available to ticketholders as unlimited on-demand replays for 48 hours from 2pm GMT Sunday 30 January.