The perfectionism and posthumanist pop of yeule's Glitch Princess
The London-based artist speaks on artificial intelligence and learning their lyrics backwards on this week's episode of the podcast.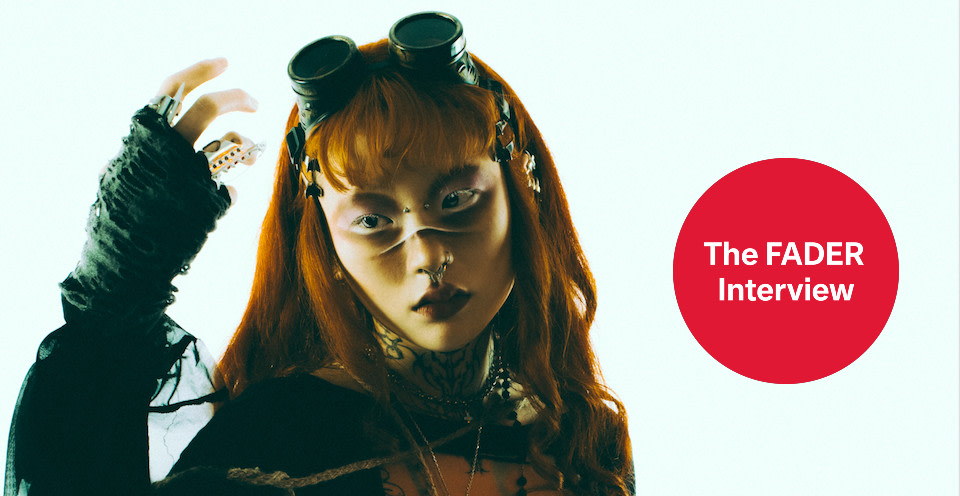 yeule's 2019 debut album Seretonin II opened a portal to a heavily digitized dream pop world. The project of Singapore-born, London-based artist Nat Ćmiel, yeule arrived as a fully-formed avatar of sorts, trying to trace human experience through the synapses of the internet. On Glitch Princess, out this week, they're re-entering that splintered electronic realm. Their second album inquisitively probes their dark crevasses of personal identity and body image. It's a challenging piece of work but one that doesn't shy away from bold pop moments.
Last week The FADER's Salvatore Maicki caught up with yeule to discuss the evolution of their persona, colaborating with Japanese artist Tohji, and the synthetic element that informed the creation of Glitch Princess.
Listen to the episode above and read highlights from the interview below. Subscribe to The FADER Interview wherever you listen to podcasts by clicking here.
On the evolution of yeule as a pseudonym:
When I was 14, I liked to pretend that I was a 30 year old woman on the internet. I always liked to pretend to be a bit older. So I had to conceal my identity by creating the pseudonym. And naturally, it was one of the oldest pseudonyms that I've came up with and I felt a relationship with Nat Ćmiel. My real name is actually Natasha. Nat Ćmiel was just one of them; it was on my fake ID too. And I had other characters; older yeule fans would know this character I made called Penelope and there was another one called Matilda, but I streamlined it now because it's confusing me a little bit. The idea of personas have always been really freeing for me because you don't get trapped in one body or one identity. But I like to ensure that I know that it's still me and I'm not just playing a role, acting out something that's not authentic. I think yeule was one of those names, apart from Nat Ćmiel. Even Nat Ćmiel's a pseudonym.
The idea of personas have always been really freeing for me because you don't get trapped in one body or one identity.
On the aesthetic framework of Glitch Princess:
I wanted to depart from this natural earthy Gothic Renaissance-esque world that I built with Serotonin to by bringing it over into neo-technical, cyber-Gothic, still mixed with hints of pre-Raphaelite, my love for Renaissance and that era of classics, romantics, will always be there but I wanted to express a part of me that was a bit more, I think, forceful. It's not gentle. It was really forceful. It needed to be a bit violent, almost. Sanitized but technological and clean, unbroken, manufactured, but still having those gentle notes in it. I wanted to mix both of that into it. And I got really into the medical aesthetic, studying the way medical equipment is made and how phones were designed or how cameras were designed, how lenses were designed. I was reading this book by, are you familiar with Anne Balsamo's writing?
She wrote this amazing collection of essays, which is now published under a book called Technologies of the Gendered Body. I was really interested in what if we gendered technology? Then I started reading more and more about the posthumanist theory about how sexualization of cyborgs and film and this idea of creating fembots and looking at neurological parts in the brain and then looking at the way motherboards function through a system and seeing connections between that and AI and artificial intelligence becoming self-aware and the way we become self-aware, looking at arguments against that and for that and thinking about perception of the way we treat technology, how much it serves us and how much we actually use it to progress. Then I think about maybe the way we are perceiving each other as a human race is flawed. I was thinking about all these things. That's why I used the gendered term princess, even though I'm a she/they. But most times I feel I identify as a non-binary because gender, to me, it's so bizarre. It's more I do appreciate the beauty of femininity. I think femininity can be so beautiful. So gentle yet so powerful. But a lot of past trauma has made me steer away from femininity sometimes. There's some days where I just want to block out all femininity. So that's why now being fluid is complicated like that.
When I get home, I say hello to my PC. When I turn it off, I say goodnight. I don't know why I do that.
On treating technology with kindness:
I guess, or electric neurological pathways. It goes back to when I was a kid and I would personify my things because I would appreciate my things because of how much it served me and with artificial intelligence, we appreciate it for the extent of which it serves us until it turns on us. Just like love. When you love someone, you love it with all your heart until it turns on you. So there's always a threshold. There's always this fine line. This is something really weird I do. When I get home, I say hello to my PC. When I turn it off, I say goodnight. I don't know why I do that.
I feel like the more nice I treat my technological devices, the more I feel like they're nice to me too. I get less crashes. My GPU's functioning peak performance levels, my CPUs cool sufficiently. I don't get weird glitches. If I do get glitches, I always feel like it's my computer trying to talk to me or it's my electronics trying to tell me something from beyond.
Glitch Princess is out now via Bayonet Records.