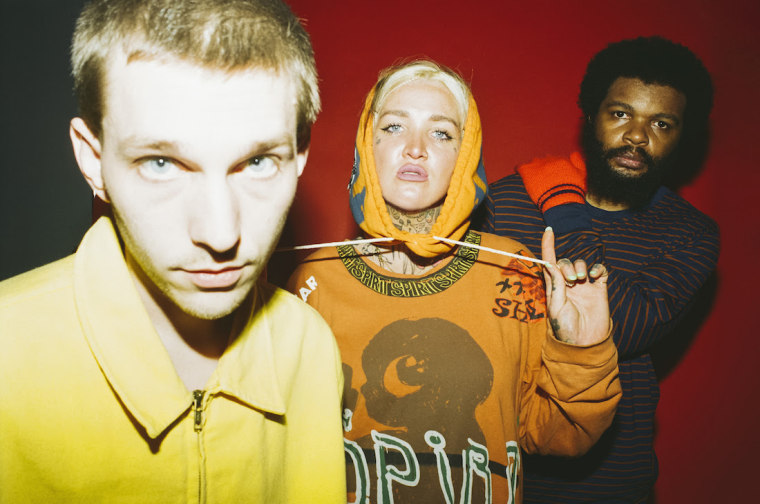 In just two LPs, Dehd have established an unmistakable style that would be most accurately described as post-devotional punk rock. Their songs are worshipful — supplicant, even — but rather than addressing an all-powerful deity, Emily Kempf and Jason Balla are singing to each other. Today, they announced their third album, Blue Skies, out May 27 via Fat Possum, and shared its lead single, "Bad Love," along with a music video.
Released near the end of Kempf and Balla's five-year romantic relationship, the tracks on Dehd's 2016 self-titled debut EP play like straightforward love songs, no matter what may have been going on behind the scenes. Their first studio effort, 2019's Water, is a tragically upbeat breakup album (see the opening lines of "Lucky" — "Lucky to have / People in my life with the power to break my heart" — sung over Kempf's bouncy bass line, Balla's surf guitar, and a peppy drum beat from Eric McGrady. And its follow-up, Flower of Devotion, is less a reconciliation than a live processing of emotions that were too raw to fully articulate on the previous record.
Blue Skies was recorded in the same studio where the band made Flower, and that album's overwhelmingly positive critical reception allowed them to triple their stay this time, digging deep into their arrangements and textures to mine for new material. "Bad Love" is no major departure from the group's previous sound. Rather, it's a fine-tuning — a slightly updated offering from a band that sees no need to to fix a product that isn't broken.
"'Bad Love' is about recovering from love addiction and making a decision to stop choosing and aligning with people who aren't your energetic match," Kempf writes. i wrote it for myself and for everyone who needed to hear a song about choosing new forms of love. it's about chasing a relationship with oneself rather than an unhealthy one, one that just doesn't quite fit, or a codependent one. everyone experiences loneliness and everyone needs connection. i wished to reclaim loneliness for myself and others as something not embarrassing or to be a kept dark secret. i wanted to embrace loneliness and being alone, alchemizing it with friendship and behaviors with self that don't involve romance or sex."
The new track comes with a sleek video of directed by Kempf and Kevin Vesselka. Watch it, and check out Dehd's upcoming tour dates, below.
Dehd spring 2022 North American tour
4/30 - Atlanta, GA - Shaky Knees Festival
4/30 - Atlanta GA - The Masquerade (Shaky Knees Aftershow)
5/2 - Denver, CO - Bluebird Theater
5/3 - Salt Lake City, UT - Metro Music Hall
5/5 - Seattle, WA - Neumos
5/6 - Vancouver, BC - The Imperial
5/7 - Portland, OR - Wonder Ballroom
5/9 - San Francisco, CA - The Chapel
5/10 - Los Angeles, CA - The Regent Theater
5/11 - Tucson, AZ - Club Congress
5/13 - Austin, TX - Antones
5/14 - Dallas, TX - Trees
5/15 - Houston, TX - Warehouse Live Studio
5/16 - New Orleans, LA - Toulouse Theatre
5/18 - Asheville, NC - The Grey Eagle Tavern & Music Hall
5/19 - Carrboro, NC - Cat's Cradle
5/22 - Philadelphia, PA - Union Transfer
5/24 - New York, NY - Bowery Ballroom
5/26 - Boston, MA - Brighton Music Hall
5/27 - Montreal, QC - Theatre Fairmount
5/28 - Toronto, ON - Lee'sPalace
6/4 - Chicago, IL - Metro
6/11 - Queens, NY - The Governors Ball Music Festival