Street Sects sneer at a whitewashed world on "History is Everyone's Fuck"
The new track is half of the final installment in the industrial duo's long-running Gentrification singles series.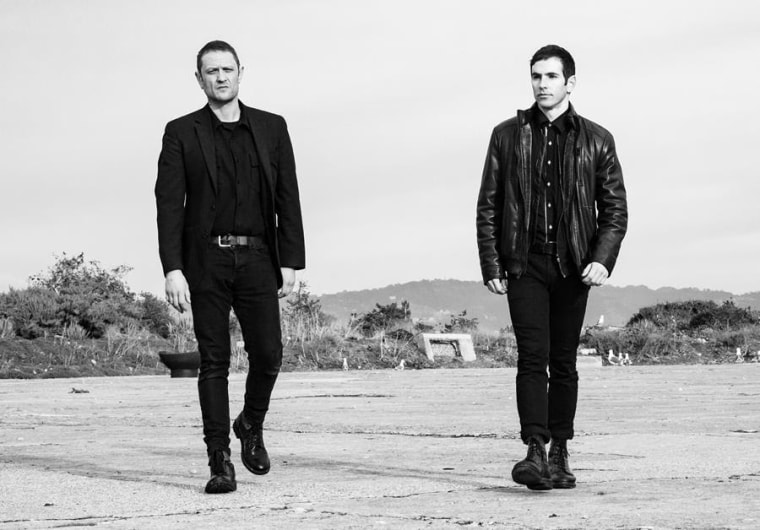 For eight years, the Austin industrial duo Street Sects have been slowly releasing a "serial album" titled Gentrification. The reality of the project has been a sporadic singles series — two A-side/B-side 7'' releases (The Morning After the Night We Raped Death and Broken Windows, Sunken Ceilings) arriving in 2014, and two more (Death and Displacement and Suspended From Gallery Rails) coming in relatively quick succession five years later.
Today, the band has announced a fifth, final, similarly formatted episode titled Whitewashed and shared "History Is Everyone's Fuck" — its first single and, strangely, its B-side. The full project (the new track and its forthcoming A-side, preemptively titled "Present Tents") drops May 20 via The Flenser.
The new song is a chaotic number that finds Leo Ashline singing, at first, with a convincingly Reznorian sneer, as Shaun Ringsmuth's jagged synths leak out like noxious clouds from beneath his vocal. As Ringsmuth's fumes begin to spread faster and louder, Ashline starts to lose control, his voice straining up to a higher range before breaking altogether into an unearthly death metal scream.
Gentrification V: Whitewashed comes with a characteristically cryptic and somewhat menacing statement from the band: "Now that your streets have been drained of all color and character, now that the last of the generational holdouts have been forced beneath the wheels, now that history has been torn up, rewritten, injected with fillers, plied with White Claw, passed around and shared by members of the board... are you sleeping more soundly?"
Listen to "History is Everyone's Fuck" and view Street Sects' upcoming tour dates in support of HEALTH and Pertubator below.
HEALTH X Pertubator tour with special guests Street Sects
8/27 - Dallas, TX - Granada Theatre
8/28- Austin, TX - Emo's
8/30 - Tampa, FL - The Ritz Ybor
8/31 - Orlando, FL - The Plaza Live
9/1 - Atlanta, GA - The Masquerade
9/3 - Baltimore, MD - Baltimore Soundstage
9/4 - New York, NY - Irving Plaza
9/6 - Philadelphia, PA - Theatre of Living Arts
9/7 - Boston, MA - Paradise Rock Club
9/8 - Montreal, QC - Club Soda
9/9 - Toronto, ON - The Danforth Music Hall
9/11 - Detroit, MI - El Club
9/12 - Chicago, IL - Park West
9/13 - Minneapolis, MN - Skyway Theatre
9/15 - Denver, CO Gothic - Theatre
9/18 - San Francisco, CA - August Hall