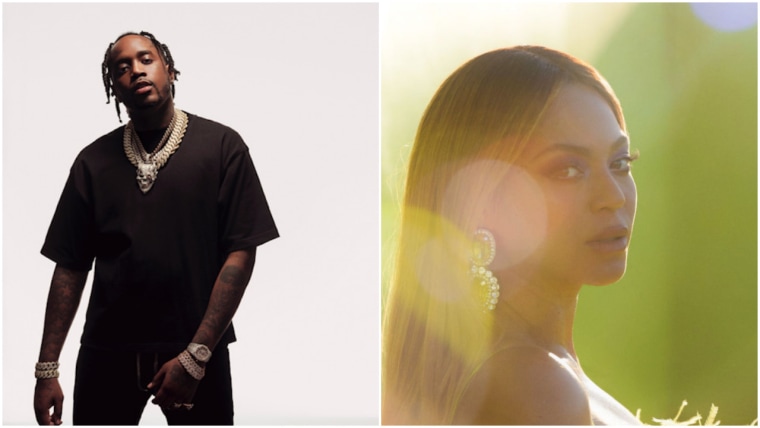 Fivio Foreign has been teasing the arrival of his debut album B.I.B.L.E. for a while now with today, April 8, marking the release date for the NYC drill artist's project. Often when an album is held up it is that clearing any samples used in an artists songs are taking longer to clear than expected. It's a lengthy process that involves a lot of calls and letters to writers and publishers. Sometimes, however, those people are Beyoncé and they have a few requests before they will let you go ahead and use their track.
According to Fivio Foreign that is precisely what happened when he first sampled Destiny's Child's 1999 hit "Say My Name" on B.I.B.L.E. track "What's My Name," which features Coi Leray and Queen Naija Speaking to Hot 97 he said that Beyoncé was happy to sign off the sample so long as Fivio made his lyrics a little more PG.
"She had to hear it," he said of Beyoncé. "She heard it. It was a little vulgar, a little bit for her, at first. I cleaned it up, I cleaned it up, I cleaned it up a lot. It was like, 'You can't be talking about girls like that!"
Fivio went on to thank Sony CEO John Platt for his help in the process. "Afterward, Big John and them explained to me, it's a bigger record now and it made sense. One day they called me and they was like 'Yo, Big John wanna talk to you," and I'm like damn, the album drops in a week. I'm thinking straight bad news, I ain't gonna lie, cause I had to go back. It was like alright, you cleaned your part up, clean these other words up. Then it was like clean Coi's part up a little bit and I'm like damn, so it's over? So he called me, it was ringing, I answered the phone, and I'm like 'Hello?' and he's like 'You're welcome.' I'm like what? Is it cleared? He's like, 'you're welcome.'"
Watch Fivio tell the story in full below.
Fivio Foreign talks about having to get the Destiny's Child "say my name" sample cleared and Beyoncé wanting it cleaned up a bit pic.twitter.com/fVIQCXyI6a

— Glock Topickz (@Glock_Topickz) April 7, 2022