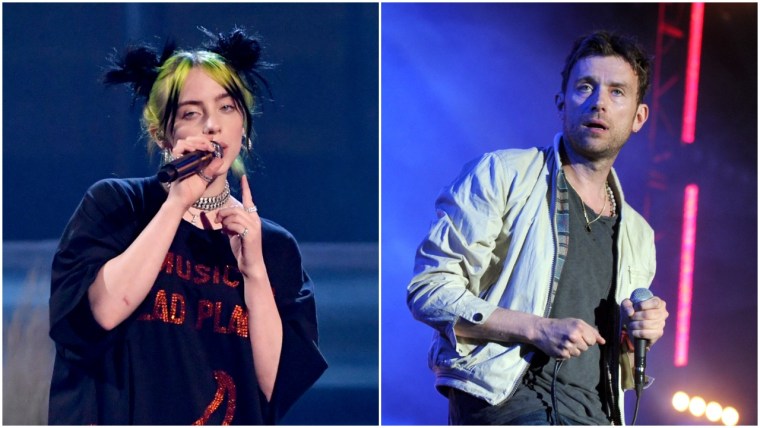 This post is sponsored by Unshackled Wines, official wine of VIP at Coachella. Create your own Coachella VIP experience at home by purchasing the Unshackled Coachella Bundle. The first 100 purchases will be gifted a FADER poster.
Billie Eilish brought out Damon Albarn to help perform alongside her at Coachella.
During her Saturday night set, the Grammy-winning musician invited Albarn onstage for her Happier Than Ever track, "Getting Older." They then launched into a cover of Gorillaz's "Feel Good Inc.," where they were joined by De La Soul's Pos, whose vocals appeared on the 2005 hit.
Eilish also took a moment to tell the crowd about how Albarn's work with Blur, Gorillaz, and The Good, The Bad and The Queen had a profound impact on her growing up, saying that Albarn's projects "changed the world" and lauding him as a "genius."
She added, "This man changed my life in a lot of ways, and changed my complete view of what music could be, what art could be, and what creation could be."
However, Albarn wasn't the only special guest who appeared during her set, as Khalid also popped up for their 2018 hit "lovely," which they previously performed together during Eilish's 2019 Coachella set.
Cameos aside, Eilish appearance at this year's festival officially makes her the youngest artist to ever headline Coachella — something she joked about by saying "I should not be headlining this shit," per CNN.
"But I'm so fucking grateful that I'm here and that you guys are all here. This is such a dream come true," she added. "Thank you Coachella! I'm sorry I'm not Beyoncé! I love you, good night!"

Watch videos of her performances with Albarn, Pos and Khalid below.