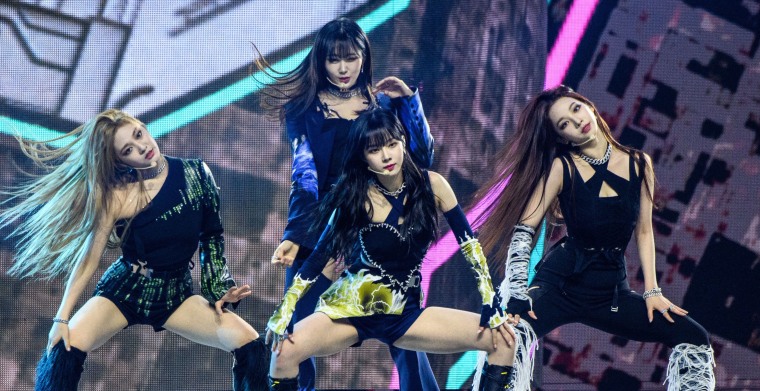 This post is sponsored by Unshackled Wines, official wine of VIP at Coachella. Create your own Coachella VIP experience at home by purchasing the Unshackled Coachella Bundle. The first 100 purchases will be gifted a FADER poster.
After two years of basically living online, the idea of an IRL band with avatar alter-egos seems like a logical next step for the entertainment industry. However, K-pop fans have already been living in the future for the past 18 months, and, this weekend at Coachella, they finally got to meet aespa offline.
For the past 18 months, the four-piece group were only able to interact with fans through music videos and vlogs, as well as concept teasers outlining their VR-based story, where each member has their own individual digital counterpart — born from personal data uploaded to and shared on the internet. Known as æ-aespa, the avatars live in a virtual world beyond ours but co-exist with their real-life counterparts, both individually and collectively.
Not so dissimilar to the alter-egos we present on social media every day, the SM Entertainment group is a zeitgeisty concept, even though it was inevitable that were going to eventually get a musical act whose artistry is based on the ever-thinning veil between the digital and corporeal. And aespa definitely fits the bill, thanks to their ever-expanding storyline, which includes an interdimensional battle where aespa and æ-aespa unite against a villain called Black Mamba — a sinister virus that disrupts and corrupts the connection between the girls and their digital selves.
In real life though, aespa — comprised of members Karina, Winter, Ningning, and Giselle — is the first girl group in six years to join SM's roster of concept-focused acts, which includes artists like SuperM, a supergroup known as the "Avengers of K-pop." But while they may be brand new to the SM Culture Universe, aespa have already impressed fans through their Savage EP and a handful of singles under their belt. So it only made sense that aespa took the stage during the second weekend of Coachella for 88Rising's "Heads in the Clouds Forever" event on April 23.
In the process, the rookies also became one of just three K-pop girl groups to ever perform at the annual festival, following Blackpink's historic 2019 set and 2NE1's surprise reunion last weekend. But even though their career thus far has existed almost entirely online, there was nothing virtual about aespa's vibrant Saturday night set, which made the relatively green K-pop group look like seasoned live performers for their biggest live show to date. They were fully present, fully charged, and clearly eager to break out of the remote realm they were previously tethered to, through no fault of their own.
Right out the gate, the group kicked off their set with "aenergy," a non-single track off 2021's Savage. The thumping banger has become a sort of unofficial anthem for aespa, as well as a serious favorite among fans, seeing as how the general consensus on Twitter prior to the performance was that "aenergy" was a set list must. Thankfully, aespa did not disappoint either, with a routine that showcased their onstage charisma and highlighted the fact that they are just as dynamic live as they are digitally.
As its name indicates, "aenergy" was a fittingly energetic introduction for aespa's exciting Coachella moment, which was the group's second live show in the US following an underwhelming performance at the 2021 Macy's Thanksgiving Day Parade. The group then moved onto their blazing debut single, "Black Mamba." Placed mid-set, the pair of hard-hitting electropop tracks made for a bold one-two punch, as the high-octane tracks amped up the energy in the crowd and was reflective of their fiery attitude.
However, the performance would have likely benefited from a full set of backup dancers to fill the dead space on stage, though, bizarrely a backup troupe did briefly materialize on stage toward the end of the song. But considering the large LED screen behind the members, it would have been more innovative to incorporate aespa's avatars into the show as omnipresent digital dancers. Granted, it's unclear what sort of technical limitations the tightly scheduled collective showcase may have presented for such an ambitious audio-visual synchronization; time will tell if aespa figures out how to bridge that gap for future concerts.
The group then moved on to the Savage EP title track, a hip-hop meets hyperpop hybrid that was a performance highlight thanks to a spectacle of pyrotechnics, lasers, and swirling portal effects. With this, the K-pop stars leaned into the attitude of the deliciously brash track with razor-sharp focus, swiftly weaving around each other on stage, and visibly energizing the crowd. For a group whose activities were relegated to the digital for nearly two years, it was a turning point to see them not only so physically present, but also so finely in tune with each other.


For fans, however, one of the most anticipated moments of aespa's short but sweet set was the debut of the group's brand new track "Life's Too Short" — their first English-language release.
"This next song is about staying true to yourself and spreading love, because life is too short for hate," as Giselle said while introducing the track, which is a breezy departure from aespa's typical assertive defiance. With summer-y production that recalls a certain strain of upbeat, melodic 2000s pop, the topical lyrics also reveal aespa's more sensitive side: "Some people are so mean, all behind a phone screen / But we tryna live our lives / Oh, why you gotta be so vicious? / Just be about your business / Instead of getting up in mine…" Almost as if aespa's avatars present an opportunity for the girls to shield themselves behind their own screens. But as "Life's Too Short" proves, they're willing to take their critics head on while also spreading a little positivity in the process.

Closing out the set was their driving EDM banger, "Next Level," and, by this point, aespa seemed to have hit their stride, displaying a playful and confident stage presence that was a marked change from their more cautious approach in the beginning. And as they bid adieu to the crowd and bounded off stage, with a joy and adrenaline that was palpable even through the online stream. "Next Level" indeed.