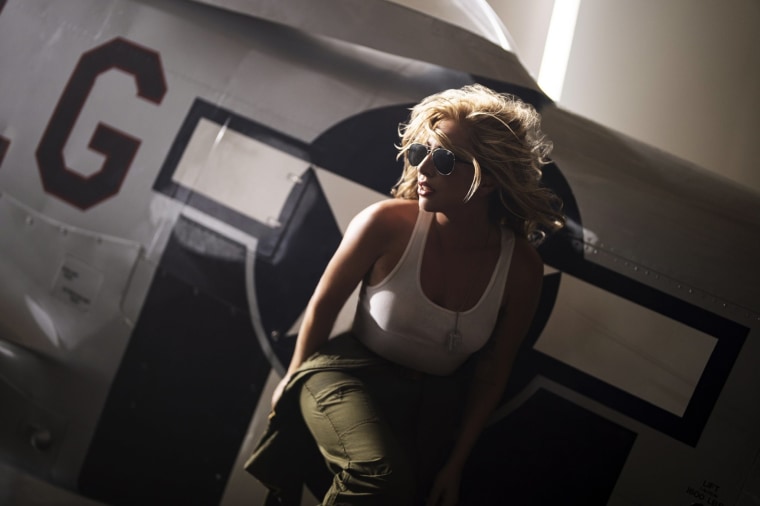 Lady Gaga has shared her contribution to the upcoming Top Gun sequel. Airheads, which is to say fans of things that fly, have been waiting a long time for Top Gun: Maverick to hit theaters with the sequel not only following the 1986 original, but was also pushed back significantly by the pandemic. It's finally due for release on May 27, however, and if Gaga's "Hold My Hand" is anything to go by then we're in for a treat. The song, produced by Gaga and BloodPop, is a power ballad with muscle and heart. In it Gaga sings "Pull me close, wrap me in your aching arms" over stadium-sized drums and the fully-committed vocals you want from a song designed to soundtrack Tom Cruise doing loop-de-loops in a fighter jet.
A press release notes that the version of "Hold My Hand" used in the movie features additional production and score by Harold Faltermeyer and Hans Zimmer. Last time Lady Gaga wrote a song for a movie it was the soundtrack to A Star Is Born, which featured the classics "Shallow" and "Why Did You Do That?" (a.k.a. the ass jeans song).
On Instagram, Lady Gaga wrote of the song: "I wanted to say that I wrote the song for the INCREDIBLE movie #topgun #topgunmaverick but also for people who feel like they're not gonna be ok or WE ARE never gonna be ok and that life taught me through hard times to have faith in humanity when it's hard to have faith in yourself. When you feel lonely, sad, removed from the world, far away from yourself and others #holdmyhand One day you may even be strong enough to hold your own 🤝. I love you with my whole heart for all the years I've been blessed to sing, write songs, produce and perform for you. Thank you 🙏 here we go!!! 🖤✈️ "
Lady Gaga is on tour throughout 2022. Check out "Hold My Hand" below.