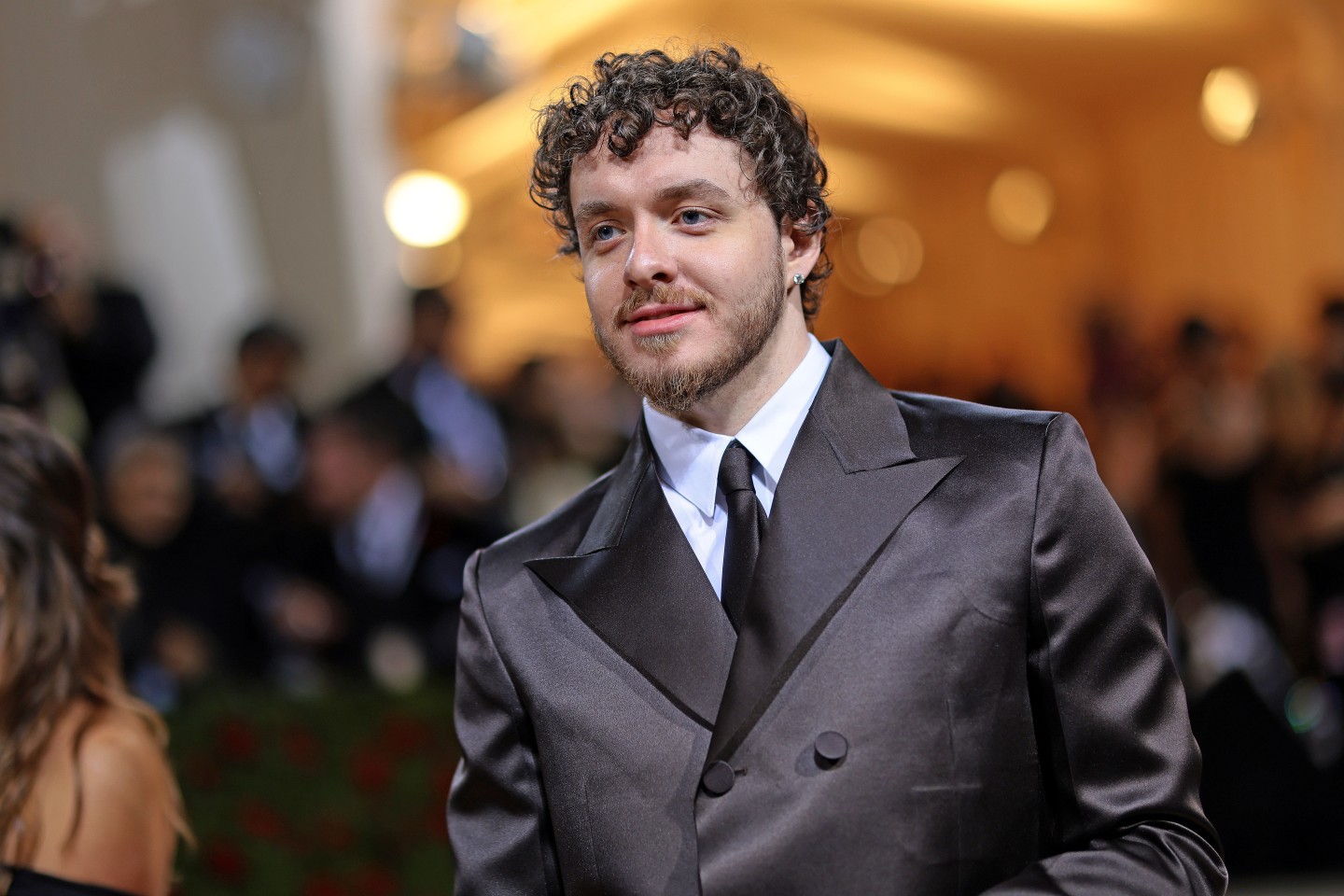 Nothing will ever hold a stronger grip on the older band of Gen Z than the summer of 2016. Something was in the air in those final months before the world slipped into a disastrous timeline in the blink of an eye — and it was all soundtracked by Drake, deep in his Main Pop Boy era. "One Dance." "Work." "Hotline Bling." "Controlla." "Too Good." "Jumpman." He was inescapable. But while everyone with a palpable sense of that summer's energy is preoccupied with recapturing that lightning in a bottle feeling six years later, 24-year-old Jack Harlow is branching back to a much earlier period.
"I feel like a lot of adulthood is trying to get back to childhood," the Kentucky rapper told Apple Music's Zane Lowe. "For the most part, there's so much nostalgia and there's so much 'Oh, I can't get that back?'" On his sophomore studio album Come Home The Kids Miss You, releaased last Friday, Harlow wields pop samples and interpolations like a time machine, spanning from Soulja Boy's "Kiss Me Thru The Phone" ("Side Piece") and Fergie's "Glamorous" ("First Class") through Lil Wayne's "Mrs. Officer" ("Poison") and Gotye's "Somebody That I Used To Know" ("I Got A Shot"). There are appearances from Pharrell and Justin Timberlake that evoke wistful reminiscence more than forward-thinking innovation. With so much pop looking towards '80s synths and early-2000s pop-rock, Harlow hops off at a different stop.
In the same Zane Lowe interview, Harlow readily admits to being influenced by hip-hop from 2009. It's the year a fresh-faced, 22-year-old Drake bulldozed the pop scene with "Best I Ever Had," the breakthrough single from his debut mixtape So Far Gone. The song, which peaked at No. 2 on the Billboard Hot 100, remained the rapper's highest-charting solo single until "One Dance" topped the chart in 2016 and stayed there for 10 weeks. From there, the No. 1s seemed to come easier and easier. During one of his first sit-downs with the streaming giant, Harlow asked him: "Is it ever not coming to you?" From the sidelines of Louisville, he's watched Drake's dominance proliferate since he was 11 years old – studying the ultimate crossover artist's transformation and taking notes. Now, he has access to the oracle himself, and we're seeing the Drake-ification of Jack Harlow play out in real-time.
Drake's unmistakable influence was all over Harlow's 2020 full-length debut That's What They All Say — a sharp display of what it looks like when lyricism takes the front seat for an artist with something to prove. But the lead singles heading into Come Home The Kids Miss You were set on cementing a place in the crossover arena on his own, post-chart-topping success with Lil Nas X on "Industry Baby." First out the gate was "Nail Tech," a horn-filled statement piece that tapped into the same foreshadowing that his archetype stamped on Take Care single "Headlines." Harlow's "I'm not on top of this shit yet, but I'm that guy though" answers nearly directly to Drake's "They know that the real is on the rise, fuck them other guys." Both singles stalled in the Hot 100 top 20, at 18 and 13 respectively.
But ultimately, Harlow didn't need a "Headlines" — or at least not as much as he needed a "Nice For What." Something for the summertime, something for the girls to get ready and party to. When the rapper shared a video posted up in the studio teasing the Fergie-sampling "First Class," the buzz that he could be gearing up to release a leading song of the summer contender was charged. The snippet went viral on TikTok, racking up nearly 30 million views on the app before its release on April 8. "First Class" arrived almost four exact years to the date of "Nice For What," Drake's Lauryn Hill-sampling heatwave that paired New Orleans bounce with a complete disregard for men's feelings. Within a week, Harlow had his first solo No. 1.
The thing about snippet culture in the social media age is that it primes its audience to almost immediately flip the switch on the exact song they spent days hyping up before its release. When "First Class" arrived in full with the questionable lyric, "Pineapple juice, I give her sweet, sweet, sweet semen," many listeners were quick to discard the track entirely. It admittedly wasn't Harlow's strongest lyrical display, especially when taking into account how often he pushes his writing as a centerpiece – but it'd be naive to suggest that there wasn't strategy to it. He reached his target audience: the pop-intersection of his predominantly female audience that would run the streams up while the "you fell off, make better music" rap stans physically shook with anger.
Drake transitioned seamlessly into the streaming era, but Harlow was raised in it. Since he isn't writing the blueprint so much as he's following it, with tweaks to accommodate the rapidly changing music industry, he can afford to be more strategic in his approach. Come Home The Kids Miss You clocks in at 45 minutes with 15 tracks, steering clear of the platform-gaming, hour-plus length format that has made Drake a streaming record-holder. But in the same space, he leans more heavily into the implementation of melodic rapping that his mentor redefined – the Lil Wayne-assisted "Poison" eerily screams 2009. At least for now, Harlow's focus is on swiftly capturing the attention of his listeners and keeping hold of it long enough for them to hear what he has to say.
The last song teased ahead of the album's release, a trap-tinged track titled "Dua Lipa" with lyrical references to Ariana Grande, borrowed the same snippet game plan that boosted "First Class." There's a certain sense of self-awareness needed to shoot your shot at one of the biggest pop stars on the planet in one line and acknowledge how often debates about your physical appearance become a trending topic in the next. During a show at the University of Massachusetts Amherst, Harlow performed with an image of the Chronicles of Narnia character (and long-accused doppelgänger) Mr. Tumnus projected behind him. It's his parallel to Drake posing for a mirror selfie with sweater paws and a heart cut into his hairline. Something about if you can't beat them, join them.
Artistry is ultimately about brand-building and Harlow is very careful about the steps he takes towards it, or at least he tries to be. Most of his viral moments have little to do with his music – like the awkward red carpet run-ins with Saweetie and Emma Chamberlain or the intensely charismatic mock-date where Amelia Dimoldenberg, the host he was set on effortlessly charming, asks if he knows how to read. Even when he's thrown off, he wants it all to seem effortless, but in a way that feels more natural than calculated. Most of the time it works.
When the Come Home The Kids Miss You cut "Churchill Downs" leaked weeks ahead of the album release, it was looking like Harlow was about to get washed on his own song by its featured artist, Drake. Harlow didn't publicly acknowledge it, but he did go back and polish up his own verse. The official album version features new additions to the song, but there isn't any audible forced striving – just the careful sharpening of an already slick pen by a pupil with a penchant for competition even in the presence of a veteran. At this point, he's been fully engulfed under Drake's wing. The pair recently vacationed in Turks and Caicos and spent album release weekend at the Churchill Downs racecourse, where they became the talk of the Kentucky Derby.
There's power in proximity, but how Harlow chooses to wield it holds the answer to whether his legacy will be one of a familiar history repeating itself or the establishment of his own distinct lane. There's enough material for the latter – the surface hasn't even been scratched on the complexities rooted in his fragile positioning as a white rapper purposefully self-anchored to championing his home state of Kentucky, and there is potential for an enduring presence on the pop charts thanks to a fan base largely made up of young Black women. His lyrical content is careful in its balancing of emotional vulnerability and boastful charisma, but there are layers of depth waiting to be peeled back. Even Drake knows that a heartthrob attitude and a connecting beard can only take you so far.