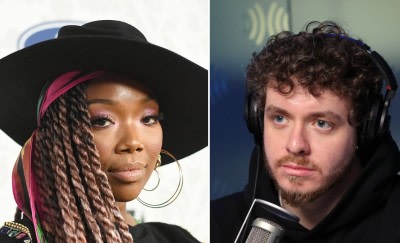 Brandy is making Jack Harlow know exactly who she is.
Last week, Harlow appeared on Hot 97's Ebro in the Morning and failed to recognize Brandy's song "Angel In Disguise" during the show's "White-ish Wednesday" segment. The hosts gave him the big hint that it was Ray J's sister singing, but Harlow remained clueless, asking "Who's Ray J's sister?"
When a Brandy fan tweeted out the clip, the singer and Moesha star replied, "I will murk this dude in rap at 43 on his own beats and then sing is [sic] ass to sleep." It was a great threat, though Brandy swore in a separate tweet that "it was a joke," while making the scorching remark that she "didn't know he rapped."
But, as we all learned now, Brandy does not play.
In a freestyle that aired first on Ebro in the Morning, Brandy raps over Harlow's hit song "First Class."
"You forgot about me?," she begins the track, then reminding Harlow that she's still got it: "Allow me to reintroduce myself/ My name is world famous, one of the greatest / Living legend, did I mention my resumé is amazing?"
Listen to it below.