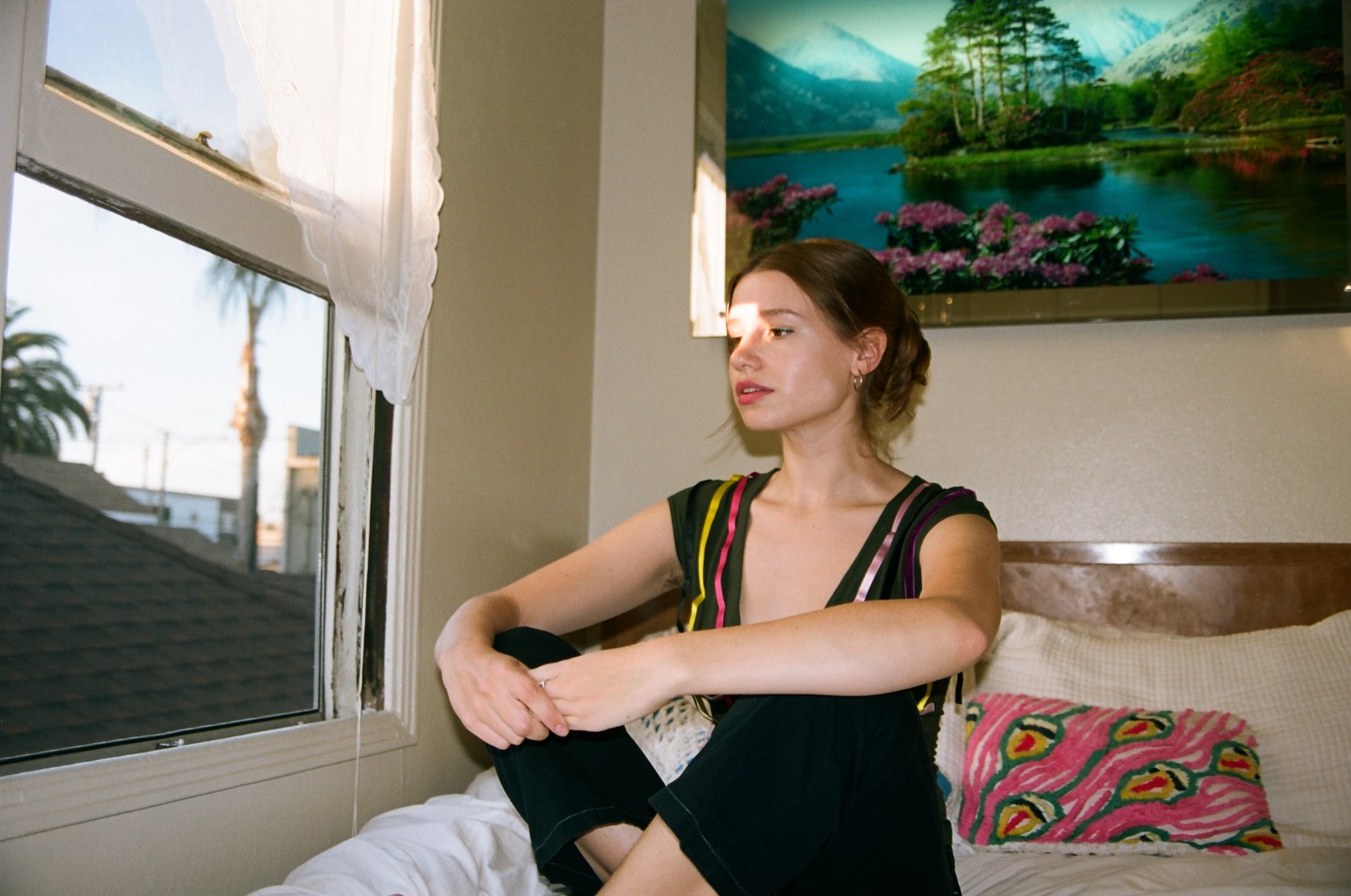 The FADER's "Songs You Need" are the tracks we can't stop playing. Check back every day for new music and follow along on our Spotify playlist.
Emily Yacina is preparing to release a sonic retrospective on the past 11-plus years of her life in music. All The Things: A Decade of Songs, due out July 29 via Danger Collective, is a thirteen-track compilation that starts with music she made in her teens — "As We Go," "Hot Air," "Bruise" — and ends with three brand new singles. In May, Yacina shared "DB Cooper," a track about the June 2021 passing of Eric Littman, her close friend and the producer of her 2019 album Remember the Silver. And today, she's premiering its follow-up, "White Bull," with The FADER.
Where the former cut finds Yacina using a historical allegory to contextualize an unfathomable loss, the new one sees her imagining its central event — the arrival of an important person in her life — through an impressionistic, fantastical lens. "You came into town / Buckin' on the back of a big white bull / I never seen anything so beautiful," she sings over Matthew James-Wilson's plodding drums, a pre-recorded bass line from Littman, and her own jangly guitar — upbeat in tempo and major in melody but mournful in tone. Melina Duterte (Jay Som) bravely takes up Littman's production mantle, tying the track together with an effortless, lived-in feel.
Listen to "White Bull" and read Emily Yacina's interview with The FADER below.
Emily Yacina Q&A
The FADER: You've been releasing music since you were very young. What made you decide now was the time to put out this sort of retrospective, and did you have a system for deciding which of your songs made the cut?

Emily Yacina: In late 2020 I was talking to my friend Matthew James-Wilson, who plays drums on two of the new ones, about the passing of time and how it's been about 10 years since I've been making songs and putting them online. I was expressing to him that I wanted to try something very different, but I didn't know what yet — like the feeling of being on the verge of a big change as a person and artistically. Matthew, who is the most thoughtful person I know, initially proposed the idea of putting together a project that encapsulates this era of work in a way that celebrates it. I really liked the idea! For selecting the songs, I picked ones that I still resonate with, and ones that fans have gravitated more toward over the years. I was also thinking a lot about the themes in each of them, and wanting to make a throughline about growth and how it feels to be better acquainted with myself through time.

It's striking to hear the three new songs on the record next to early tracks like "As We Go," but at the same time, it makes sense that they come from the same artist, separated by a decade. What, if anything, has stayed constant about your songwriting process from then till now?

I think what I'm inspired by has stayed pretty constant: friendships and relationships, the meaning that connection to other people brings to my life. I wrote "As We Go" about a group of kids at my high school who were into cool art and kind of took me under their wing. I was so affected by that! I remember coming back to my parents house after hanging out in the woods and thinking "Wow, it's so incredible that I met these people." I still feel that way when I meet someone I really connect with. Like what are the chances we're both here at the same time?

The new songs are all produced by Jay Som. What makes you and Melina good creative partners?

Melina is incredible! I found it really easy to express what I wanted in each song. She's also really funny so we laughed a lot when we made them. She has a beautiful studio set up in her home in Los Feliz. We took breaks to watch our favorite YouTube videos. We realized that we both love the video of Fergie doing a flip during her [Today show] performance.

I love the central image of the new song, where the narrator describes meeting someone new for the first time as watching them ride into town on the back of a big white bull. Is there a story behind it?

I wanted to come up with a visual to represent how random and surreal it can be when someone special enters your life — how it can feel very out of nowhere and almost like a disruption.

I know "D.B. Cooper" dealt with the death of your close friend and collaborator Eric Littmann. "White Bull" also feels like it's written from a place of loss or longing. Has writing through grief been therapeutic for you?
Yes! I think about grief and death so much because of my personal experiences with it. I'm currently in a training program to become a certified End of Life Planner or death doula. Recently someone asked me what it's like to be very aware of death. I answered that I think it makes me so much more present and aware of life. My first loss happened when I was in my early 20s, and it was so formative and felt so personal. Then when Eric died, it also felt incredibly personal, but there was this feeling like "Oh… This happens and will continue to happen. This is a part of life." I think death is the biggest truth out there; it's the other side of the coin. I think writing through those experiences and getting acquainted with it have only made me more appreciative of the time I have here, and I am now very quick to express love to people, which I think is a cool thing.