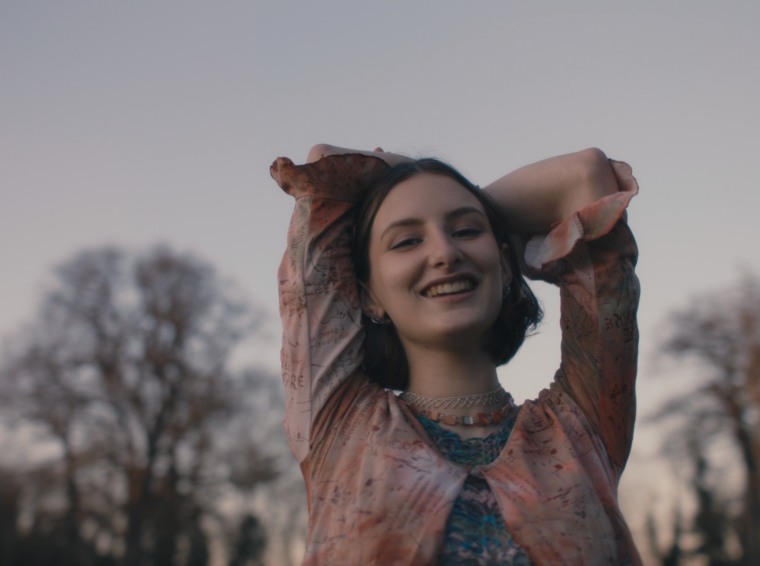 gglum, a.k.a. Ella Smoker, makes vulnerable and tender songs that find strength in their indelible melodies. On new song "Don't Think Twice" she is joined by fellow London-based artist Ray Laurél with the pair dreaming of an unshakeable love, the kind that refuses to be diluted or act with any degree of chill. "Say I look pretty when I die," the pair sing on the chorus, bringing a sense of morbidity to the skippy pop beat. "Follow me when I go inside." It's an unshamedly needy sentiment that feels all too relatable, a song that dares to ask; 'Why play it cool if this is how we feel?'
Diving into bone-deep feelings and emotions comes naturally to Smoker and the music she makes as gglum. "Don't Think Twice" is one of eight songs on new EP Weak Teeth, also streaming from today. The video for the song, premiering below, plays on the themes of unbreakable bonds and close ties. The collective spirit between gglum and her friends is palpable as they hang out as a gang, their celebrations leading to a rooftop as the morning sun rises.
Speaking to The FADER via email, Smoker said: "I wrote this one with my friend Kamal. We realised that in the whole time we'd known each other we'd never written together so we thought we'd give it a go. There were loads and loads of versions of this song but eventually we landed on a middle ground. The amazing, lovely Ray Laurél laid down some sick vocals for this. For the music video we wanted to capture what it is to grow up in London and the night life."