Song You Need: LSDXOXO and Eartheater's tender ode to vampiric love
"Demons" is the second taste of LSDXOXO's forthcoming debut LP.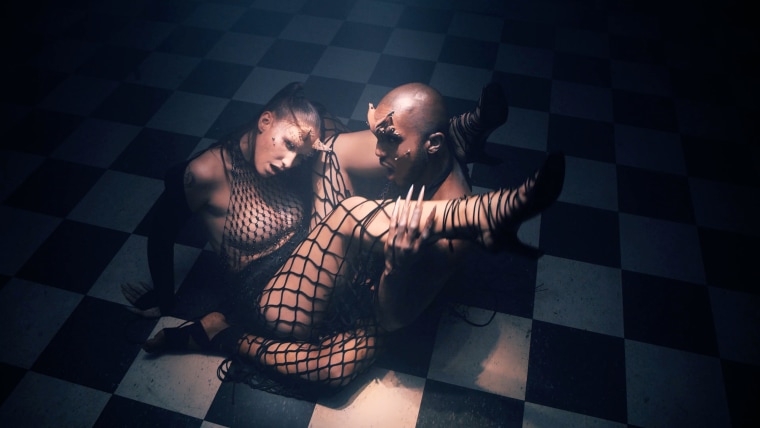 The FADER's "Songs You Need" are the tracks we can't stop playing. Check back every day for new music and follow along on our Spotify playlist.
Since the May 2021 release of his breakout crossover EP Dedicated 2 Disrespect, Raushaan Glasgow (LSDXOXO) has been jet-setting across Europe as a DJ, taking his fledgling label and "pleasure-loving" party promotion company Floorgasm on the road and dropping a remix of the tape in March. He's also been working on a fully refurbished live set, which he'll premier this Friday at Sónar 2022 in Barcelona, and his debut LP, title and release date TBA. The Philadelphia-born, Berlin-based producer and — more recently — singer put out "DRaiN," his first offering from the record, in April. And today, he's giving the world it's second taste in "Demons," a duet with Ridgewood, Queens' resident art-pop siren, Eartheater.
The new song is a rare uptempo ballad that finds Glasgow harmonizing behind his own quavering lead vocal, atop a techno drum machine sped up to Baltimore club velocity and an oozing, ominous synth bed. "Baby when you take the shape of a demon / I can feel desire teethin' / Fall into my black hole heart, sink your teeth in / Changin' everything I believe in," he sings, describing an infatuation so intense it verges on the sinister. Eartheater joins later, delivering her side of the story — "I feel like a foreign sacrificial lamb" — in breathy, sonorous tones.
"Demons is an ode to dark, all-consuming love," Glasgow explains. "The exchange that takes place between two passionate lovers can be quite vampiric. Is that so bad, if it's what both parties desire?"
In the video, directed by Eartheater, the duo collide repeatedly in several rooms across a burning city, their bodies becoming one in a symbolic ritual of mutually destructive lovemaking. Watch it below.