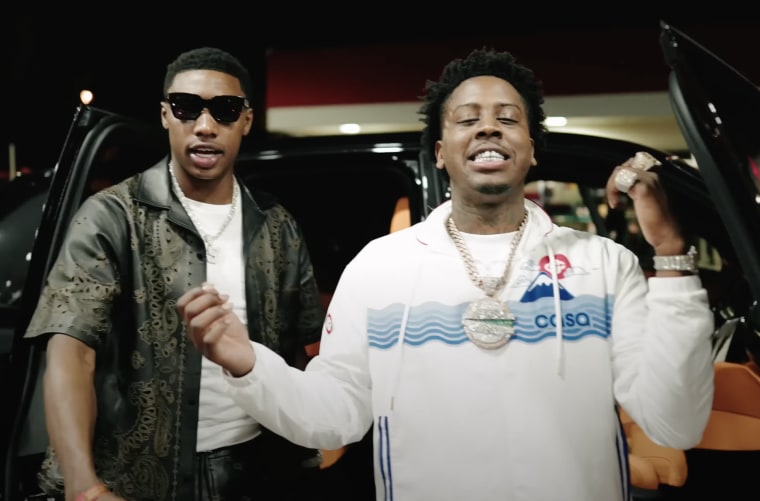 Every week, The FADER's Brandon Callender shares his highlights from across the rap world, from megastar artists to the deep underground.
Rob49 feat. RealBostonRichey – "Yes, You Did"
While much of the attention on Louisiana rap has shifted north to Baton Rouge following YoungBoy's rise and viral dominance, Rob49, hailing from New Orleans' 4th and 9th wards, is putting NOLA back in the spotlight. On "Yes, You Did," he and Tallahassee's Real Boston Richey are as explosive as a pair of SEC running backs, making their presence known as soon as they touch the mic. Rob49 comes off as the more aggressive one here with his temper slowly boiling over the longer his verse goes on. "House arrest six months, but I bounced back/Just thank the Lord that I rap," he barks. Richey is chillingly sinister in comparison as he runs through tough-talking bars and scamming tales without looking back. When you smash their approaches together, it's impossible to stop them from blowing past the beat.
Destroy Lonely — "NoStylist"
Much like Playboi Carti, whose Opium imprint he's signed to, Destroy Lonely has an eclectic ear for beats that skews toward twinkly, atmospheric beats that function like canvases, his voice vivid splashes of paint. NO STYLIST, his first on Opium, is low stakes in a way that feels refreshing coming from this new generation of rappers. It isn't heavily pushing toward a new abrasive sound or trying to prematurely announce the coming of a new star—it's just a bunch of songs where Lonely raps about his closet and chases girls over spacey beats. (A heartwarming sidenote: His father I-20, who was signed to Ludacris' Disturbing Tha Peace label, shared Lonely's album when it dropped. It'll never stop being funny to me how second-generation artists end up so different from their parents.) On the title track, he glides over production that sounds like a rage beat composed with Pokemon sound fonts. "Told my folks I'm gettin' rich, it ain't no way I'm washing dishes," he raps with stars in his eyes. Rising artists shouldn't have to position themselves at the genre's vanguard to be taken seriously.
Wrld Tour Mafia — "Stamped on Me"
Everyone in the Wrld Tour Mafia crew—DaeMoney, Milt, Solid, and Miles—raps like they're too cool to care about anything other than getting to a bag. They've become some of my favorite rappers coming out of Detroit for the beats they pick: seemingly simple on the surface until they unfold into these grayed-out, emotionally contemplative loops that feel like staring at a Rorschach. "Stamped On Me," their new group cut, lays out their fast-paced lifestyle in plaintext. For them, rapping is all about saying the flyest thing imaginable. DaeMoney's tired of banks, Miles is counting racks in the mountains of California, and Solid's disappointed he's only hit 40 different states in 100 road trips. It doesn't matter where the truth starts and ends—the only thing that matters is making it sound cool.
MarijuanaXO feat. Super Throwed Dave — "4 Da Mob"
Milwaukee's MarijuanaXO is already on his fifth mixtape of the year and it feels like the results are getting more and more unruly. With a scratchy voice and endless stories from road running, he can sometimes seem like that one oldhead that turns a quick convo on the corner into a 30-minute life lesson. "4 Da Mob," a highlight from his new tape Da Under Dog, is what you get when you cross a twerk song with a brotherly anthem celebrating the gang. MarijuanaXO's fast money schemes and lifestyle flexes go down smooth, but when Super Throwed Dave snatches the mic to scream his lines, it's impossible not to laugh at him stretching his voice box like it's made of bungee cables. I'm praying his vocal cords recovered.
NFL Jizzle feat. DwadeFromOBN - "Bmore to Da Raq"
"City A to the City B" songs will never get old to me. They're a continued reminder that all the writing about regional rap being washed away due to the internet in the early 2010s was well-intentioned but slightly exaggerated. NFL Jizzle's "Bmore to Da Raq" is a cross-state road trip where he and DwadeFromOBN pass the mic back and forth to talk about how tough their cities are. The piano scale that makes up the beat sounds like "Back in Blood" played in a different key, but it's not distracting enough to pull you out of the song. While Jizzle's more of a hot-head, Dwade's effortless cool allows him to shine on this song. There's always going to be room for regional flag waving in rap.