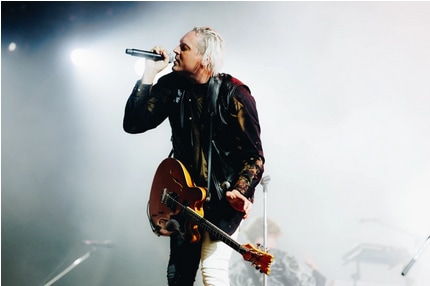 Win Butler of Arcade Fire has been accused of sexual misconduct by multiple people, Pitchfork reports. The frontman, who is married to fellow band member Régine Chassagne, has stated that it is his belief that the relationships were consensual and that any claims of misconduct are "revisionist, and frankly just wrong."
Speaking to Pitchfork, three women and one gender-fluid person share similar stories. All were fans of Arcade Fire and aged between 18 and 23 when they met Butler. The alleged incidents occurred between 2015 and 2020, when Butler was between 34 and 39. The three women claim that the age gap, plus Butler's position as the lead singer in a Grammy-winning band, created an unbalanced power dynamic.
Lily, a pseudonym given to the gender-fluid person, said they believed Butler had sexually assaulted them. Lily first met Butler in 2015 and alleged that he grabbed their crotch in a car. They also claim he pinned them against a wall before "sticking his tongue down my throat." Butler said he had touched Lily on the thigh in the car and stated that the second incident was "definitely mutual."
In a statement given to Pitchfork, Butler said he was "very sorry to anyone who I have hurt with my behaviour" but claimed his relationships with the four individuals were consensual. He added that he had gone through a period of drinking and depression during the 2015-2020 time period the relationships took place.
"I am continuing to learn from my mistakes and working hard to become a better person, someone my son can be proud of [...] I'm sorry I wasn't more aware and tuned in to the effect I have on people – I fucked up, and while not an excuse, I will continue to look forward and heal what can be healed, and learn from past experiences, Butler said"
In a separate statement, Chassagne said she was "certain" he had never touched a woman without consent. She added: "He has lost his way and he has found his way back. I love him and love the life we have created together."
Arcade Fire released their latest album WE earlier this year. The band are scheduled to tour Europe in September before making their way across North America later in the fall.