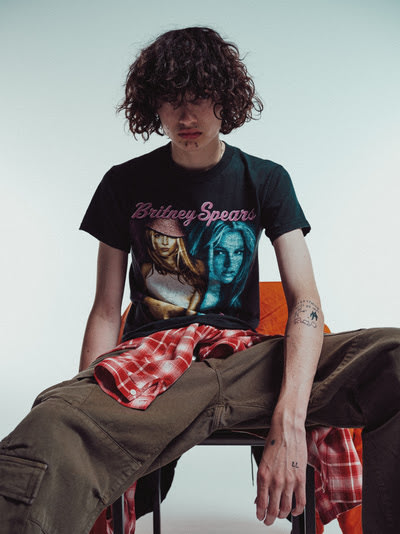 glaive has shared a new single called "3 wheels and it still drives!," released as the North Carolina pop artist prepares his upcoming debut album, out soon via Interscope. The song arrives three months after "minnesota is a place that exists."
The previous track from glaive was a zippy synth-punk cut with the occasional flourish that nodded to his beginnings in the hyperpop scene. By contrast, "3 wheels and it still drives!" is more of a straight-up pop-punk song that, like the title suggests, embraces resilience as a toxic relationship falls apart. The first section glides on a gentle acoustic guitar while glaive sings in his signature tremulousness about love slipping through his fingers. "Right person, wrong time / You best believe when I say it / I haven't felt this way in a long, long time," he sings on the chorus.
Those same words take on a different tone in the song's second half, though, when the electric guitars come in and glaive paints the picture of something far more rotten: "Then you called me up, you said you hated me / Although I'm not upset, I'd love to reconnect sometime / We could chit and chat 'bout this and that / I could fuck with your head like you fuck with mine."
This fall, glaive will play shows across North America. Find them below.
glaive 2022 tour dates
September 28 – Grey Eagle – Asheville, NC
October 5 – Basement East – Nashville, TN
October 7 – The Truman – Kansas City, MO
October 8 – Delmar Hall – St. Louis, MO
October 14 – Austin City Limits – Austin, TX
October 18 – Launch Pad – Albuquerque, NM
October 21 – Valley Bar – Phoenix, AZ
October 23 – Voodoo Room – San Diego, CA
October 25 – Soundwell – Salt Lake City, UT
October 28 – Fortune Sound Club – Vancouver, BC
October 29 – Wonder Ballroom – Portland, OR
October 30 – Neumos – Seattle, WA