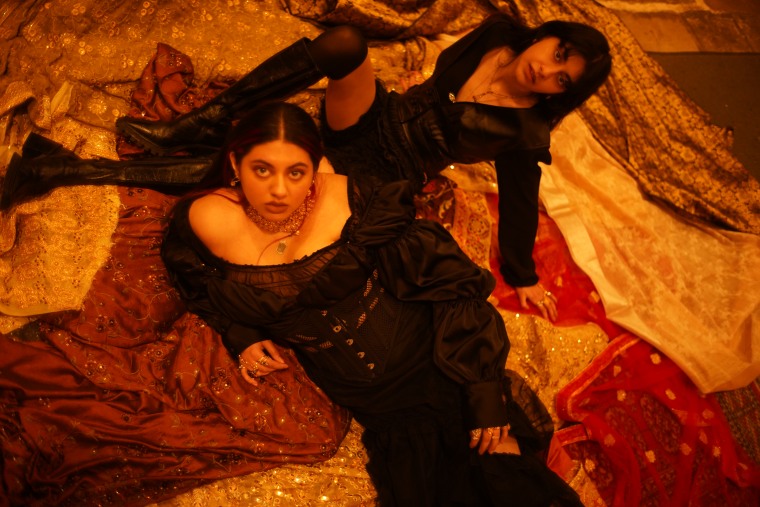 London-based sisters Qazi & Qazi bring darkness and a little hope on new song "Forward." The pair, Naadirah and Rukaiyah, blend their voices perfectly, still individuals but together as well, in additon to a clear love of more traditional folk sounds, as the delicately picked acoustic guitar that runs throughout "Forward" suggests.
The result is something familiar yet disquieting as the pair deliver their message of moving through lifes trials and making it through to another day. "I hear the embers talk," goes one affecting line. "They laugh and sing now." A video for the track, premiering below, shows Qazi & Qazi using the imagery of food and a feats to portray the ways in which traumatic experiences spill over and leave stains on otherwise beautiful moments.
"The track's message is that you have no choice but to move through life's little rituals despite struggle; the world goes forward without you and, in time, you'll be able to go forward too, Qazi & Qazi say in a statement. "It somehow became a beacon of hope and power for us through this period of pain."
"A lot of our artistry is informed by the concept and motion of ritual and we wanted the video to embody that - to feel ethereal and visceral and deeply human. We aimed to represent the often unconscious ritual of that "survival mode" during times of turmoil, the push and pull of consuming and experiencing beautiful things but being so bloodied by other things that hurt that you might not even be aware of the beauty at the time. It is a dream to be able to self-direct, self-produce and self-release our work into the world. Big thanks to our dear collaborators on this one, Izzy Offer on her videography debut and Amy Conjaerts, an expert in set design and decadence."