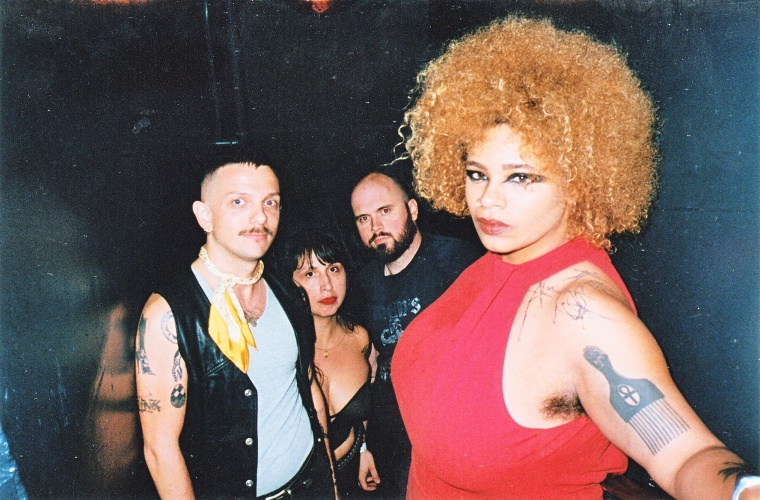 The FADER's "Songs You Need" are the tracks we can't stop playing. Check back every day for new music and follow along on our Spotify playlist.
If anyone can make an anti-capitalist call and response sound legitimately dangerous in 2022, it's Special Interest. On their new song "Foul" — the third offering from their third studio LP, Endure — they once again manage to succeed where nearly any other band would fail.
The New Orleans synth-punk four-piece made it clear with the first two singles from the forthcoming record that they're unafraid to tweak the formula that's pushed them to the forefront of their scene and brought them national attention. The urgent admixture of Alli Logout's radical vocal style with no wave grooves from the bass/guitar combo of Nathan Cassiani and Maria Elena and club beats from Ruth Mascelli's drum machine is still at the core of the band's identity, but they're now finding inspiration elsewhere too.
Both Endure's lead single, "(Herman's) House," and its follow-up, "Midnight Legend" feat. Mykki Blanco, find Logout exploring a more melodic part of her voice than we're used to, and the latter track sees the group recompose itself temporarily in the image of a new wave party band.
In light of those two tracks, "Foul" is a furious return to form, led by a sneering bass lick that underscores the venom behind the lyrics, delivered as a rare duet between Logout and Elena. "If it's not my joints," Logout begins, "It's my patience," Elena answers. "If it's not my head," "It's my heart" / "Calloused hands," "Tired fingers" / "Sleep deprived," "It's an art." And so on.
The song's greatest achievement, however, is its chorus, which finds Logout, Elena, and Mascelli, shouting all at once, their lyrics intertwining to create a three-headed monster that's scarier than the sum of its parts. "I'll save up any day now!," Elena shouts repeatedly over the top of the maelstrom as if saying so over and over will make it true. "Sure you will," Mascelli responds, egging her on. "One more time, 86 hope, one more time." Meanwhile, between their syllables, Logout pieces together a sardonic proletarian mantra: "To — what — end — my — back — will — bend — sacrifi — cing — hope — it — ne — ver — ends."
"This call and response tune is a working class anthem," Elena said in a statement accompanying the song's release. "Alli and I co-wrote the lyrics and sing it together with Ruth adding a classic line — 'Foul! Ever so foul!' It's a dispatch from the dish pit! An ode to all beleaguered workers! Minimum balance savings account blues!"
Listen to "Foul" and view Special Interest's European and North American fall 2022 tour dates below.
Special Interest fall 2022 tour
November 2- London, UK - Rough Trade East (in store)
November 3 – Bristol, UK - Rough Trade
November 4 – London, UK - Studio 9294
November 5 – Manchester, UK - White Hotel
November 6 – Glasgow, UK - STEREO
November 8 – Leeds, UK - Headrow House
November 9 – Brighton, UK - Komedia
November 10 – Rotterdam, NL - V11
November 11 – Frankfurt, DE - Ono2
November 12 – Haarlem, NL - Slachthuis
November 13 – Kortrijk, BE - Sonic City
November 29 - Milwaukee, WI - Cactus Club
November 30 - Chicago, IL - Empty Bottle
December 2 - Toronto, ON - Velvet Underground
December 3 - Montreal, QC - Casa Del Popolo
December 5 - Portsmouth, NH - The Press Room
December 6 - Boston, MA - The Sinclair
December 8 - New York, NY - Bowery Ballroom
December 9 - Philadelphia, PA - Foto Club
December 10 - Baltimore, MD - Metro Gallery
December 12 - Carrboro, NC - Cat's Cradle - Back Room
December 13 - Charlotte, NC - Snug Harbor
December 14 - Atlanta, GA - The Earl
December 16 - New Orleans, LA - Saturn Bar