Westside Gunn is sharing the blueprint
Griselda's Curator-In-Chief breaks down his new album 10 and much more on the latest episode of The FADER Interview.
Few rappers this decade have changed the sound of hip-hop more than Westside Gunn has. While major labels sought to wring every last dollar out of the trap sound — West's Griselda Records further developed on Wu-Tang and Mobb Deep's paranoid, sample-based psychedelia and Roc Marciano's slow, drumless soundscapes to create a unique sonic universe where high art and fashion collide with street-level tales of drug dealing and violence.
Even in the Griselda camp, West's music stands out from that of narratively focused artists like Benny The Butcher and Conway The Machine. Rather than dark stories of crimes past, West's songs are abstract blasts of sonic impressionism, combining decayed soul samples with outlandish boasts and unpredictable skits. His annual Hitler Wears Hermes mixtape series — celebrating its ostensibly final edition under the controversy-dodging title 10 — has become obligatory Halloween listening, with each installment growing in popularity thanks to West's uncompromising artistic vision.
On the day of the new record's release, I spoke with Westside Gunn, fresh off the plane at his Atlanta manor, about his process — as a solo artist and as a curator of projects for rappers like Rome Streetz and Armani Caesar — his ambitions in fashion and pro-wrestling, and how he created his own hyper-specific corner of hip-hop.
This Q&A is taken from the latest episode of The FADER Interview. To hear this week's show in full, and to access the podcast's archive, click here.
The FADER: Your fans have been expecting a project called Michelle Records, but you flipped it and went to the 10th installment of Hitler Wears Hermes instead. How did that happen?
Westside Gunn: I've been doing these tapes since day one. Every year, my whole career, I've done a tape. Even though I was focusing on Michelle, when it came time to the end of September, top of October, I started hearing them whispers, like, "Yo, we gotta get in there and give 'em what they want."
Michelle is a totally different vibe. People was hearing the snippets, the soul classics. But the Hitler Wears Hermes tapes is just the raw Griselda, where we started from, and I just had to give it to 'em.
How much of it are you planning ahead, and how much of it is the energy of that moment? I get the sense that you record a lot of it quickly, but you've also been talking about it for a long time.
I already be having the cover in with the date of the release and all that before I even be done with track two. I already be having visions, bro, I can't even explain. I never even thought I was gonna do 10. Just three weeks ago, it wasn't even a thought. People thought Michelle was coming out Halloween, so I was already working on it. It's pretty much halfway done. Whenever I get the urge again, I'll go back and finish it up.
It might take two days. Sometimes I already have the soundtrack in my head before I put a rhyme on it. I can tell you pretty much how the rest of the project's gonna sound because I already have the production. I've just gotta fill in the blanks. But it's always off energy. That's why I do it so quick. I'm not a person who's in the studio four times a week. I might rap five, six times a year, and out of that year you might get two projects.
But the rest of the year, you're thinking up ideas and concepts, and the fashion's inspiring you, and everything else around you.
Correct. I stay sitting front row [at] wrestling. Things like that keep me inspired. And then I listen to those beats. I might freestyle for an hour or two but don't write nothing. When it's time for me to write, I get busy. I already have 20 beats in the stash right now. If I wanted to make another album, I could. I like to prepare a little on that end, because I love hearing production more than people's albums. I like to zone out and listen to the samples and vibe.
You've curated a tremendous lineup of guests on 10: A$AP Rocky, Black Star, Run The Jewels, Busta Rhymes, Rae and Ghost, and all the Griselda fam. What really strikes me — not just on 10 but on all your projects — is that nobody phones it in. On other people's projects, you might get a lazy verse, but that doesn't happen on a Westside Gunn project. How do you pick those guests, and how do you make it so they're always giving 110 percent?
It's just energy, bro. It starts from me. Once I feel it, I start thinking who would sound dope on it. People know they have to come with it, because I've already played my part.
My whole approach is "outshine me," because I know I'm gonna do what I do, and if you outshine me, we got the best song smoking. I don't think people wanna get on a song and lack with me and [with] what Griselda stands for in the culture. As a curator, I bring the best out of everybody.
In terms of your OG lineup, your family — Conway, Benny, Daringer — they're all growing as artists and entrepreneurs, doing their own thing. If you look at the history of hip-hop — whether it's Wu-Tang or Roc-A-Fella or Cash Money, that's usually where you get problems. But you guys still all work together, and you've grown your roster with names like Rome Streetz and Stove God. How did you manage to keep everyone on the same page but also let people grow?
What makes me a great boss is I make other bosses. I show people the blueprint [of] how to become the CEO of their companies and have a team. I'm not a selfish guy; we all family. Everybody that's a part of Griselda knows I love everybody. I want everybody to win. That's always been my goal: to always make sure that they shine just as much as me.
I'm always gonna make sure they give their 110, because all eyes is on me, but after they hear this, all eyes is gonna be on you. You're only good as your last song. By Conway being my brother and Benny being my cousin, we've been together our whole life. It's not me being a boss to them; it's just I was on my business side. I wanted to be the Puffy, and I wanted Conway to be the Biggie and Benny the Mace, and still have a Lox.
I rap when I want to, but we don't talk about Diddy being the best rapper. It's not about that: He was a curator. And the people he had on Bad Boy, it's legendary. That's the same thing with me. It was never approach of "I wanna be the best rapper." I wanna be the best curator. People don't realize that sometimes. They think I just wanna be the best rapper, so they'll say, "Such and such is better than him." That's okay, but I make the best albums every year. Your favorite rapper album is not better than mine.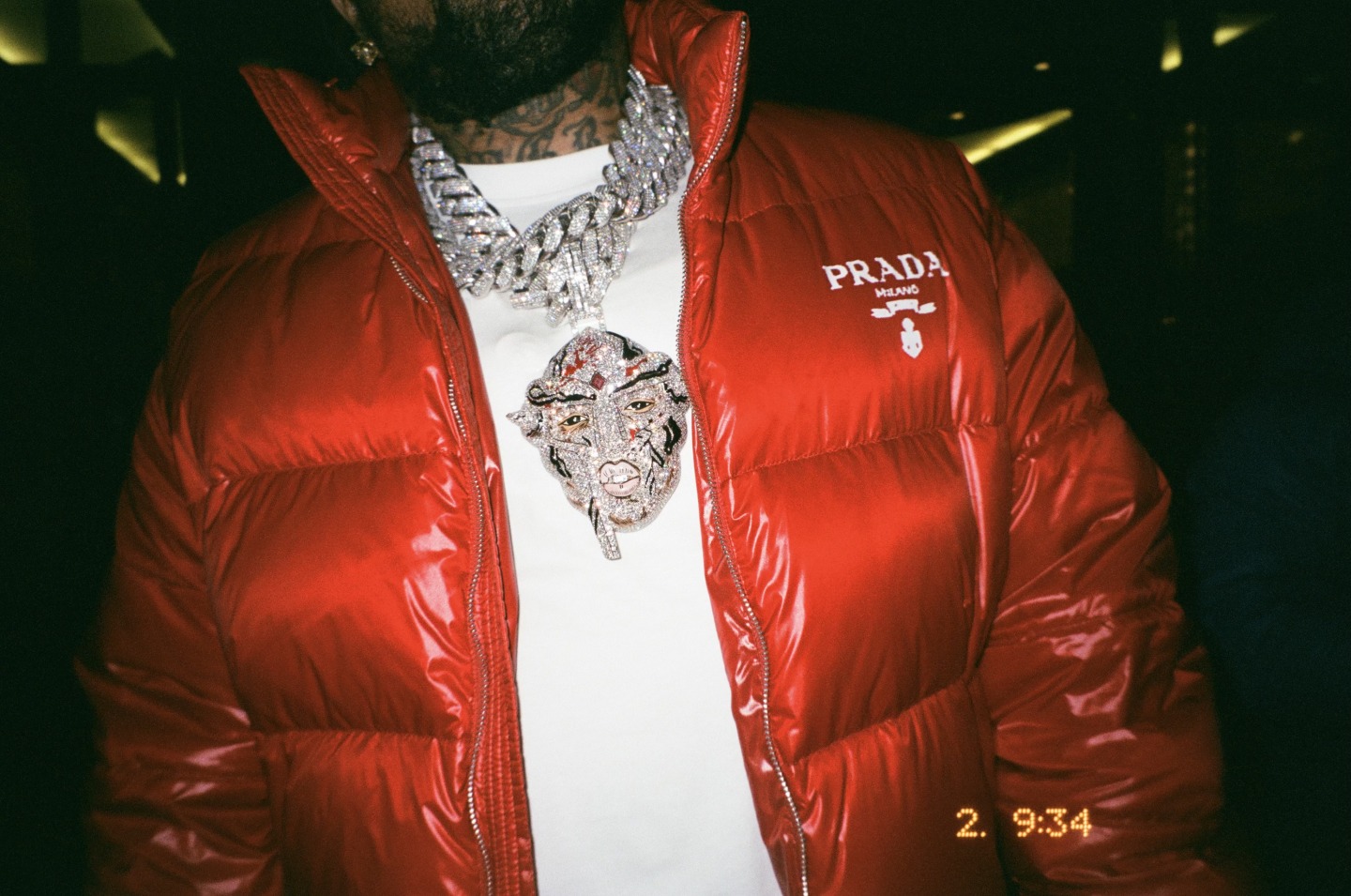 That sense that you do what you want comes through in the music. A lot of people — not just in rap, but generally today — are fucked up. They're not having fun. Then we see you in Greece and places that rappers don't go regularly, and you're having the time of your life. Do you think that positivity impacts the music?
Of course. I surround myself with nothing but positivity. Anything negative, I try to stay away from, period. I'm at a point in my life [where] I'm super blessed: I'm raising my kids. I'm making investments. I'm chilling. I'm finally getting into my designer bag that I always wanted. I'm getting into Fourth Rope like I always wanted. I'm having fun designing, and everything's selling out.
I'm also loving to see Rome get that shine, Armani get that shine. That's everything to me. When you keep yourself around family and people that really love you, you can never lose. I'm undefeated right now because my support system's so strong. That's all that matters. I
That's something that we don't see a lot: that support system being able to go the distance. In the 90s, Wu-Tang or Bad Boy would get a five-year run. But Griselda's been able to grow… not past that, but add to it. You started out with Daringer. Alchemist came on board, and now you've got a new team — Conductor Williams, Camouflage Monk, Denny LaFlare, SnapGod — who added a lot of color to your sound. How do you really get producers to cater to your vibe? Because it's not just what they're coming with: you're really putting these together.
Monk been there since the beginning too. He engineered the whole [HWH2]. We did that whole album in one day. But right now, Conductor, Denny, those is family members. I'm the type of guy [who's] like "Yo, let's hang out. Come to my house. Stay the night. I want you to know me." It's not just, "Hey, send me a beat pack." I [saw] something incredible in Conductor. I knew he had what it takes, and I wanted him to grow with me. Same with Denny. Shout to Daringer, that's day zero. People so shocked he isn't on this one. That's my brother — he on it because I'm on it. Everybody want to try to figure out what's really going on: "Is him and Daringer beefing?" No. "I don't see him and Conway and Benny in pictures no more. Are they broken up?" No. This is family. Stop it.
You've got some outside legends behind the board on this one too. You've got a longstanding relationship with Alchemist, and Pete Rock was on Supreme Blientele. But you've also got Swizz Beatz and RZA on this one, and those are some real infinity stones. RZA doesn't make those soul beats anymore. And Swizz, he went to Harvard. How did it feel connecting with them?
Swizz is fam. That's my guy. He's kicked a lot of knowledge to me. Me and him [have] talked and hung out for hours. He's big into art like I'm big into art. We connect on a whole other level.
It's been a dream of mine since day one to be on the RZA beat. And to have that sound — this is what I'm begging him for, like "Bro, I need this." I got it [and] I'm thankful. It's not the end of me and RZA. We have more.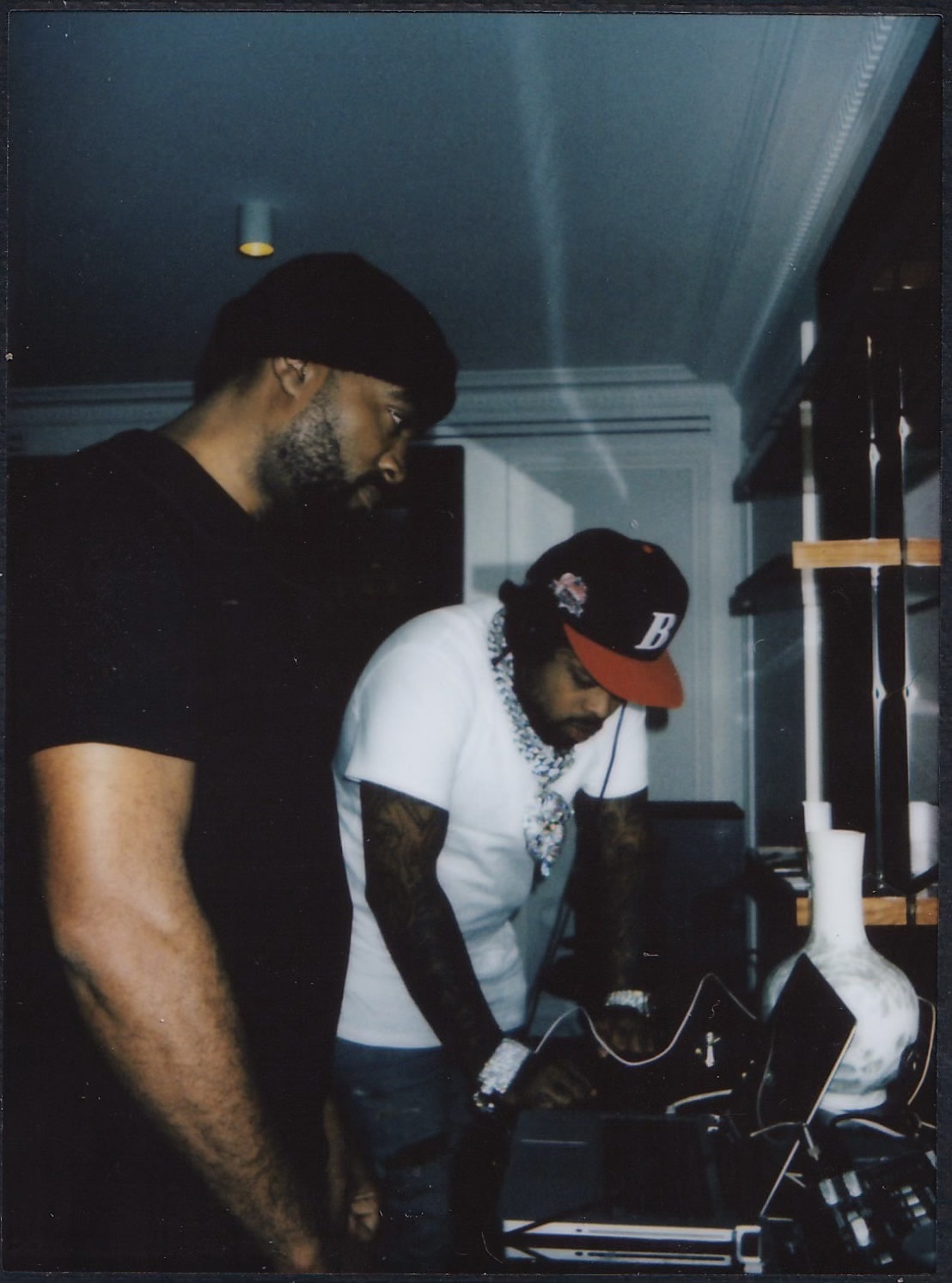 Your albums are special because you've got the beats, the rhymes, but also the the skits: Chris Jericho speaking on you at ringside, the pastor testifying about crack on Rome Streetz's album. Those are things not everybody does. It separates a good album from a great album. How do you know what to put where?
Again, it's the energy. I never do the skits until the whole album's done. Once I put it in order, I listen to it like three or four times [and] start thinking, "What would go crazy there?" I start searching and researching and find the illest shit to fit that moment.
Every project is an art piece to me: It's the way I paint it. Nobody else can see it but me. Even the artists don't see it until it be all the way over and we listen to it from top to bottom, and they be like "Holy shit. This is why he says he's the curator of all curators." When Armani was making those songs, she wasn't hearing Liz II how I was hearing The Liz II.
Is that how it goes with all the artists you work with? You also did Rome Streetz's Kiss The Ring, which has boosted his profile tremendously. I've seen people comparing him to Big L now. How did that come together? Were you sending him beats from your producers? Were you waiting for him to record and then putting it together?
"Fly over here. We got work to do." The beats was already there. I pick the beats. I name the songs. I put them in order. I put the skits on it. I do the cover. When it says "Curated by Westside Gunn," that's been curated by Westside Gunn. That's just not a, "Let me send you some beats and we'll drop a project." No. "You're flying into where I am and we're cooking that right on the spot." Armani and Rome made all those songs in front of my face.
Speaking of cover art, that's Eastside Flip on 10, and he's also on the project rhyming. That's a bold choice. How far does that relationship go back?
About a year and a half. [We] had a mutual friend that be checking on him, making sure he good, because he in the streets. He'll pull up, give him a few dollars every day to make sure he at least can eat. It started off as him freestyling and my man recording a video. I listen, and I'm like "Damn, he actually can really rap."
His name was just Flip. I named him Eastside Flip because when I look at him, that's Eastside Buffalo: raw as fuck, grimy as fuck. That's where we're from. That's what we see every day. It's a lot of people that's in that Flip position. It's a lot of poverty where I'm from. You can see the pain in my city. It's no sun there. It's always gloomy. There's no tall buildings. At night, it's real dark, real ran down. That's Buffalo.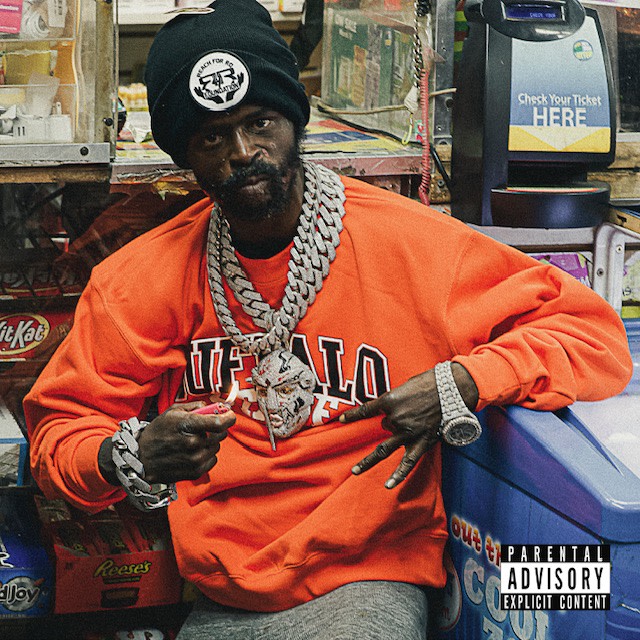 Let's talk about Armani: I think she surprised a lot of people.
The vibe of Liz 2 is totally different from any other Griselda project ever. The first project was real raw. I wanted people to accept her, because at first they was just looking at her looks and thought she wasn't gonna be able to rhyme. You know how that goes. [But] nah, her first single out the gate was with Premier, and she held her own. Nobody has ever written one bar for Armani. She gets in that booth and performs at a high level. She's one of one. She can go with the best of them with the raw shit or she can really take you to the club; she can take you to the radio; she can do it all.
Most of the time, when rappers make it — however you want to define that — they feel the need to switch up their sound. You go deeper in. You get the wobblier Conductor beats, the darker Daringer beats. You're not a man who cares about what other people have to say.
It's all about me. I make it for me, and I just drop it and hope you love it. That's the only thing I can do. If an artist has a blank canvas, and every couple days they keep splashing on it, and then at the end it's a masterpiece… When they get the energy, they just cook another one. Once I start the piece, I'm not gonna stop it until it's just done, but that's it. It's on to the next one.
I'm [don't] do a lot of features because I only rap when I wanna rap. Sometimes I wanna do it because it's a legend or somebody who could help take me to another level because they're so popular, but the production's not moving me. If I can't vibe to it and the energy isn't there, that's an opportunity I can't take. I'm not gonna put my name on anything just because they want me to. I stick to just doing what I want to do. That's what's gonna keep me happy. I done already made it in my eyes. Nobody can tell me that I'm not the GOAT,. Even if I don't rhyme, I'm gonna give you three to five of the illest projects you're gonna hear every year from now on.
I was excited to see Mike Shabb on 10. How did that relationship come about?
Just him reaching out.I listen to beats. That's what I do. If somebody sends something, I play the first one, and if it sounds decent, I'ma go to two. If two sounds decent, I'ma go to three. The first impression is always your best. If you send me something, make sure your best one is first, because I don't even go to the second one if I don't like the first one.
But I give people a shot. Mike [Shabb] reached out. I heard a beat, and I was like "Yo, this is crazy." And the second beat, I was like "Yo, this is crazy." Both of those end up being on Michelle. If Michelle came out today, Mike would shine on this one. It would take him to a whole other level. He's not even Griselda, but I want [him] to take off from this because I'm loving the vibe.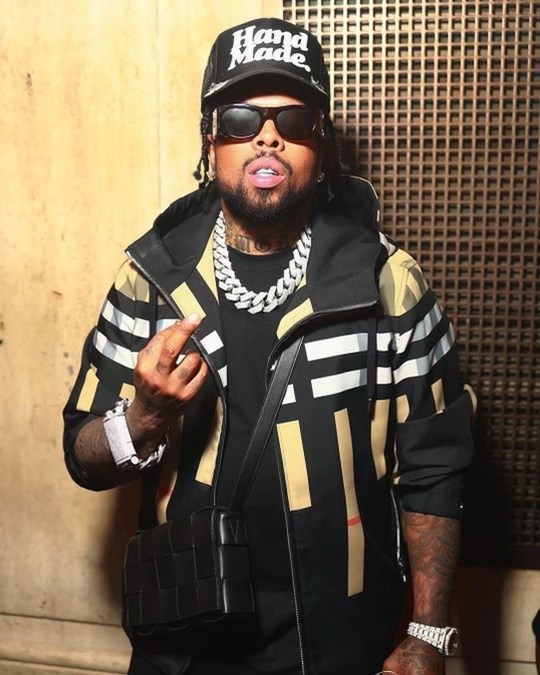 One name I didn't expect to see on 10 is the Goo Goo Dolls, which I haven't heard in a long time. How did y'all connect?
Goo Goo Dolls is from Buffalo, so my engineer's their engineer. All my recordings in Buffalo is done at the Goo Goo Dolls studio. We all Buffalo kids. We all stick together. We all support each other. It's one of them small towns where everybody salutes each other and wants the best. Just because it's two different genres don't mean the love isn't there.
I was like "Yo, I wanna do something I never did before to end the album on some 'what the hell is this?'" I reached out and it got done, man. [Engineer] Elijah [Hooks] made it happen. Robbie [Takac] came to the studio and they cooked it on the spot.
That's the type of move that got Griselda a fan base a lot like Wu-Tang's. It's not just hood dudes. It's not just rap nerds. It's not just fans of street shit. It's all of that together. You're reaching out to different cultures.
A lot of music I make has no drums and just sounds crazy with a guitar loop, especially the old school Derringer classic instrumentals. I call it fourth rope music: If I was a wrestler I could walk down to the ring to it. That song "Red Death," I could walk down to the ring to that. I wanted it to be different. I wanted people to be like "Holy shit, Goo Goo Dolls. What in the world?" A lot of people don't even know they're from Buffalo. Every Time I Die are from Buffalo, the hardcore punk band. I wanna work with those guys. That's the type of shit I wanna do for the culture.