Coco & Clair Clair are real people, not robots
The Atlanta glam-rap duo discuss transcending TikTok stardom to make Sexy, their most mature record to date, on the new episode of The FADER Interview.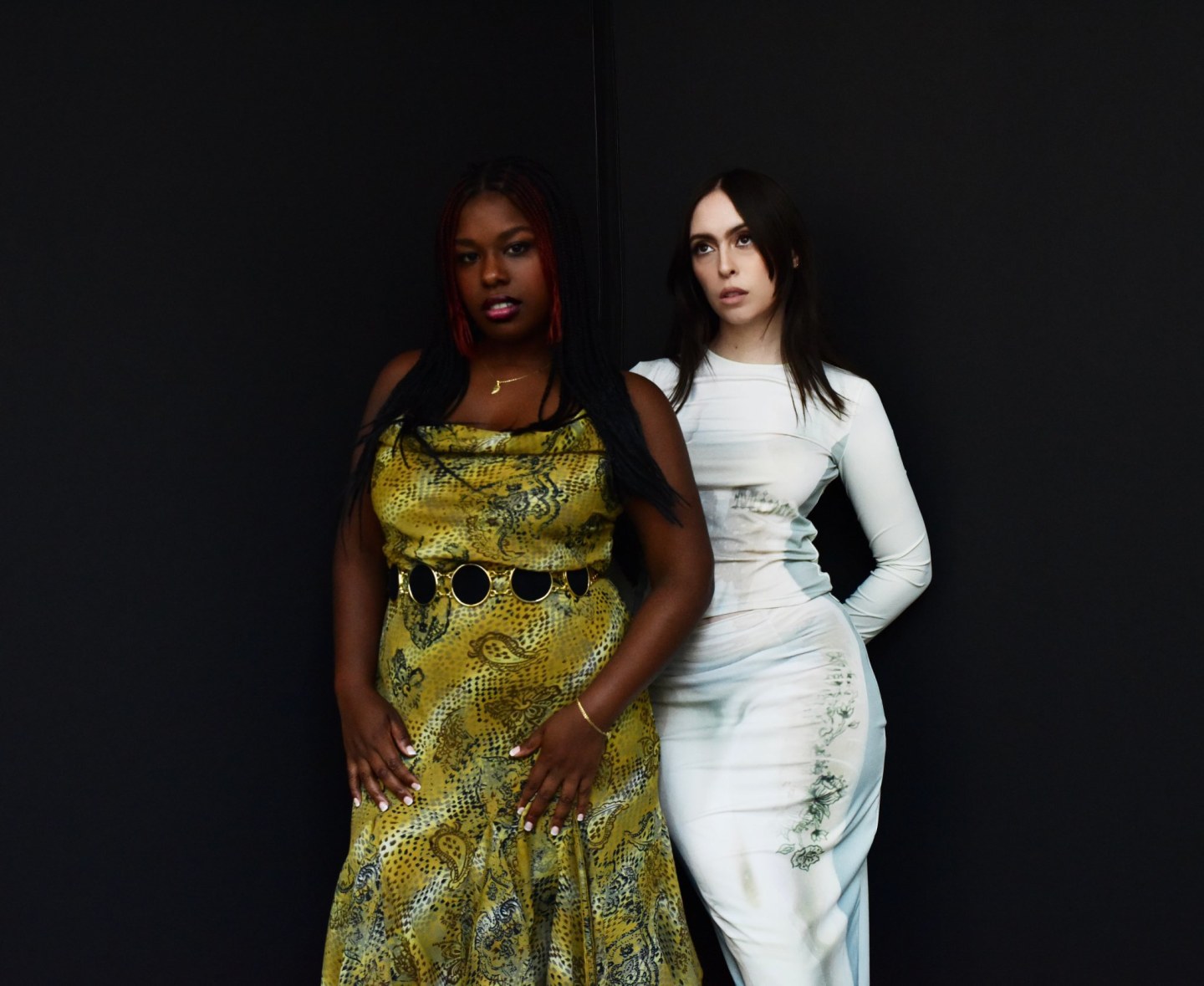 What initially stood out about Coco & Clair Clair, two young hip-hop artists from the suburbs of Atlanta, was their unique sense of glamor — cheap, cheerful, and totally unforced. The songs on their 2017 debut Posh embraced the limitations of their bedroom rap origins and the rough, unprecious philosophy of early SoundCloud hip-hop, though their sound was plinky and lo-fi instead of raw and aggressive. Their infectious chemistry — the kind familiar to anyone who's made a song with a pal in GarageBand during a sleepover — was as undeniable as it was specific: teflon-coated irony that was low in stakes and high in glamor. Misogynist criticism followed, but their ascent couldn't be stopped.
Since then, Coco (Taylor Nave) and Clair Clair (Claire Toothill) have found viral success in a string of singles. Their biggest is "Pretty," a cheeky ode to self love with a cavernous club beat. Millions of streams later, something had struck a nerve with the TikTok generation. Coco & Clair Clair had started playing house parties in Atlanta, where they performed on bills with Playboi Carti and Babyfather and collaborated with Awful Records; now, the entire internet was taking notice.
Sexy, Coco & Clair Clair's new album, is a concerted attempt at growth that doesn't entirely dispense with the informality. Songs like "Cherub" add more polish and hookiness to their already addictive sound, but the vibe is expanded, thanks in part to a roster of collaborators including Aaron Maine of Porches, red-hot Atlanta producer Popstar Benny, TV Girl, Marjorie Sinclair, and more. Sexy is a significant leap forward for Coco & Clair as songwriters — both in terms of their rapping and capacity for pop earworms — that retains the same solid ground they started out with. In late October, The FADER's Jordan Darville spoke with Coco & Clair Clair about their newfound commitment to songwriting, transcending TikTok, and the road from Atlanta house parties to sell-out crowds across the country.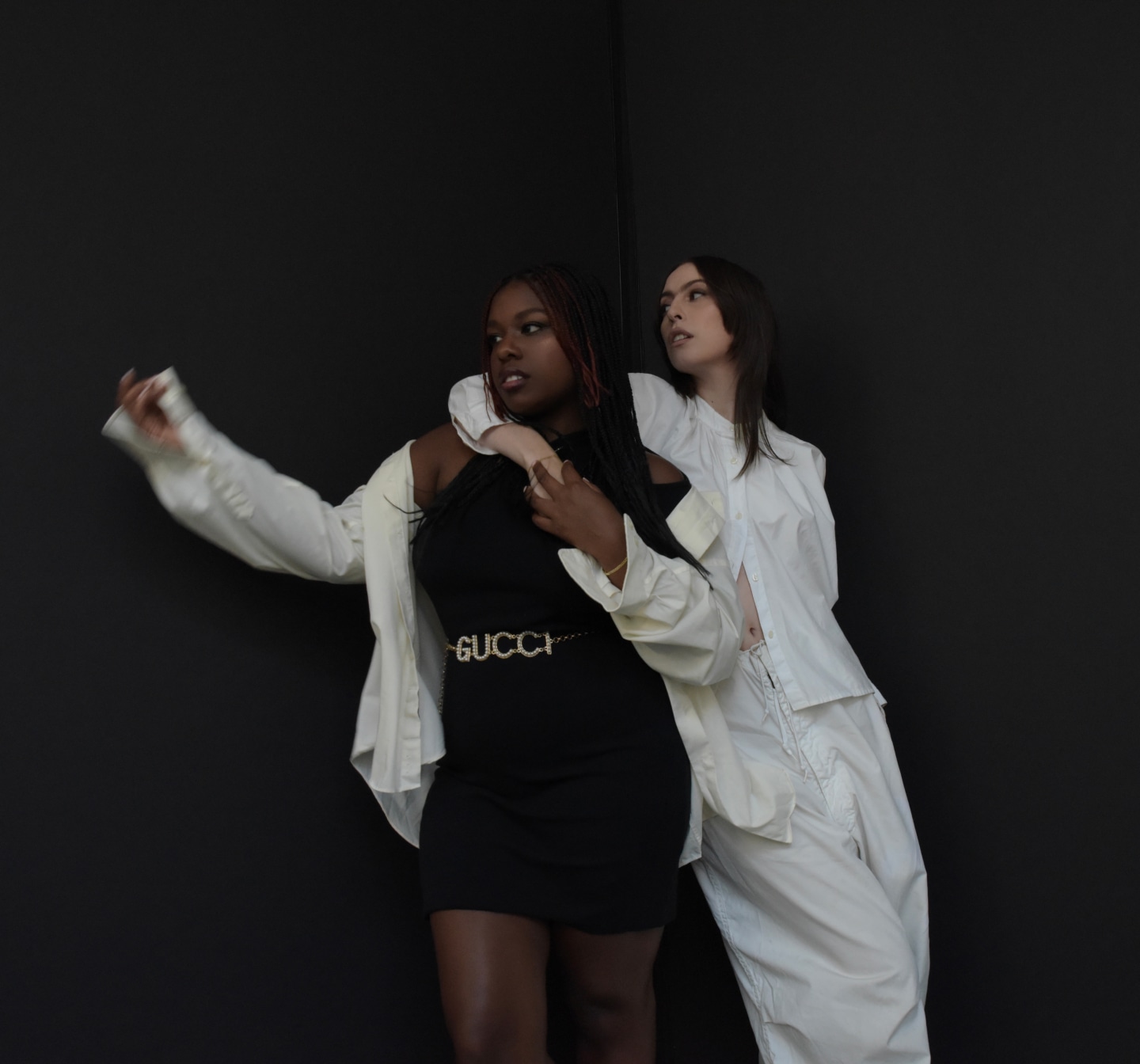 This Q&A is taken from the latest episode of The FADER Interview. To hear this week's show in full, and to access the podcast's archive, click here.
The FADER: Let's take it back to when you both started creating music.
Coco: I wanted to be a video editor when I was in high school, so I would make videos for all my friends who made music. And when I ran out of friends who made music, I started making dumb songs and made videos to them.
I met Claire when I was a senior in high school. I was dating a producer at the time, and I told him to sample Reading Rainbow or something. He also rapped, but he was like, "This is a Soulja Boy beat, I'm not gonna do this." I was like, "I love Soulja Boy, so I will do this." [Claire and I] did it, and then that night we had 300 plays already on our SoundCloud, and we were like, "Oh wow, we're popular. We should keep doing this."
Clair Clair: The seven people we were with that night liking the song was enough encouragement to keep going. I'd never really played music before. It was a childhood dream, not something I thought was actually attainable. It was so fun when we started doing it; it seemed so easy. It came surprisingly naturally. We were just shooting the shit in the beginning, and now we're very serious.
The new project is definitely a level-up in terms of both the production and how you're presenting yourselves. The songs are still fun, but when you decide to go a bit deeper into your personal lives and show the less glamorous side of Coco & Clair Clair, you're more confident.

Clair Clair: We tried to be thoughtful about the songs we wanted to make while still having the Coco & Clair Clair kind of charm. We tried to be more comfortable making love-y songs, not just being crazy. But then there's the song "Bitches," which is a totally freestyle psycho song, and we're just being funny on it the whole time. It's all over the place, but it was intentional.
"8 Am" starts out about waking up depressed with a hangover, but it evolves into a more freeform feel-good song, almost like "Steal My Sunshine."
Coco: That song was the most fun to make. We were listening to a lot of Dido, Jewel, and Sheryl Crow. It was summertime, and we were like, "It would feel so good to make a fucking feel-good song."
A lot of your lyrics have an aspirational view of stardom. You sound like you're hyping yourselves up to a certain standard rather than professing, "I am this person all the time." Who are some celebrity artists you look up to?
Clair Clair: Grimes sings about ethereal, crazy worlds that aren't real or true to how she's living, whatever she's doing in her day-to-day life. That's inspirational. Then there's rappers like Future who are so over the top. We do pull a lot from Atlanta rappers who rap a lot about their lifestyle: going out all the time, being flashy — it is something to look up to. It makes you feel better about yourself to act like you're living that way.
Coco: It's our interpretation of rappers like Future and Young Thug. We go to the strip clubs too, but we're not trying to be like them; we're doing it our way. We want to be relatable because we don't want people to think we don't remember our suburban roots.
Do you feel like, because you grew up in the suburbs, you're on the outside looking into Atlanta's music scene?
Coco: Not really. When we started, we were with Awful Records, so we saw firsthand what it looks like for all eyes to be on Atlanta, how impactful and influential Atlanta is on the music industry. We had the best of both worlds: We'd hang out in the city with these guys and then go back to our suburbs during the week. We're not deeply involved in the Atlanta rap scene, but we rode the line, which was cool when we first started.
You've definitely absorbed a lot of Atlanta's rap history. I was so happy to hear Pop Star Benny's tag on this record. How did you experience the music of Atlanta when you were younger versus now?
Coco: When we performed early on, we played crazy-ass house shows. We'd hop on any bill, so we'd play with punk bands one day and Playboi Carti [the next]. Being in that environment and seeing people so carefree definitely impacted our performance style. We still prefer the house show vibe — to scream on the microphone unprompted and be really silly — but it's way more controlled now because we're older and playing bigger and more serious shows, and more serious people are in the room now, so I can't pour an entire bottle of whiskey on my head anymore. But we still bring it with us.
This year, you've played Lollapalooza and Osheaga. Did you have a bit of whiplash going from house parties to these massive platforms?
Coco: The biggest whiplash was when we [toured with] Turnstile. The last show we played before that… I don't even remember.
Clair Clair: Probably a house show.
Coco: I think it was. Not only were we outside our comfort zone in terms of venue size; these also were not Coco and Clair Clair fans — [they were] there for Turnstile. It was the first time we had to convince a crowd and sell ourselves, which was humbling and so scary, but it prepared us for the festivals we played this summer.
Clair Clair: At a house show, everyone's encouraging you to be as crazy as possible. Then you get to these huge, beautiful venues, and you're so far from the crowd, and they're all just standing there waiting for the person they came to see. I expected it to be easier to act crazy, like, but you walk on stage and it's crickets. You're like, "Oh my God. How do I make these people like us? Let's just do a good job and get off the stage as quick as possible." We're learning to find a happy medium, because it's still true — everyone wants to see a crazy show.
Coco: Sometimes Claire will say something on stage, and I'm like, "I don't know where this is going and I'm scared for my life." When we played Montreal, she asked the crowd, "Can I get 'Oui, Oui?'" I was like, "Oh God, what are they going to do?" But, it landed.
"…because we're older and playing bigger and more serious shows, and more serious people are in the room now, so I can't pour an entire bottle of whiskey on my head anymore."
Your careers seem to have the organic trajectory that a lot of artists strive for. You had a big viral hit, and I'm fascinated to hear how you reckoned with that: Did it change your approach? Or was it too overwhelming, and you just let things happen as they happened?
Clair Clair: On one hand, we always knew our songs would go viral on TikTok. It was something we were almost waiting for because so many of them are cute, bubbly beats with funny lyrics. They make sense for the TikTok formula. When it happened, I was like, "Okay, when's my favorite TikToker gonna use it?" Then they would, and I'd be like, "Oh my God, yay!," and then I'd move on. It's a hard thing to really feel, but it changed our business approach to the project. We've had to take more meetings with people because there are more eyes on us and labels wanting to talk to us. It made us more protective of and serious about the project, if anything.
Coco: It also changed people's perception of us. TikTok made us get taken more seriously. But at the same time, it's a box. We don't wanna be in that box; it's very limiting. We're songwriters first, and comedians second — just kidding — but we're more than that, and I think this album hopefully will help people see that.
Can you expand on that? In what ways is being labeled a TikTok artist limiting?
Clair Clair: It's almost like a new music scene, but it's not a real scene because it's online, and it's pumped by companies and labels. It's hard to trust someone who's only big on TikTok because you don't know how big they really are. Can they sell out shows? In meetings, people will be like, "You guys sell out all your shows and you're big on TikTok. How are you doing that?" It changes how people warm up to you. It's like, "Oh he's from the Atlanta trap scene," or "Oh, they're from the Portland DIY scene" — "Oh, those are TikTok girls."
A lot of your lyrics focus on haters. Have faced backlash as female rappers who like to have fun when they make music?
Coco: We went through the ringer when we first started. One time, we got asked to do an interview for Creative Loafing, and they said it was just gonna be a couple pages in the magazine, but they decided to put us on the cover. They told us that they got very angry emails from guys and bands, like, "Why do these girls deserve that? Blah, blah, blah." In retrospect, I can't believe they were losing their marbles over that," but it's a testament to how everything has happened for us. We're like, "Okay, we'll do this, this sounds cool," and then things get more serious. I think that upsets people because it's effortless, and there's people who work so hard to see accomplishments like that. I guess we're just lucky, [and] that rubs people the wrong way.
Clair Clair: We've [played shows where] we have so many more streams than other band on the bill, and they're like, "No, Coco & Clair play first." They have a perception of us. I'm like, "Okay, but we technically, if you look at the numbers…" Not to go there, but we have to speak up for ourselves. We shouldn't be opening for an empty room. It's awkward to talk about without sounding full of yourself. We've talked so much about what we can do to make people take us seriously. We're not just TikTok girls; we played with Playboi Carti; we've been doing this."
The word "effortless" is key. A lot of people confuse effortlessness for not giving a fuck or being dismissive of artistry or musicianship, but it's not that: It's charisma, it's chemistry.
Coco: People have different ideas of what a real musician is. They say, "Beyonce doesn't write any of her songs; she's not a real artist," but there's way more to artistry than that. Not that we think we're Beyonce, but it's the same thing. There are people who spend so much time learning their craft, playing instruments.I don't know how to play a single instrument, and I'm sure that pisses people off.
Clair Clair: It's a shame that so much of the industry is still obsessed with the guitar and the full band. It's such a huge part of the history of music, it can be hard for people to catch up to the times, like, "Okay, it's just two girls and a microphone, and that's fine. They wrote all the songs; they chose these beats." We style ourselves. All of the creative is us. We just got a serious manager earlier this year. Up until then, we were hustling all by ourselves.
On "Lamb," you mesh with Porches really well. It's not new for you to make melancholy songs, but this one felt especially deep, with this really emotional nostalgia for the early days. Was writing that song cathartic?
Coco): I had to rewrite my verse four or five times. When we got the final master back, I cried. I've never felt that strongly about anything we've made before. I had a really hard time with that song, but I'm so happy and proud of it.
Clair Clair: All three of us —Coco, Aaron from Porches, and I — came at that song in ways we were unsure of. I remember the night we got the beat. We were like, "Oh my gosh, we're in our indie bag. We're gonna make a Fleetwood Mac song." I've never been able to force myself to write a song [when] I'm sad, like, "Okay, write about your feelings now." But I was home alone one night and I was moody, and I wrote the chorus. I was so nervous to show Coco because it's really sad and weird and vulnerable, but she loved it.
It sounds like we all sat in the room and wrote it together, which is crazy to me, because we we all biting our nails about it, like, "What the hell are we doing?" I think that's my favorite song on the album.
How did you approach writing the lyrics for this album versus Posh or your previous singles?
Clair Clair: We started recording in a studio for the first time, which changed our mentality so much. It made us a lot more focused. And we really took our time with the project. In the past, we'd sit in the kitchen for an hour, write something, and hope we liked it the next day when we replayed it. Usually, we did, and we'd just put it out. It was lighthearted and we trusted ourselves. Now that we were in the studio, we were like, "Is this actually good? Let's play it with other songs we're listening to and come back to it next week."
But it's very much the same style of writing. We're always jotting things in our phones, writing little one-liners or melodies, and then going back to that, like, "What do we feel like today? What do we wanna talk more about?" It's a freestyle vibe, but we clean it up as we go. We write the songs all in a day, unless we have to go back and change them. But it's never sitting in bed and writing a whole song.
Coco: Having to think about rollout and how we want it to be perceived has been fun. It makes me feel more like this is my baby, something I've put a lot into.
"The Hills" stands out in the crowd of house-inspired songs. It reminds me of when you released "Crushcrushcrush" back in 2017, when "My Boo" was having a moment again and Miami bass was on the come up. Is it sheer kismet when these things align, or do you pay attention to the sounds of the moment, like, "Okay, we're gonna try our spin on these now?"
Clair Clair: Subconsciously there's probably some "Oh, we've been listening to a lot of this kind of music and really liking it," so then when we hear the beat we're like, "Oh shit, this is cute, let's try it." But we're also pretty intentional about not wanting to make anything too current. We didn't want to fall too much into a drum'n'bass trap on the album. We didn't want to do anything that sounded so much like other stuff that was coming out. We love that sound, but it's been done.
Coco: "My Boo," though, used to be the song we'd do when we ran out of our own songs to play. We have a deep love for that one.
"The songs have that cheekiness to them, and I think people are surprised when they meet us that we're shy, giggly, and want to be friends with everyone."
Is it fair to say recording the album has made you both more excited for the future of Coco & Clair Clair?
Clair Clair: Yes, it was really affirming for us to make songs like this. The last EP we put out during COVID was a mess. By the time it came out, I was over a lot of the songs, but now I'm back into it. With this album, we're both listening to it every day, and it feels easier to think of concepts for songs because I'm so much more confident. It's our debut album, in a way, so we're excited to make our first step into the industry.
Coco: Our first fully intentional step into the industry.
What's the biggest misconception around Coco & Clair Clair?
Clair Clair: That we're mean. The songs have that cheekiness to them, and I think people are surprised when they meet us that we're shy, giggly, and want to be friends with everyone. When we do go out, people give us a bit of attitude because they're expecting it from us. Please, be nice to us. I got a comment on Instagram today. This girl was like, "You guys were in my dream. I said 'Hi, you're so cool,' and your response was 'We know.'" It broke my heart.
Coco: The first eye-opening experience about how we're perceived was when we met Babyxsosa. She was like, "Y'all are actually cool." We were like, "Oh, do we seem like we're not? What does that mean?"
Clair Clair: She didn't know we were from Atlanta. As soon as anyone sees the TikTok thing, they're like, "Okay, L.A. industry plant, weird girl, don't need to know her, she's fake."
Coco: We're real people, not robots.