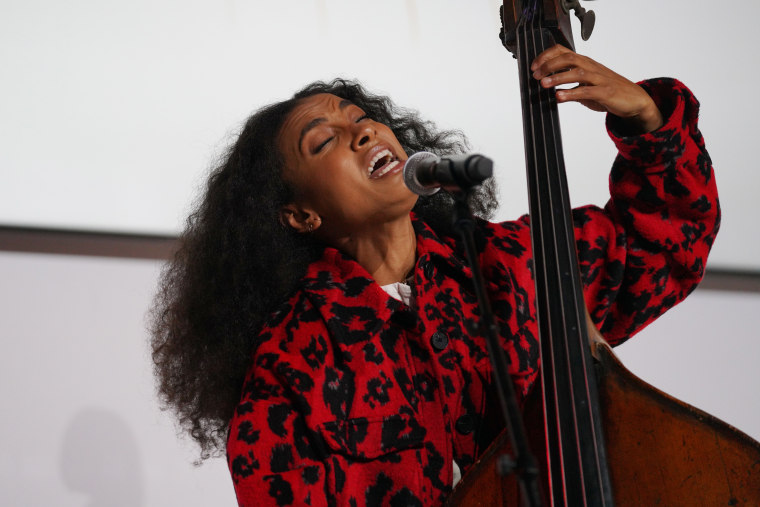 esperanza spalding has announced that she is leaving her part-time teaching post in Harvard University's music department, The Harvard Crimson and Harvard Magazine report. In an email to her department affiliates reviewed by both publications, the bassist, singer-songwriter, and composer wrote that she'd been in communication with the school's administration for "many months" regarding a "decolonial education" initiative she'd proposed, but that her vision for the program was "not (yet) aligned with Harvard's priorities."
spalding, a five-time Grammy winner, joined Harvard's music department in 2017 as a "professor of the practice," a position that usually comes with a five-year, renewable contract, according to The Crimson. During her time at the school, she's taught courses in songwriting, performance, and musical activism. Her proposed program — dubbed "Black Artist-Educators Decolonizing and Placemaking" (BAEDAP for short) and detailed in an attachment to last week's email — included plans to "rematriate" some of Harvard's properties to Black and Native artists and scholars in order to "move beyond metaphorical commitments to decolonial education, Black and Native solidarity (respectively), and reparations."
Elsewhere in her proposal, spalding reportedly wrote that Harvard is "inextricably linked to Black and Native subjugation" and that she would need to play an active role in remedying the university's "historical and lingering colonial impacts" if she were to continue working there. "I am no longer willing to endorse a cultural norm whereby artists & artist-educators passively participate-in, and benefit-from institutions born and bolstered through the justification, and/or ongoing practice of exploiting and destroying Black and Native life," she concluded.
Unable to to reach an agreement with Harvard, spalding has reportedly decided to bring BAEDAP to her hometown of Portland, Oregon. Last year, she raised $361,604 on GoFundMe for her effort to build a "BIPOC artist sanctuary" in the city's St. Johns neighborhood.
In statements to The Crimson and Harvard Magazine, Harvard University Arts and Humanities dean Robin Kelsey expressed his respect for spalding but did not offer specific information on the circumstances of her departure. "Having Esperanza Spalding at Harvard these past five years has been fantastic," he told The Crimson. "My admiration for her work is immense. She is a beacon in a turbulent world." To Harvard Magazine, he added that spalding "has dreams of things to do in the world, and I can't wait to see what she does. Whenever those dreams line up with possibilities here at Harvard, I will embrace the chance."
The FADER has reached out to Kelsey, Harvard's Media Relations office, and a representative of esperanza spalding for independent confirmation of her decision to leave the university and for further comment.