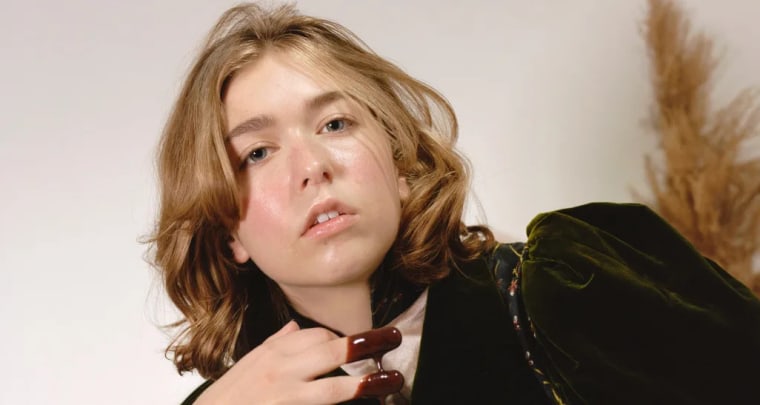 In November, Lindsey Jordan (Snail Mail) announced Valentine Fest, a now-so-out, five-day event in which she'll perform with a self-curated mystery supporting lineup, scheduled for February 10–14 at Ottobar in her native Baltimore. Today (January 18), she's announced a tour on the heels of her homecoming festival, a month-long, cross-country trek beginning in early April and featuring Water From Your Eyes and Dazy as opening support.
The Valentine Tour will kick off at Iowa City's Mission Creek Festival on April 7 and move southwest through the heart of the country until it reaches Indio, California for both Saturdays of Coachella, with a string of coastal shows in the interim. Jordan will then travel counterclockwise along the nation's coast before reaching her final destination (as of now) at Atlanta's Shaky Knees Festival on May 7. Later this spring, she'll play at Governors Ball. The tour is named after her most recent album, 2021's Valentine, which she discussed with The FADER's Salvatore Maicki for the 25th episode of The FADER Interview.
View all of Snail Mail's upcoming tour dates below.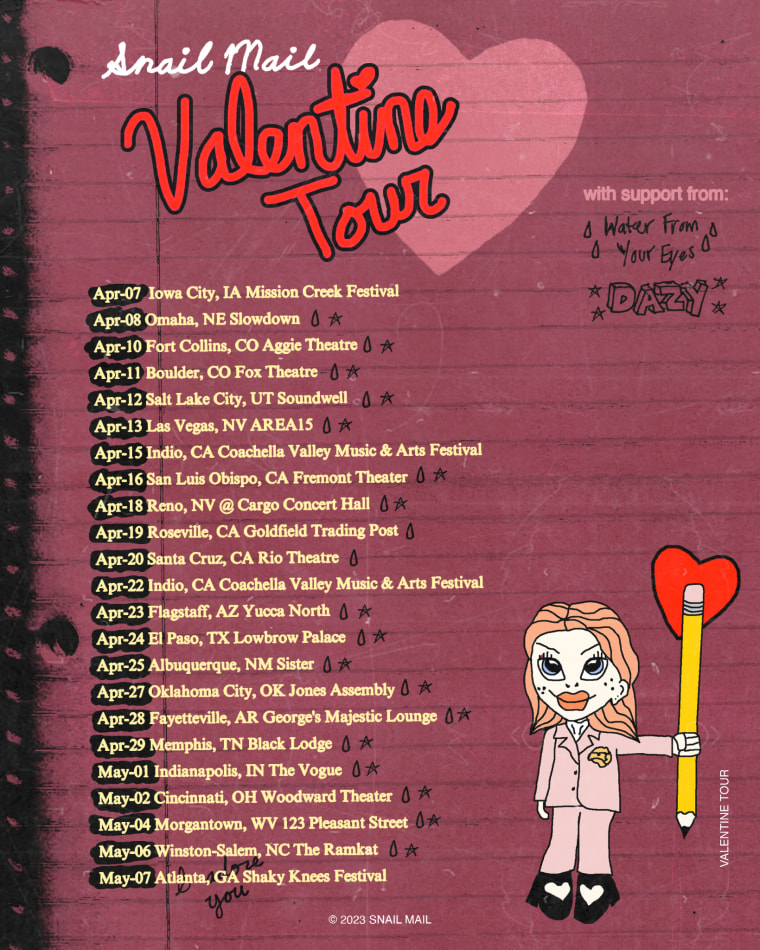 Snail Mail's Valentine Tour
February 10 - Baltimore, MD - Valentine Festival
February 11 - Baltimore, MD - Valentine Festival
February 12 - Baltimore, MD - Valentine Festival
February 13 - Baltimore, MD - Valentine Festival
February 14 - Baltimore, MD - Valentine Festival
April 7 - Iowa City IA - Mission Creek Festival
April 8 - Omaha NE - Slowdown #
April 10 - Fort Collins CO - Aggie Theatre #
April 11 - Boulder CO - Fox Theatre #
April 12 - Salt Lake City UT - Soundwell #
April 13 - Las Vegas NV - AREA15 #
April 15 - Indio CA - Coachella
April 16 - San Luis Obispo CA - Fremont Theatre #
April 18 - Reno NV - Cargo Concert Hall #
April 19 - Roseville CA - Goldfield Trading Post %
April 20 - Santa Cruz CA - Rio Theatre %
April 22 - Indio CA - Coachella
April 23 - Flagstaff AZ - Yucca North #
April 24 - El Paso TX - The Lowbrow Palace #
April 25 - Albuquerque NM - Sister #
April 27 - Oklahoma City OK - The Jones Assembly #
April 28 - Fayetteville AR - George's Majestic Lounge #
April 29 - Memphis TN - Black Lodge #
May 1 - Indianapolis IN - The Vogue #
May 2 - Cincinnati OH - Woodward Theater #
May 4 - Morgantown WV - 123 Pleasant Street #
May 6 - Winston-Salem NC - The Ramkat #
May 7 - Atlanta GA - Shaky Knees Festival
June 10 - Queens, NY - Governor's Ball Festival
# w/ Water From Your Eyes + Dazy
% w/ Water From Your Eyes