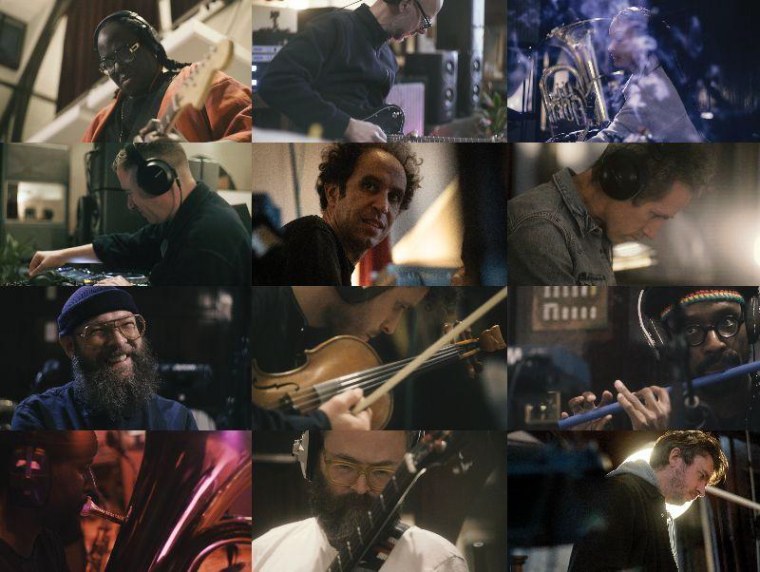 An elite group featuring some of the best contemporary jazz artists based in Great Britain have gathered to announce London Brew, a collaborative tribute album to Miles Davis. Handpicked by guitarist/producer Martin Terefe and executive producer Bruce Lampcov, the collective includes sax luminaries Nubya Garcia and Shabaka Hutchings, as well as two other former members of Hutchings' raucous (now-disbanded) quartet, Sons of Kemet: tubaist Theon Cross and drummer Tom Skinner (also of The Smile). BBC Radio 1 DJ Benji B, singer and guitarist Dave Okumu, drummer Dan See, pianist Nick Ramm, composer and keyboardist Nikolaj Torp Larsen, multi-instrumentalist Raven Bush, and bassist Tom Herbert fill out the lineup. The double LP arrives March 31 Concord Jazz.
London Brew was recorded in North London's Church Studios, where the ad hoc 12-piece gathered in December 2020 to meditate on Miles' classic 1970 album Bitches Brew and jam. They've shared its lead single, "Miles Chases New Voodoo in the Church," today (January 19) along with the album's announcement.
"This single is our interpretation of Miles Davis' ode to Jimi Hendrix ('Miles Runs the Voodoo Down')," Garcia said of the skronky new cut in a press release. "I've always been very inspired by the creative minds of both Miles and Jimi… Both were innovators who carved their own lanes, which is something I've aspired to in my own career. For a while now I've been experimenting and using pedals and effects with my instrument, so to be able to do that on this track, while paying tribute to their legacies, was a joy both creatively and personally."
Also newly arrived today is a 90-second teaser for London Brew as a whole, featuring the music-nerd equivalent of a pump-up speech from Terefe — and, later, his and other members of the collective's descriptions of the project's inception — over cut-together clips of the musicians assembling in the studio.
Listen to "Miles Chases New Voodoo in the Church," watch London Brew's official trailer, and view the record's cover art and tracklist below.
London Brew tracklist
1. London Brew
2. London Brew Pt.2 - Trainlines
3. Miles Chases New Voodoo in the Church
4. Nu Sha Ni Sha Nu Oss Ra
5. It's One of These
6. Bassics
7. Mor Ning Prayers
8. Raven Flies Low
London Brew cover art