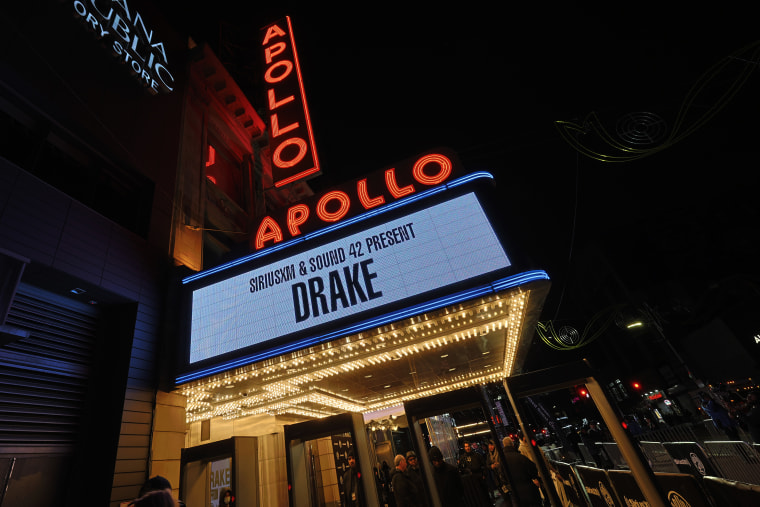 A recording of a New York City Police Department officer filming concertgoers after Drake's Saturday night show at the Apollo led to condemnations from fans and a privacy advocacy group, and a statement from the city's police denying that the officer's footage will be used for anything other than community outreach.
The video that sparked the outroar was captured by Jon Caramanica of the New York Times. Fans can be seen streaming out of the venue and into the assembled throng of police officers, with a single officer seen filming attendees as they leave.
Privacy advocates raised concerns over the footage soon after it emerged. "If this was facial recognition," Albert Cahn, founder of the Surveillance Technology Oversight Project (S.T.O.P.), tweeted, "it sure seems to violate the patrol guide (not to mention a lot of civil rights protections)." On Monday S.T.O.P. issued a formal statement calling the N.Y.P.D.'s conduct "highly concerning," adding, "We're deeply concerned facial recognition may have been involved, and demand the department destroy any footage it took."
In a statement to The FADER, a spokesperson for the N.Y.P.D. claimed that the police officer filming "is a Community Affairs officer involved with the 28th Precinct's social media team." The footage, the Department claimed, is intended for use in an upcoming Twitter post on events in the local community, and "The video will not be utilized for any other reason."
S.T.O.P. responded with skepticism when The FADER forwarded the Department's statement. "NYPD is extremely opaque in its collection of New Yorkers' biometric data," Communications Director Will Owen said. "How can we trust the footage won't end up in a policing database when time and time again NYPD has refused to comply with laws demanding transparency over its use of surveillance technology?
"If this was truly to highlight local community events," he continued, "NYPD needs to come up with a less invasive social media strategy. No one wants to be greeted by a handheld police camera after leaving a concert."
Despite being birthed in New York City's boroughs, rap music has faced distrust, surveillance, and outright hostility from the city's police department. Founded in the 1990s, the Enterprise Operations Unit tracked hip-hop shows within the city, assigning each of them a threat level for violence and occasionally sending undercover officers to the events. Though it's commonly known as the city's "hip-hop police," the N.Y.P.D. have denied that the Unit focuses on any specific genre of music. The Unit's existence was first revealed by the Miami Herald in 2004.
New York City's use of surveillance gained global notoriety during the 2019 Black Lives Matter protests that took place in the wake of the deaths of Eric Garner and Mike Brown. A trove of N.Y.P.D. emails obtained by attorney M.J. Williams and released in 2020 revealed that the Department had tracked and infiltrated the protests and photographed individuals perceived to be leaders. The N.Y.P.D. defended these methods as "routine" in a statement obtained by CNN.
Towards the end of 2022, New York City Mayor Eric Adams increased his already bullish view of policing, vowing to lean heavily on new technologies. "Anything technology [elected officials] think, 'Oh it's a boogeyman. It's Big Brother watching you,'" Adams said in an interview with Politico last year. "No, Big Brother is protecting you."