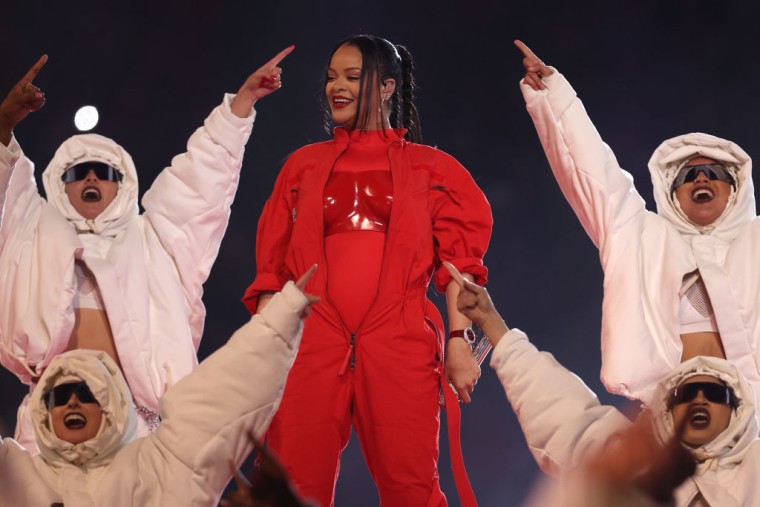 Rihanna returned to the stage for her first live performance in five years during the 2023 Super Bowl Haltime Show on Sunday, with a representative confirming after that the singer is pregnant with her second child. This makes her the first artist to play the Super Bowl Halftime Show while pregnant.
With just 13 minutes to play with during the break between the Kansas City Chiefs and Philadelphia Eagles at Arizona's State Farm Stadium, Rihanna opened her performance with "Bitch Better Have My Money." Despite the high profile nature of the Super Bowl appearance, Rihanna wouldn't have been paid for her appearance. Cost of production for the show, however, is thought to be well over $10 million.
Watched on by partner A$AP Rocky, the father of her first child born in May 2022, Rihanna performed hits including "Diamonds," "Umbrella," "Run This Town," "Work," and more. She opted against any guest stars, instead focusing on her many hits and an ambitious stage show including floating stages and an army of white hooded dancers.
Speaking during a pre-Bowl press conference, she said last week that she had changed the setlist over 30 times in the run-up to the show as well as suggesting she is continuing to work on new music. Rihanna's last album, ANTI, dropped in 2016. Last year she returned with "Lift Me Up," as heard of the soundtrack to Marvel movie Black Panther: Wakanda Forever.