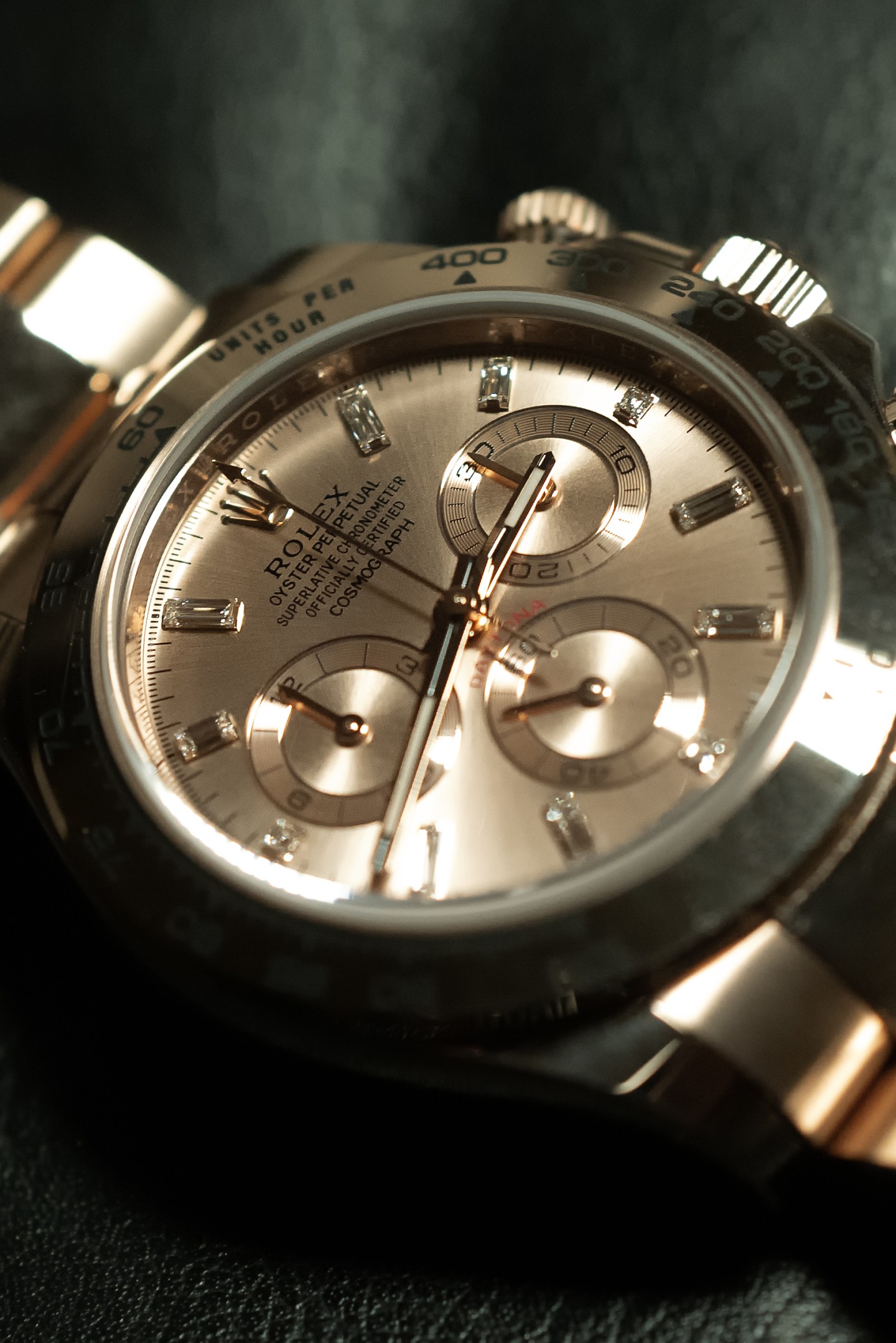 As hip-hop has grown into the dominant musical force in the English-speaking world over the past half-century, its influence on luxury and style has been undeniable — and watches are no exception. From LL Cool J's Gruen Gold Nugget in the "I'm Bad" video back in 1987 through to Rihanna's six-figure Jacob & Co. piece at this year's Super Bowl, watches have served as a reminder of their wearer's ascents from harsh conditions to higher places.
For some artists — start with Drake, Jay-Z, and Future, though there are dozens more collectors just as serious — high-end watches have become a very public obsession, either shown-off on the red carpet or in courtside seats, or expressed directly in the music itself. And that obsession had as indelible an influence on the luxury watch industry itself as it has on consumers and fans.
Ryan Chong, Head of Watch Operations at Bezel, an authenticated secondary watch marketplace, sees the clout a watch absorbs from its celebrity wearer as a double-edged sword. A fan might hear Frank Ocean rap about his Audemars Piguet, or hear Pusha T nod to his Piaget, and want the exact same piece — even if it's financially off-limits.
"For me, it's more about the actual journey of collecting and getting to know that," Chong says. "When we're constantly bombarded by Patek Philippe, Rolex, Richard Mille, Audemars Piguet in all the songs, those become the brands of choice that everyone lusts after, and then you are totally missing out on everything else the watch world has to offer."
Still, Chong says there are merits to the rap-inspired demand for luxury timepieces. "On the good side of it, it's brought watches into a totally new stratosphere in terms of values, and as an asset class on its own. Now we see customers say, 'I'm buying this AP, it's appreciating in value.' That's brought a whole new sector of buyers into the space that are more speculative than the collectors that had previously bought the items to hold onto to wear."
There's more to the watch game, though, than plain janes — authentic pieces maintained exactly as the manufacturer intended. Trends of busting down pieces and icing out faces often embody something in the personality of the wearer while driving virality in their direction as well. Some colorful, others gaudy, these watches — much like necklaces and pendants — aim for the symbolic jugular by looking as big as their price tags.
The trouble is that spending five-to-six figures on such embellishments renders the piece almost worthless in the eyes of traditional jewelers. And while you'll still see both bustdowns and plain janes on influential rappers' wrists, in recent years the pendulum has swung back to the factory-set, authentic wristwatch — value that appreciates. Take a Lil Uzi Vert bar from "Shoota," a cut from Playboi Carti's seminal 2018 album Die Lit: "Used to want a G-Shock, now I'm walkin' with a bustdooowwwnnnnnnnnn." Now compare that to his fellow 2016 XXL Freshman classmate Lil Yachty, who took a brief moment on 2020's "Pardon Me" to distinguish his taste: "When niggas be flexin', naw, this ain't the same / Promise it's more for my shit plain / Niggas' APs be lookin' like change."
"For the longest time in the hip hop realm, clout and financial appreciation of watches were inversely related," Vince De La Cerna, Watch Authentication Specialist at Bezel, says. "A bustdown [Rolex] Day-Date garnered all the clout a rapper could want, but came at the expense of any chance for that watch to become more valuable in the future by traditional watch market trends. But now, if you're wearing a Grand Complications from Patek, your clout goes up and in the long-run, the value does as well."
Even now, hip-hop's long-standing interest in watches doesn't imply a two-way dialogue with big institutions. The watch industry remains white-dominated, its power siloed and often kept through familial ties for centuries. Some of the biggest brands in the world, even up to a few years ago, shunned any association with hip-hop culture as if such an influx of outside interest could damage their prestige or stain their legacy. It's a tale as old as time: outsider culture finds an unexpected point of interest, increases its social capital to folks outside the traditional sphere, and the old guard of that sphere decides to either remain insular or embrace the unknown. As it stands now, some watchmakers that've done the latter and made inroads with MCs have seen the potential of their efforts prove fruitful. It's why you heard HOV rap about Hublot over a decade ago, or why you see so many celebrities donning an Audemars Piguet Royal Oak Frosted Rainbow Skeleton, a watch clearly inspired by bustdowns.
"You think of Richard Mille with Pharrell, you think of Audemars Piguet with JAY-Z," Chong says. "They have special editions that were made specifically for them, as well as many other rappers. There are brands that took the proactive step to associate themselves with hip-hop, and that's worked out really well for them. And then, there are other brands that, sadly, didn't want to be associated with it. But hip-hop has taken those brands and made them their own. And now, a lot of the time, they're probably recognized more from their association with hip-hop than just their own history."
Most folks won't have a watch to match Drake's Nautilus 5740 from Patek, or the chance to brush shoulders with Tyler, the Creator at an auction in Monaco. But neither is necessary for a casual listener with a newfound interest in watches to one day find a piece within their price range. One MC's flex might spark the flame. And the more that MCs realize their power in moving the needle, however subtly or inadvertently, the more potential there is for their passions to blossom into collaborative efforts with manufacturers. With enough time, the watch game's buyer classic profile — white, male, 30+ — will seem as antiquated as some watchmakers' antipathy towards hip-hop seems already.