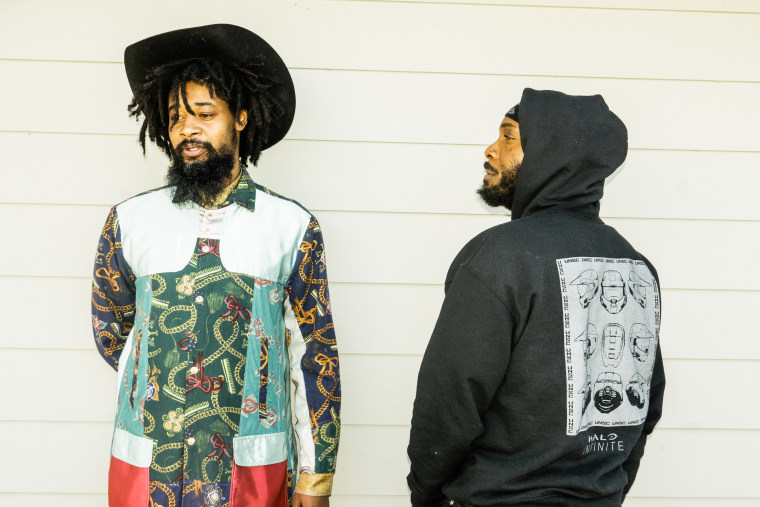 Danny Brown and JPEGMAFIA have been teasing their joint album for a long time now. Despite the long run-up to the project, the announcement last week felt like a pleasant bolt from the blue. The album, titled Scaring The Hoes, is out this Friday, March 24, and we have already heard "Lean Beef Patty." Today the pair have dropped the title track, leaning into the meme that inspired the title and coming through with an experimental banger that acts as a manifesto for their uncompromising sound.
In addition to the title track, the duo has also confirmed the Scaring The Hoes tracklist. Redveil is the lone featured artist while standout titles include "Steppa Pig," "Jack Harlow Combo Meal," and "Run The Jewels."
Scaring The Hoes will follow JPEGMAFIA's 2021's LP!, and Brown's 2019 album uknowhatimsayin¿.
1. "Lean Beef Patty"
2. "Steppa Pig"
3. "Scaring The Hoes"
4. "Garbage Pale Kids"
5. "Fentanyl Tester"
6. "Burfict!"
7. "Shut Yo Bitch Ass Up x Muddy Waters"
8. "Orange Juice Jones"
9. "KIingdom Hearts Key" (ft. Redveil)
10. "God Loves You"
11. "Run The Jewels"
12. "Jack Harlow Combo Meal"
13. "HOE (Heaven On Earth)"
14. "Where Ya Get Ya Coke From"