Kari Faux has announced a new album called REAL B*TCHES DON'T DIE!, her first studio LP since 2020's Lowkey Superstar. In celebration of the news, she's shared a new song called "MAKE A WISH" alongside a Layla Synclaire-directed, 70mm-shot visualizer. Like most Faux fare, its smooth production (courtesy of Phoelix) and the Little Rock rap star's soothing flow take the edge off razor-sharp lines like, "The earth controls the moon / The moon controls the tide / But I can't control when you n***as go and tell a lie."
REAL B*TCHES DON'T DIE! is due out May 26 via drink sum wtr. In addition to "MAKE A WISH," it will comprise the previously released cuts "ME FIRST" and "TURNIN' HEADS," the latter featuring Meridian, Mississippi MC Big K.R.I.T. Other high-profile features include Devin the Dude, Jazz Cartier, and late legend Gangsta Boo.
"After years of subjecting myself to 'industry standards' and becoming completely depressed by them, I decided to go home, which was completely grounding," Faux says, speaking on the process behind REAL B*TCHES DON'T DIE! in a press release. "This album is my best work yet and it's an homage to the loved ones I've lost, Southern rap, and my ability to alchemize pain that would break some people. My friend and collaborator, TheMIND, convinced me to go to Chicago and work with him and Phoelix. Phoelix and I ultimately fell in love over the course of making this album, and that love is in every fiber of this album."
Watch the "MAKE A WISH" visualizer above, and check out the forthcoming record's cover art and tracklist below.
REAL B*TCHES DON'T DIE! album art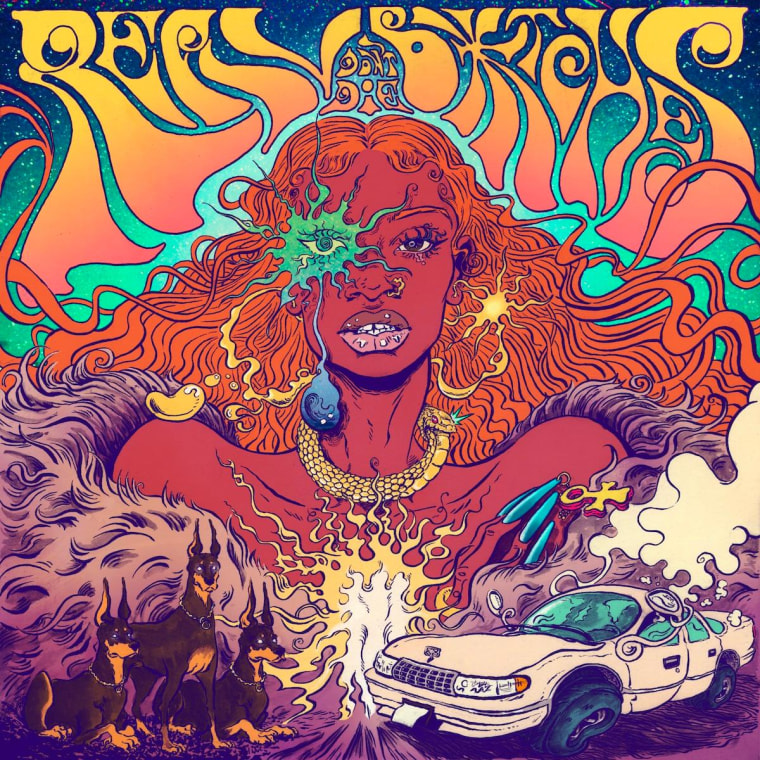 REAL B*TCHES DON'T DIE! tracklist
1. REAL B*TCHES DON'T DIE!
2. H-TOWN
3. ME FIRST
4. GEMINI+
5. TURNIN' HEADS (feat. Big K.R.I.T.)
6. MONEY ANGELS (feat. Jazz Cartier)
7. DOG (feat. Devin the Dude)
8. WHITE CAPRICE (feat. Gangsta Boo)
9. MAKE A WISH
10. THANK YOU!
11. PAST LIFE (feat. Phoelix & TheMIND)
12. DRUNK WORDS, SOBER THOUGHTS
13. BORROWED TIME